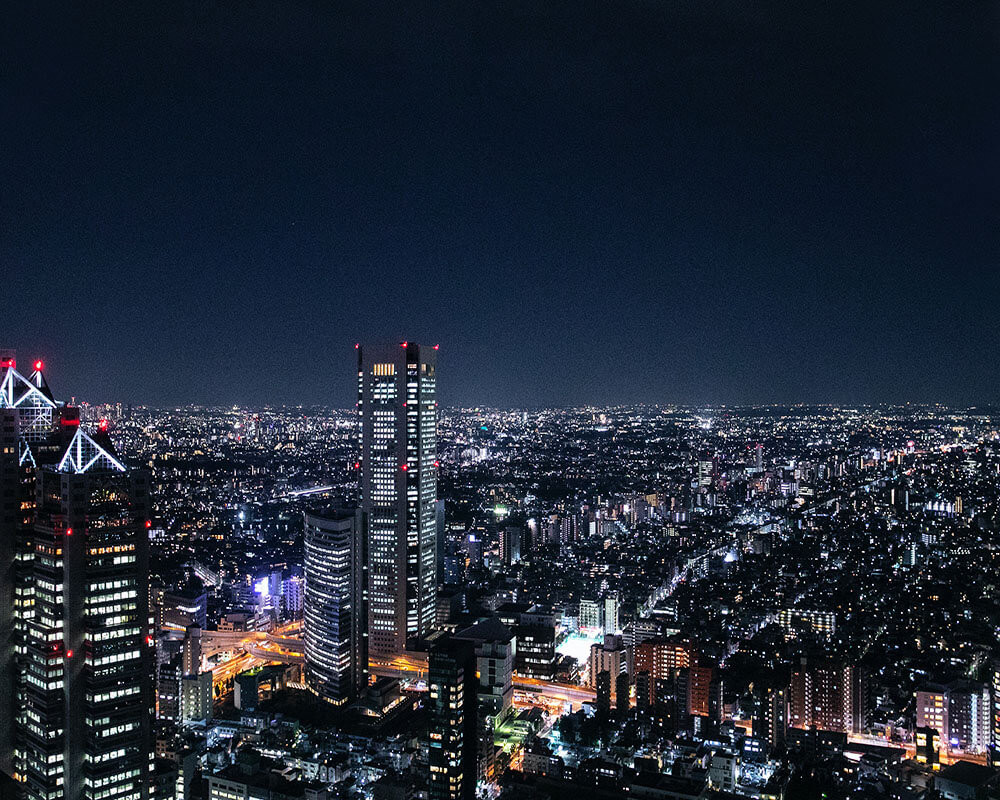 Welcome back to the second part of our Ultimate Bucketlist! (First part is available here)
In this edition, we will explore the central prefectures of Japan, characterized by old traditions, innovation, stunning nature and, of course, delicious food.
Let's explore the prefectures in the Kanto and Chubu regions!
KANTO
TOCHIGI: MESMERIZING COLORS ALL AROUND
To see: Ashikaga Flower Park
Ashikaga Flower Park offers beautiful floral scenery all year round, but the blooming of the wisteria flower is the reason the Ashikaga Flower Park is so famous. These flowers are so beautiful that a Wisteria Festival is held every year for a month starting in mid-April and ending in mid-May. Here you can find the "Wisteria Tunnel", a true nature masterpiece, which consists of about 350 hanging wisteria flowers.
Known as the "Strawberry Kingdom", Tochigi Prefecture is the largest strawberry producer in Japan. There is even a unique breed of strawberry, called Tochihime, which is only sold in this area. And what better way to enjoy fresh strawberries than by picking them yourself? During the summer, many farms offer the possibility to pick your own strawberries. Besides strawberry picking, there are plenty of ways to taste this nature's candy, like in pancakes, gelato, daifuku, sandwiches, kakigori and so much more!
GUNMA: ENJOY A WONDERFUL REST, WITH ONSEN AND MANJU
Experience a traditional onsen town with Kusatsu Onsen, a little hidden gem in the stunning mountains of Gunma Prefecture. The highly acidic and mineral-rich waters from Mount Kusatsu are said to have healing properties, making Kusatsu Onsen one of the most popular hot springs spots in Japan. Kusatsu Onsen still maintains old traditions, such as yumomi, a ceremonial water-stirring performance that you can attend!
Yaki-manju are roasted sweet buns skewered and glazed with sweet or savory miso. They are eaten hot, freshly baked, to fully appreciate the crunchiness of the outside in contrast with the chewy texture of the bun. Unlike the original manju, filled with azuki beans, the yaki-manju doesn't have a filling and gets its delicious flavor from the charcoal roasting and the miso glaze.
IBARAKI: WATCH BEAUTIFUL FLOWERS BLOOM AND CHALLENGE YOUR PALATE
To see: Hitachi Seaside Park
The Hitachi Seaside Park is home to millions of flowers of different species. The flowers are distributed in such a way as to create spectacular mosaic landscapes that change hues depending on the season of the year. Among the most popular flowers, there are tulips, roses, and the kochia bushes. However, the park becomes truly magical when the nemophila are in bloom! These flowers fill much of the park with their stunning blue color once spring arrives. To fully enjoy flower-gazing, the park is equipped with several picnic areas, restaurants, and even an amusement area with a Ferris wheel.
Natto (fermented soybeans) is a traditional Japanese food. Usually, foreigners tend to have a love-hate relationship with natto, since both the consistency and the taste are definitely peculiar. However, this dish is widely loved by Japanese people and recognized to be quite healthy for your body. If you want to try it, Ibaraki Prefecture is definitely the best place to do so. This is especially true in the city of Mito, whose natto is highly appreciated throughout Japan.
SAITAMA: JUMP BACK IN THE OLD EDO
In Koedo (or little Edo) it's still possible to experience the atmosphere of the Japanese Edo period, thanks to the quaint houses and shops that still use traditional manufacturing techniques. The main attraction of Koedo is called Kurazukuri, where the buildings have been preserved in excellent condition, in the typical style of traditional warehouses. You should also be sure to stroll through the delightful candy alley called Kashiya Yokocho. Here you can find handcrafted candies with the most extravagant shapes and decorations, snacks, and sweets that are prepared following traditional recipes.
Senbei are one of the most popular snacks in Japan, and the best place to try them is definitely Soka City, known to be the birthplace of senbei. Senbei are mochi rice crackers seasoned with soy sauce and many other ingredients, such as seaweed and sesame seeds. You can find Soka senbei almost everywhere in the city, and several shops offer a workshop where you can make your own senbei following the traditional techniques!
TOKYO: BETWEEN TRADITION AND INNOVATION
I have to admit, finding just one "must-see" and "must-eat" in Tokyo was an almost impossible task. It's a metropolis filled with history and innovation and, being one of the culinary capitals of the world, you can find food not only from all over Japan, but literally from all over the world!
For this reason, I've decided to break the rules a little bit, and give you 2 must-sees and must-eats, a traditional one and a modern one, to reflect the dichotomy between old and new that is ever-present in Tokyo.
To see (traditional): Gotokuji Temple
Gotokuji Temple is a hidden gem in the Setagaya district. This Buddhist temple is known for one peculiar feature, namely the presence of hundreds, if not thousands, of small statues depicting maneki neko, the Japanese lucky cat. The statues are placed almost everywhere, in the lanterns, at the foot of the Buddhist statues, and on every corner with a small flat surface. Gotokuji is perfect for those who love cats, extravagant places, or simply for those who want to explore an area of Tokyo that is a little less touristy, but undoubtedly beautiful.
To see (modern): Tokyo Metropolitan Government Building Observatory
One of the best ways to appreciate Tokyo is without a doubt from above, and the free observatory in the Tokyo Metropolitan Government Building is well worth paying a visit. The building is 243 meters high and is easily recognizable thanks to the two towers, each of which are equipped with its own panoramic observatory at 202 meters. From there, on clear days you can even see Mount Fuji! However, the night skyline creates a beautiful, magical view.
To eat (traditional): Monjayaki
Monjayaki is a "do-it-yourself" Tokyo specialty. It starts with a batter, to which is added a practically infinite variety of ingredients. Monjayaki is a close relative of the more famous okonomiyaki (salty pancake typical of the Kansai region). But unlike okonomiyaki, monjayaki has a different preparation. The toppings are in fact first sautéed on the teppan (a plate for cooking food) and minced with two large spatulas, to then be added to the semi-liquid mixture. It might not be the prettiest-looking dish, but don't let your eyes fool you: the flavor of monjayaki is truly delicious!
To eat (traditional): Harajuku Crêpes
Takeshita Dori is one of the most famous streets in Tokyo, known for its fashion culture, and is basically home to everything kawaii. Here you can find all kinds of cute and bizarre food, but the most noteworthy are definitely the crêpes! Sweet or savory, the crêpes are cooked on the spot and stuffed with dozens of different toppings. Marion Crêpes is definitely the most popular shop, serving delicious crepes filled with cakes, ice creams, tiramisu, cheesecakes, and much more!
CHIBA: DESTINATION DISNEYSEA RESORT!
Tokyo DisneySea is a unique destination amongst Disney parks and resorts. There are no other similar parks in the world, and most of the attractions are not found anywhere else! The park has water and the sea as its general theme and is divided into "ports", all connected by water. Tokyo DisneySea is so unique in its genre that, even if you're not the biggest Disney fan, you'll find yourself to be amazed by it at every turn!
To eat: Tokyo Disney Snacks
Disney parks around the world all have special foods only available in those locations, and Tokyo Disney is no exception. There are so many adorable snacks to choose from, all curated in the tiniest details, and, most importantly, they're all absolutely delicious! From the "alien" mochi's to Mickey Mouse ice-creams, there is something for every taste. However, the star of the show is, without a doubt, the incredible popcorn flavors! There are so many to choose from, and they're all unique! Curry, milk tea, soy sauce, chocolate, honey, and the list goes on and on! Which one will you choose?
KANAGAWA: MT. FUJI VIEWS AND DELICIOUS STREET FOOD
To see: Hakone Jinja Shrine
On the southern shore of Lake Ashinoko stands a huge torii gate. This beautiful red gate indicates the access to the Hakone Shrine, which is located at the foot of Mount Hakone. The shrine is hidden by a dense forest that gives off a mystical and surreal atmosphere, especially when there is a light rain. You can also enjoy a stunning view of the torii from the other side of the lake where, on clear days, Mt. Fuji is visible as well.
To eat: Nikuman in Yokohama
Nikuman are steamed buns usually filled with pork, but there are a wide range of fillings you can choose from, such as vegetables, mushrooms, fish, and so many more. Nikuman are one of the most popular street foods in Japan, and Yokohama's Chinatown is definitely the best place to try them. Here, these buns are an institution, and can be found literally on every corner!
CHUBU
NIIGATA: ISLAND TOURS OUT OF A GHIBLI MOVIE
Sado Island is a breathtaking island that is still rarely frequented by mass tourism, and it's the perfect place for a relaxing getaway surrounded by nature, ancient traditions, and crystal-clear waters. One of the best ways to explore Sado is with a traditional wooden boat called tarai bune. The unusual shape of these boats, reminiscent of a tub, might be familiar to Miyazaki fans: they are in fact the same ones that appear in the movie "Spirited Away"!
Hegi soba are Niigata's own unique spin on classic soba noodles. Soba noodles are normally made with buckwheat, but since this area does not produce wheat, funori seaweed is added in its place. The texture of hegi soba is more elastic thanks to this seaweed and its name originates from the typical box they are served in.
ISHIKAWA: EXPLORE ONE OF THE MOST BEAUTIFUL JAPANESE GARDENS
Considered to be one of the three most beautiful gardens in all of Japan, this 10-hectare landscaped park was created in 1676. The park is located in the heart of Kanazawa city, near Kanazawa Castle, to which it originally belonged. Kenrokuen's stunning landscape changes with the seasons: becoming pink in spring thanks to cherry and plum trees, warm red in autumn, lush green in summer, and white in winter when snow is abound.
Ishikawa Prefecture's local cuisine is renowned throughout Japan, and it even has its own name: kaga-ryori. The most characteristic dish of Ishikawa is perhaps the jibu-ni, a delicious stew made with chicken or duck, shiitake mushrooms, and various vegetables such as bamboo shoots, Japanese parsley, and grated horseradish.
TOYAMA: DISCOVER THE JAPANESE ALPS
To see: Tateyama Kurobe Alpine Route
If you want to feel like an intrepid explorer, you should take the Tateyama Kurobe Alpine Route! Tateyama Kurobe Alpine Route is a spectacular route carved into the mountains that will allow you to engulf yourself in the heart of the Japanese Alps. This road can be crossed by different means of transportation, such as trolleybuses, cable cars, funiculars, and ropeways that will lead you to an altitude of more than 3000m. The views that you will witness throughout this route are guaranteed to take your breath away!
Toyama Prefecture is famous throughout Japan for the quality of its fish. You can find a type of fish here that cannot be found anywhere else in the world: the shiro ebi (white shrimp). This small shrimp is characterized by its sweet flavor and can be enjoyed either raw as a part of a rice bowl or fried in tempura bowls.
NAGANO: WANDER AROUND A SHRINE SURROUNDED BY NATURE
Togakushi Shrine is a beautiful Shinto shrine tucked away in the forests of Nagano. The shrine is composed of a complex of three sanctuaries located at different heights along the slope of mount Togakushi. This allows those who visit it to surround themselves with an enchanting natural setting, walking along the paths that connect the three complexes through the heart of the forest with imposing trees over 800 years old. The soba noodle of the Togakushi Temple is popular all over Japan, and it is thought that this is the birthplace of this Japanese dish, so make sure to try it when you visit!
Oyaki is Nagano's comfort food. They are dumplings made with a fermented buckwheat dough filled with vegetables. However, there is also a sweet version with fruit or bean paste. Oyaki are cooked in a huge iron pot placed in the center of a fireplace and served grilled.
FUKUI: ENJOY THE SEA OF JAPAN
The Tojinbo Cliffs are a rare, beautiful geological formation born from a volcanic eruption and shaped over the years by the waves of the Sea of Japan. The rocks are hexagonal and pentagonal in shape, and their dark color, typical of volcanic rocks, create a beautiful contrast with the blue shade of the sea. Being an almost unique geological formation, as it is visible in only three places in the world, Tojinbo has been declared a natural monument and is one of the must-see wonders of Fukui.
Fukui Prefecture is particularly lauded for its quality food scene. In particular, Fukui, being close to the Sea of Japan, is perfect for a feast of fresh fish. Be sure to try Echizen crabs (a type of snow crab) and deep-water shrimps, typical of Fukui Prefecture.
GIFU: TAKE A STROLL IN A UNESCO WORLD HERITAGE SITE
The historic village of Shirakawa-Go has been on the list of UNESCO World Heritage Sites since 1995. This village is well known for the buildings erected in the so-called gasshō-zukuri style, which is characterized by a steeply sloping thatched roof that resembles two hands joined in prayer. Some traditional houses in Shirakawa-go have been converted into minshuku, family-run guesthouses, to allow visitors to experience this timeless village to the fullest! Visiting this historic village is like taking a trip back in time to another era in Japan.
Miso (fermented soybeans and grains paste) occupies a leading role in Gifu local cuisine, and Hoba miso is definitely a must-try when visiting this prefecture. This heartwarming dish is prepared by placing a dry magnolia leaf (hoba) over a charcoal fire and topping it with miso paste mixed with vegetables, mushrooms, or beef.
YAMANASHI: A HIKE WITH A VIEW
Yamanashi Prefecture is one of the homes* of Mt. Fuji, and there are plenty of scenic spots to enjoy this majestic Japanese symbol. The view from the Chuerito Pagoda is definitely one of the most stunning. Thanks to its elevated location, the Chureito Pagoda offers breathtaking views of Mount Fuji and the Five Lakes region. The pagoda can be reached via a staircase that starts from the Sengen Arakura Shrine. The trek, although slightly tiring, will be rewarded by the beautiful panoramic view!
*Fun fact: Yamanashi Prefecture is in a rivalry with Shizuoka Prefecture! The reason? The claim of the top of Mt. Fuji! These prefectures are, in fact, on the opposite sides of the mountain, and the controversy surrounding the rightful home of Mt. Fuji is still ongoing.
Hoto is a delicious Yamanashi delicacy. It is a miso-flavored soup with flat udon-like noodles. The common version is filled with kabocha squash, mushrooms, and green onions, but since there is no fixed recipe for this dish, you can find many different flavor combinations like a curry-based soup, or one with meat instead of vegetables!
AICHI: HOME TO A HISTORICAL LANDMARK
Nagoya Castle is one of the most famous Japanese landmarks and is definitely the main attraction of Nagoya city. The castle is not only one of the most beautiful in the nation, but is also one of the most historically important fortresses in Japan. In addition to the building itself, the magnificent gardens are worthy of a visit. These gardens are one of the most popular spots for admiring the cherry blossom (sakura) in Japan, and they also host an important summer festival for which the castle is illuminated in the evening.
Tonkatsu (fried pork cutlet) is one of the most loved and well-known dishes in Japanese cuisine, and Aichi Prefecture has its own special version of this beloved classic: the miso katsu. This pork cutlet is served with a miso sauce, instead of the classic tonkatsu sauce. The miso sauce gives the dish a bold, rich flavor, and each restaurant has its own signature sauce.
SHIZUOKA: MT. FUJI AND GREEN TEA, A "MATCHA"-MADE IN HEAVEN!
Shizuoka Prefecture offers unparalleled views of Mount Fuji. The beloved mountain can be admired from various viewpoints around the prefecture, but one of the most popular and beautiful locations is undoubtedly Miho Beach. The dark color of the beach with volcanic origins surrounded by a vast pine forest creates the perfect setting to observe Mt. Fuji. Miho Beach has a unique charm that inspired artists, such as the two ukyo-e painters, Hiroshige and Hokusai, who have painted the beach and Mt. Fuji behind it in their works.
Shizuoka Prefecture is a paradise for green tea lovers! Thanks to its climate and the quality of its waters, Shizuoka is Japan's top producer of tea. In Shizuoka Prefecture, you can find green tea almost everywhere, from sweets to ice creams, to snacks to drinks, and even in savory cuisine. You can also visit different tea plantations, where you can have the unique experience of picking your own tea leaves!
Did you like our recommendations? Stay tuned for the 3rd part of our bucket list, where we will discover more about the regions of Kansai and Chugoku!
PIN THIS FOR LATER
Want to learn more about hidden gems outside the big cities and get tips on how to plan your perfect trip? Use our personal travel consulting package!