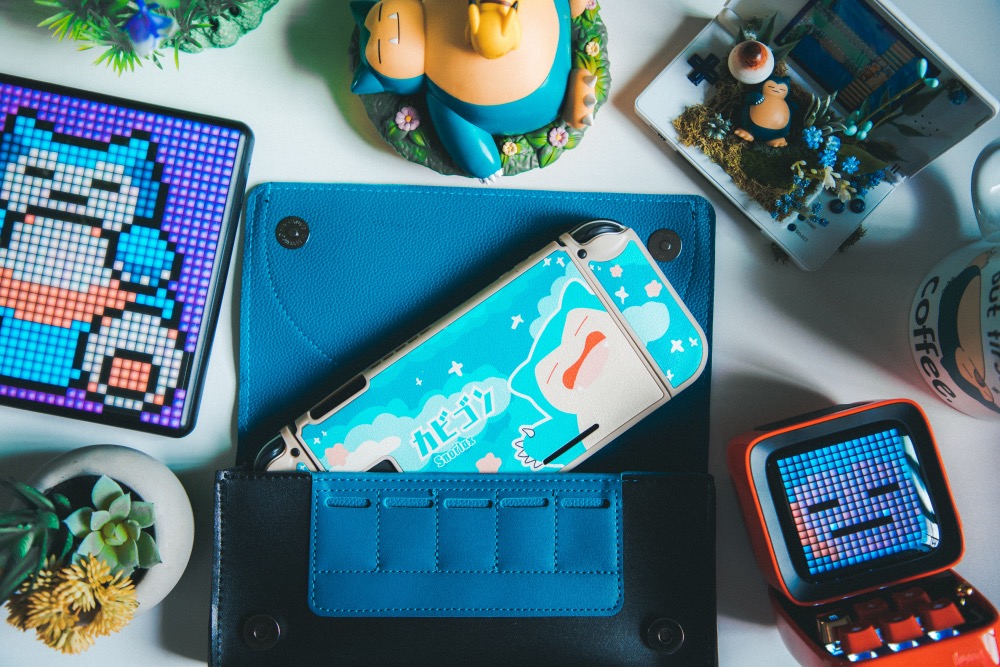 Otaku in Japanese is the word used to refer to people that are hardcore fans of something and have a deep knowledge of it. It is commonly used to refer to the people that are fans of anime and manga, but can also cover the fans of video games and comics.
When I was 11 years old, my life changed completely: I was coming back from school and, just before dinner, I witnessed the premier of a new series from Japan in which the main characters were a group of brave girls in sailor costumes fighting against the evil seeking to take over the world – all whilst dealing with their regular teenager lives. I knew Japanese animation existed before that, but 'Pretty Soldier Sailor Moon' was the anime that introduced me to the 'otaku' world.
As an Otaku girl myself, the moment my feet hit Japanese ground for the first time, my heart exploded in excitement: for years I dreamed about walking around Azabu-Juuban like the characters in Sailor Moon, or hanging out in the observatory of Tokyo Tower like the girls in 'Magic Knight Rayearth'. Even the simple fact of seeing the 'Naruto' manga in the convenience stores made me jump for joy. The first time I saw the shops in Akihabara – full of figures of all the characters I grew up with and in a way shaped my life – I became like a child again, literally jumping around like a kid. Even today, after 7 years in Japan, that part of me keeps on coming out. Even if my mom tells me 'You'll never become an adult if you keep on living in Japan surrounded by all that anime stuff' I prefer to have my inner child alive.
So, even though I'm a 30+ woman, I think I have the tools to help you when it comes to please your kiddos with this amazing stuff. Before diving into the suggestions I can give for things you can get for them as a holiday gift, I want to give you a few pieces of advice to make the right choices and have the happiest holiday ever.
Anime and Manga characters are infinite, any topic you can think about have been portrayed in them. So in your search of Otaku Items, be sure to know what they like, some characters can be very similar but on the eyes of a fan are totally different so ask in the shops you visit, employees are generally otakus themselves and will be happy to help you get exactly what you need.

They may look like "innocent" cartoons, but not all of them are for children. One of the most popular anime of the past couple of years is "Demon Slayer: Kimetsu no Yaiba", it has a beautiful and heartbreaking story, and the characters are very cute and charismatic, but it is NOT for children, it has very deep and violent topics that maybe teenagers would understand but not elementary school or younger kids. Always check on what kind of anime/manga your kids are watching, even the ones that look very cute sometimes contain topics that are not for children.

You will not find specialized things everywhere, so if you really want to get them something special, it may be important to reserve one day for the shopping and to make it even better, get in touch with a local expert. (In Arigato Travel you can ask for this kind of information through our Consulting Services).
Bandai has been in business since the 1950's, making toys, collectibles that have fed the children's imagination for decades. Maybe you as a parent had toys made by them so would be a beautiful thing to share with your children now. Their motto says it all: "Fun for All into the Future, Bandai Namco exists to share dreams, fun, and inspiration with people around the world. Connecting people and societies in the enjoyment of uniquely entertaining products and services, we're working to create a brighter future for everyone." In 2006 they partnered with Namco an entertainment a huge videogame and entertainment company upscaling their products and becoming the third most important gaming company in japan after Sony and Nintendo.
So what could you get from them to please my kiddos??
Tamagotchi
If you were born in the 80's/90's for sure one Holiday season you asked your parents to get a Tamagotchi. This interactive egg shaped and sized toy teaches you about responsibility, since you have to take care of a digital pet since it is an egg until it grows up to be an adult, feeding, cleaning, and playing with it. The toy also has some other games that the bigger your record gets it helps your little pet will get more experience to become an adult. The original toy was a digital screen only in black and white, but nowadays you can find a color version.
The brand has its own characters but also has teamed up with brands like Digimon, BTS, Star Wars, Hello Kitty, Neon Genesis Evangelion, Demon Slayer: Kimetsu no Yaiba, and others, giving you many options to choose from.
Where can you buy it?
USA: https://www.bandai.com/brands/tamagotchi/
Also available in Amazon, Walmart and Target.
Europe and Latinamerica: you can check at Toys"R"Us website for each country, unfortunately not all the items are available in all the countries.
PAC-MAN Connect-N-Play!
Celebrating one of the most loved video games we have another nostalgic item, including 12 classic games from their original format directly to your television, the joystick design has been authentically re-created to match the form and function from the original arcade machine. Its portability makes it the best option to have tons of fun everywhere you go.
If you were a kid when the game came out for sure you will have great memories playing this game, but remember this is for your kids to enjoy and create new memories together.
Where can you buy it?
https://www.bandai.com/products/pac-man-connect-n-play/
Available in Amazon and Walmart.
Other links you can check for other figurine and collectibles from this company:
NINTENDO STORE
Nintendo, the now video game company, had a humble start creating game cards in 1889. Nowadays it is a symbol of childhood for many, creating games that make kids and parents share wonderful moments together. I myself loved playing Mario Kart with my son, with whom we had to make schedules to use the only Nintendo console we had in the house so we both could enjoy our favorite games, which normally was the same: Zelda. But also in my childhood memories I keep dearly the very first time I saw the FamiCom, the original name of the first Nintendo console. At that time I had the chance to play Mario Bros, my memory takes me back and even the smell of coffee and my granddad's house comes back to me. I remember sitting on the floor of my uncle's room playing with my cousins while our parents were having a coffee and catching up in the living room.
On the USA dedicated website they have a suggestion for holiday gifts you can get to spend a wonderful Holiday season together with your loved ones.
Mario Kart Live: Home Circuit
https://www.nintendo.com/store/products/mario-kart-live-home-circuit-mario-set/
You can see your kart run around your house in courses created by yourself. This video will be a better explanation than anything I can write. https://www.youtube.com/watch?v=f2mCqUSDCJE&ab_channel=NintendoofAmerica
This is the perfect family game where you can compete and create amazing rasing courses right inside your house.
Where can you buy it?
Here is the website where you can choose your specific region
https://www.nintendo.com/regionselector/
The products we suggest in this post may not be available in your country, but you can browse their website for fun items.
GHIBLI STORE
This world wide famous animation studio has created some of the most beloved movies of all time, both children and adults fall in love with the characters, stories and music. Founded in 1985 by Hayao Miyasaki and Hisao Takahata, they have been feeding the dreams and imagination of everyone for generations with beautiful animations that transcend time.
What makes Studio Ghibli special is that they don't only pursue making movies, they also want to create something meaningful that teaches people to love nature and take care of it. Besides the movies you can also visit the Ghibli Museum in Mitaka, Tokyo, a favorite and must stop for many. Also, this year (2022) Ghibli Park will open in Nagoya, the park "…represents the world of Studio Ghibli. With close consultation with the surrounding forest, it is being built on and within the grounds of Expo 2005 Aichi Commemorative Park (Moricoro Park).There are no big attractions or rides in Ghibli Park. Take a stroll, feel the wind, and discover the wonders". The first 3 areas: "Ghibli's Grand Warehouse," "Hill of Youth," and "Dondoko Forest" were open in November 1st, becoming the first phase, the second phase will be "Mononoke Village" and "Valley of Witches", which are announced to open soon on their website without any clear date.


Where can I buy merch from?
Studio Ghibli Online Store ships worldwide to 240 countries. https://ghibli.store/
One super cute suggestion I have from their website is this beautiful Totoro Led Luminous Plushie that will light up the night for your kiddos, this is one of the most emblematic Ghibli characters and a favorite for many fans.
Besides this I cannot suggest one item because it all depends what your small ones like. The shop website hosts a wide variety of amazing items like t-shirts, plushies, figurines, etc. Maybe having a Ghibli movies marathon will be a good way to know what they would like to have and a good excuse to spend some meaningful time together.
MANDARAKE
Looking for something more specialized? This is the largest second hand comics retailer in the world, one of the favorite stops for foreign otaku on their travels to Japan. Operating continuously since 1980 from their first shop in Nakano, now having 27 specialized stores that are all gathered at the Nakano Broadway, a mall full of stores dedicated to all kinds of memorabilia (not only anime and manga). This brand has other stores spread all over Japan, but on their sales dedicated website they can ship to 83 countries all over the world, where you can find over 2 million different items. To support this highly international demand they have an international team that is ready to help you to find what you need.
A must visit for any otaku visiting Tokyo, so if you are around make sure to save one day just to walk around Nakano Broadway and Nakano, which is also a very nice area to enjoy lunch or dinner with its hundreds of restaurants and izakayas.
Since this is a very specialized shop, my suggestion is to check the website together with your otaku-chan and look together for the items of their liking. This may become a bonding experience giving you more information for future shoppings.
Hope this small piece of advice will help you in your quest to find amazing gifts for your lovely children to have the most Otaku Holidays!!!
Wishing you lovely holidays!!!
Featured image credits: Branden Skeli on Unsplash
Traveling to Tokyo with your kids? Make sure to join our Harajuku food tour for a fun adventure!
More from our blog…