Who doesn't enjoy a good cup of hot tea on a cold winter's day? Or a refreshing glass of iced tea to cool down during the summer heat? Japan is a haven for tea lovers, with a large variety of traditional teas such as matcha, sencha, hojicha, and gyokuro, as well as delicious flavoured teas like purple acai blueberry, lemon, and orange passion fruit jasmine (my personal favourite). I've created a list of a few Instagram accounts featuring Japanese tea that any tea lover will surely enjoy following!
Akito Ohashi san is a Japanese Tea Instructor and the founder of Tea Cup Trip. On his account, he features different green teas every day, provides fun facts about the tea harvesting process, and shares breath-taking views from all over Japan. If you want to virtually tour Japan with a cup of green tea, this account is a must to check out! You can also find his website at https://www.teacuptrip.com/.
Enjoy mouth-watering recipes and fun facts about tea from Japanese Green Tea Co. The recipes are easy to follow along with whether you're a beginner or a professional in the kitchen. They also provide short and informative videos about green tea, such as the difference between matcha and sencha, and the health benefits of green tea. You can check out their website https://www.japanesegreenteain.com/.
This account primarily focuses on green tea, particularly matcha. Along with tips and tricks for brewing tea for beginners, the creator provides information about the Japanese tea ceremony. There's also a fun segment about pairing matcha with different fruits. If you're looking for green tea heaven, this is the account you should check out!
Tegan Greenway (@bluetealady) is a tea lover who enjoys learning more and more about Japanese tea. She often attends webinars focused on tea and takes courses to expand her knowledge on different aspects of tea. Her love for tea really shines true in her posts!
The creators of @tezumitea are Ryan, Michael and David. They are tea enthusiasts who focus on creating Japanese tea utensils such as chawans and kyusu. They also share interesting facts about tea and teaware while displaying their products.
Bernhard Engelmann has been learning the Japanese tea ceremony for the past 13 years. In his posts, he shares what he has learnt throughout the years about the ceremony. If you would like to learn more about this beautiful part of Japanese culture, head on over to @greentea-bluesky. You'll even find Popi the cat featuring in some of the posts!
Hitomi Saito san co-founded Moya Matcha in 2015. Her posts focus on the preparation of different teas. She also shares fun recipes for drinks and desserts using matcha. Learn more by checking out her Instagram account and https://moyamatcha.com/en/.
Matchannel and HOJICHANNEL reshare a multitude of matcha and hojicha desserts, drinks, and snacks captured by fellow locals. If you're looking to find a new cafe for a tea-themed treat, head on over to Matchannel and HOJICHANNEL!
Come and enjoy a perfect cup of tea with @the_perfect_cuppa! Their posts feature a cup of tea (and sometimes a tasty treat) at different locations daily. There's even a furry friend who often makes an appearance!
Jee Choe is a blogger and the creator of Oh, How Civilised. Her posts feature many matcha and green tea related recipes for you to enjoy. You can find recipes for iced tea, lattes, and frappuccinos. She also provides tips on how to enhance your tea experience. You'll definitely be eager to try these delicious recipes.
I hope you enjoyed this selection of wonderful tea accounts. Now if you'll excuse me, I'm going to make myself a cup of delicious green tea!
Featured image by Jia Ye on Unsplash
Learn more about Japanese Green Tea and how to brew the perfect cup at home on our Green Tea Time online experience!
PIN THIS FOR LATER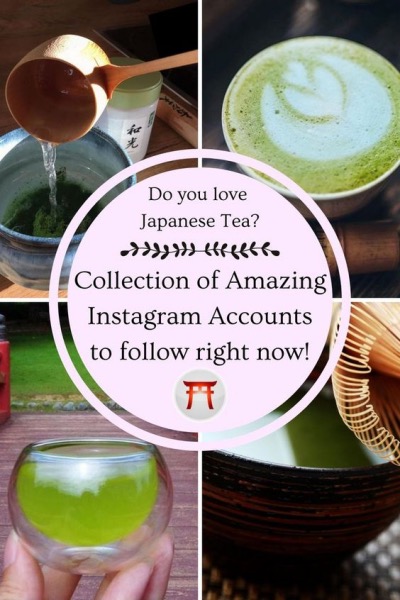 More from our blog…