Located in the eastern part of Yamaguchi Prefecture, Iwakuni City is only a 1 hour train journey away from Hiroshima station, 3 hour train journey from Kyoto and a 1h 45m flight from Tokyo.
Mostly known for its Kintaikyo Bridge, which is one of the most famous bridges in Japan, Iwakuni is a city close to the sea with a lot of charm. Here is a sneak peek of what you can see and do there.
Treating yourself with delicious local dishes
Fugu
As a foodie, when I travel around Japan, one of my favorite things to do is discover the local dishes that make an area so special – and Iwakuni City didn't disappoint me at all! Yamaguchi prefecture is well known for Fugu (Japanese pufferfish), which is popular and famous around the world for being delicious and dangerous due to the highly toxic poison contained in its organs. However, it's safe to eat when it's prepared by a licensed chef and it's wonderful. I had the opportunity to eat Fugu sashimi (fresh raw style) and tempura (battered and deep-fried). It was the first time I had it deep-fried and I totally recommend it!
Iwakuni Sushi
Iwakuni city has been famous for Iwakuni sushi for many generations. It's a kind of pressed sushi of 4-5 layers, usually including lotus roots (which is also famous in Yamaguchi), mushrooms, and kinshi tamago (a Japanese shredded egg crepe garnish made from a paper-thin omelette). The way it's made is amazing:
Local Soft Cream (soft-serve ice cream)
After crossing the famous Kintaikyo bridge, you'll find some food stalls selling soft cream but also korokke (croquette) and other delicious and local food! I will recommend trying the soft cream but to be honest, with all the flavors available, it will probably take you some time to decide on only one (if you combine all the shops after you cross the bridge, it results in a total of more than 100 flavors…). It was recommended to me that I try the natsu mikan (summer orange) one, which is really famous in Yamaguchi prefecture, and it was delicious.
Japanese Sake (rice wine)
If you like nihonshu (Japanese sake), you should definitely take some time to enjoy the localities! Of course, you might probably know the most popular brand from Yamaguchi which is Dassai but if you are in Iwakuni, I'll recommend you to try Gokyo. If you want to have a better idea of the taste before buying sake as a souvenir, sample-sized portions from different breweries in the city can be enjoyed at the Iwakuni city visitors center Honke Matsugane.
Stroll around the city
Crossing the bridge must definitely be on your to do list! The admission fee is 310 yen (round trip over the bridge) or you can choose the 970 yen pass which includes the bridge, an entry to Iwakuni castle and a ropeway round-trip. This pass also allows you to get 100 yen off for the Kikkawa Historical Museum, 20% off for the Iwakuni Art Museum and 20% off for the White Snake Museum.
The Iwakuni white snake (shirohebi in Japanese) is a precious creature that has been nationally designated as a Natural Treasure. While its origin is unclear, it is said that around four centuries ago, they were found in many of Iwakuni's rice storehouses preying on mice. Since then, it has become known and loved as a "lucky snake" and you can find charms and goods featuring the creature around the city. It is also said that seeing an Iwakuni white snake is believed to bring you luck with money, so it might be good for you to visit the Museum!
If you make it to the Iwakuni Castle taking the ropeway, the view from the top is amazing. This is a nice spot for your Instagram shots!
Where to stay?
The Iwakuni Kokusai Kanko Hotel is well located, and very close to the bridge with a nice view of the bridge. They provide Wifi, have a nice onsen with inside and outside baths (the view from the outside one was great!). The food there was also delicious: fugu, hot pot, Iwakuni sushi, and dessert – you can easily make your belly happy. The Japanese-style breakfast was good as well, including cooked fish, rice, soup, salad and pickles.
We hope we gave you some ideas for your next trip! There are so many other great things to see and visit in Yamaguchi prefecture so stay tuned for the next article!
Featuring photo credit: WireJess
Get great tips from local experts for your next trip to Japan thanks to our Personal Travel Consulting call service!
PIN THIS FOR LATER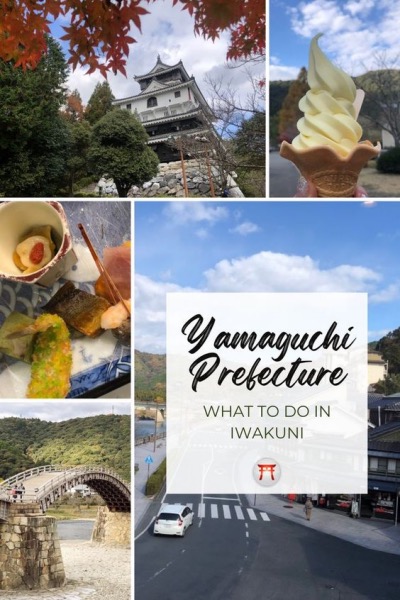 More from our blog…