It is always nice to see local efforts to highlight the best of a special place. Recently Arigato Japan had the pleasure to be invited by the Saga Collective to sample regional products from Saga Prefecture, an area on the north side of the Kyushu Island of Japan. This area was at one time united with Nagasaki Prefecture. The whole region was once known as Hizen Province, until the Meiji Restoration. Nowadays, the main industries of Saga Prefecture are agriculture, coastal fishing and forestry.
The Saga Collective is made of a group of 10 local companies. Upon our arrival, we were greeted by a beautifully decorated stand with hanging white and blue handmade washi (rice paper) from the company Nao Tesuki Washi. The traditional handmade craft paper is mostly used for lamps and decoration, and here, it was hanging from the ceiling to resemble the sky and sea. They also explained how they grow their own kaji (paper mulberry) trees for making washi, and from there, the process is all done mainly by hand, giving the paper a sense of sophistication and uniqueness. As an artist, I was fascinated by the quality and beauty.
The stand was divided into 3 sections. In the middle was a showcase for the main products of the collective: somen noodles, rice, yuzu (traditional citrus fruit from Japan), sake, ceramics, tea, washi, furniture, soy sauce and seaweed. Each showcase showed the products, examples of how they are made, and provided pamphlets and brief explanations about each brand in Japanese and English. The creators of each product were at the show, happy and proud to talk about their wares and answer any questions that visitors had.
All the furniture in the exhibition was made by Legnatec Co. Their designs are neat and minimalistic, and when paired together with the washi decorations, they created a clear image of the modern Japanese style.
The somen noodles were made by the 140 year-old company, Inoue Seimen. They also produce low-carb noodles, which we had the chance to try later that day.
How about some friendly competition? Working with the local farmers to blend an exquisite product to delight your palate, two tea companies were present – Onohara Seichadonya and Tokunaga Tea – and both had amazing creations to sample.
Tenzan Sake Brewery was founded in 1875 at the foot of Mt. Tenzan along the natural waters of the Gion River. They take full advantage of this location since the choice of water is the most important aspect of the sake-making process.
After spending a few minutes mingling and checking out the different offerings, we were welcomed to the inner side of the stand and asked to sit at a nicely decorated table to taste a menu created by two chefs, Marybeth Boller and Ema Koeda.
Chef Marybeth Boller has been working since 2014 as the Executive Chef and Events Planner of the US Embassy Residence in Japan under Ambassador Caroline Kennedy. Since then, she's been fostering "food diplomacy" by making a network among local vendors in Japan with her contacts in the United States. Her 25 years of experience in catering, event planning, and consulting (to name just a few items from her long list of qualifications) were easy to taste in her dishes.
Chef Ema Koeda was born in Iran and raised in the U.S., then came to Japan and studied here for part of her university studies before finishing again in the U.S. Following her passion, she specializes in wine and food pairing. In October 2008, Ema signed an agreement with the Agricultural Trade Office US Embassy in Tokyo to promote American food products in Japan. In 2015, she launched the Nippon Gochiso Select with her peers and the Japanese government to introduce artisanal, small-production Japanese food products overseas.
Chef Ema welcomed us to a large black table with a jubako in the middle. A jubako is a typical container with different levels normally used during New Year's to stock different colorful and traditional foods called osechi ryori. This container was made by RISO Porcelain using porcelain material from Arita Town. All of their products are handcrafted and blend traditional Japanese pottery items with modern designs. Before the food was served, the jubako was opened by Chef Koeda who gave a brief explanation of the ingredients and dishes that we were going to taste.
The menu was a fusion mix aiming to bring out the best taste that each ingredient can offer, and wisely pairing them with drinks. It consisted of 6 different dishes and 4 drinks in total.
Yuzu Awa (beverage containing 10% yuzu juice). A delicious bubbly drink that was refreshing for the palate, created by the company Kawahara Foods who specializes in yuzu products and using the kasuzuke technique for creating other goods. Kasuzuke is the fermentation of fish or vegetables by using sakekasu (the remaining rice paste from sake production), mixing it with vinegar, sake and other ingredients.

Sake Shichida Junmai

Nori Sansho Carpaccio (seabream fish with komiboshi nori, yuzu juice powder and olive oil) by Chef Ema Koeda.

Kamiboshi Nori Wrap with Chicken & Greentea Avocado. Made with somen noodles, nori (seaweed), green tea, yuzu juice and yuzu kosho (fermented paste containing salt, chilli, yuzu zest and juice) by Chef Ema Koeda.

Vegan Japanese Yuzu curry (with yuzu kosho, yuzu juice powder and quinoa-based soy sauce) by Chef Ema Koeda.

Somen Salad (with local vegetables, tofu, mozzarella, yuzu juice powder and nori parmesan cracker) by Chef Marybeth Boller.

Sake and Beet Cured Salmon (with miso paste, cream of sakekasu, crispy potato and nori pancake) by Chef Marybeth Boller.

Japanese Tea (Ice): Steamed Tamaryokucha
Japanese Tea (Hot): Roasted Tamaryokucha

Dessert, Almond & Aged Shoyu Cake. Made with caramel shoyu (soy sauce) ice cream, coconut, oatmeal, and aged dashi tsuyu (soy sauce with boiled bonito flakes, seaweed and sardine) with soy sauce by Chef Marybeth Boller.
The colors in the food were a beautiful contrast with the blue palette that decorated the stand. The flavors were delicate and brought out the best of each ingredient. For instance, the Yuzu Awa was bubbly and sour, as well as a tinge sweet. On the other hand, the sake was more crisp and soft.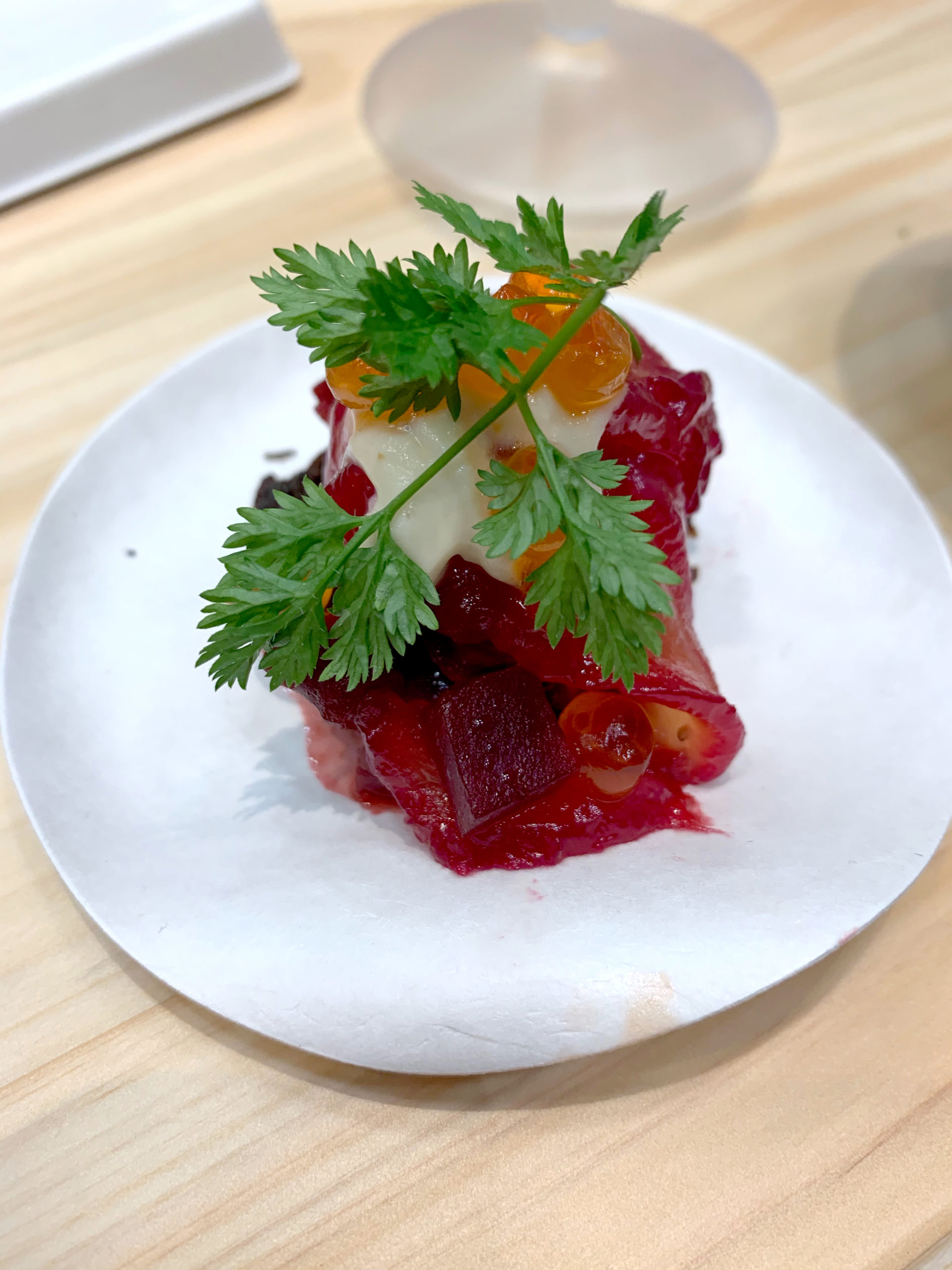 I'm a noodle lover and the Somen Salad and the Kamiboshi Nori Wrap were simply delicious. For the latter, you had to use the seaweed on the right side of the picture above and make a kind-of seaweed taco with it. That made the experience interactive and fun, and those dining on it shared some laughs and tips to succeed at the task. The crusty seaweed was from Sanpukunori, founded in 1971 in Kawasoe, the largest seaweed production area in Japan.
Dessert was simply delightful and my mouth still waters thinking about it. The skillful blend of the soy sauce base with the ice cream and cracker was superb. The way chef Marybeth combined the ingredients with soy sauce products from Maruhide Soy Sauce Company was amazing. It completely changed my perspective on soy sauce as an ingredient that is always savory.
As a food tour guide, this kind of experience is an amazing chance to increase my knowledge of Japan. I personally believe that sampling food is the best form of initiation into any culture.
After this feast, we spent some more time talking with the product creators and sampling more of their wares. One that had my attention from the start was the special tea from Tokunaga Seicha Co. Ltd. that successfully mixed green tea and chamomile, the best way to finish our foodie day.
The owner of this tea company spent some time talking with us and even introduced us to an interesting event that he participates in every autumn called the Menburyu Festival. During the festival, dancers wear a demon-like mask and perform around the rice fields of Kashima City to expel evil spirits and ask the gods to bless the harvest. It's one of the many local traditions that you can find all over the country, and one that can pass you by without being noticed if you don't talk with the locals.
On my way back home, I had time to reflect on how this "little" local effort can become something meaningful. I loved the food and the crafts, but overall I loved learning about another place that I definitely look forward to visiting in the near future. After all, I would not have known anything more about Saga unless I dive straight into one of its downtown ramen shops and have a beer at a local izakaya. Furthermore, having the chance to meet with people whom I admire, and who are making an effort to share Japan's culture and traditions like Arigato Japan does, is always refreshing and reminds me why I love my job.
If you want to know more about Saga Prefecture, take a look at this website: https://www.saga-tripgenius.com/
Here, you will be able to find loads of information, and their Instagram pictures are stunning.
Keep following our posts to learn more about Japan and its foodie wonders. You can also join our tours to create delicious memories for us to share together in the future!