Now, who said ice cream is not healthy? Objection! It can be with a little green tea magic and I'm here today to blow your mind away!
Matcha and some vanilla ice cream. Ice cream is among the absolute best matcha flavour pairings, so yes, that's all you need and you got yourself a super bomb dessert that can melt the heated summer troubles away.
This unique combination is quite the treat of what we know as a Matcha Affogato! A matcha what now? Yes, yes I know it might be quite confusing for you so let's break it down, shall we?
What's an Affogato?
If you were wondering where was the word Affogato in studying the Japanese language or why I didn't come across learning such a word, then you're right! In fact, the origin of this term actually jumps across many oceans to the beautiful European country; Italy.
The Italian word "Affogato", literally translates to "drowned", which makes sense because they would drown a scoop of cold gelato by pouring hot espresso over it. (No, don't die lovely ice cream!…..lol). This simple combination created a whole new world (Aladdin?) to give a creamy, caffeinated dessert that is well-loved by the Italians.
Now there may be some debate about whether this item is to be labelled as a dessert or a drink as there are many Italian restaurants and cafes that still categorise it as a beverage. Nevertheless, it still makes an amazing treat to spoil your taste buds! (teehee).
Matcha Background Check:
Now that we've got a hang of the term Affogato, there is just one more word that takes this Italian dessert and turns it into a Japanese treat! It's grown so much (even on me) and that word is…….*drum roll*….Yes! It's Matcha!!
Where does it come from? Well to even begin, these beautiful fields of tea leaves are first grown. The leaves are picked and processed to produce delicious green teas to enjoy every day.
Yet, matcha is a powder? Yes, because the process for this marvellous item is quite different, as it involves tea farmers shading the selected plants a few weeks prior to harvesting. Once hand-picked, the leaves are destemmed and deveined, and then ground into a very fine powder.
The process in itself is quite an extensive one, which explains mostly why matcha remains an expensive green tea item, but I guess this is why greater appreciation and love is shown when we sip a cup of the vibrant green goodness.
Now matcha comes in various grades, and depending upon what you're making, you definitely want to find a grade that suits your recipe well. Quite a lot is made with just this extraordinary green powder and you can discover much more here.
Matcha Affogato:
Guess what! The blog doesn't end here today as you too can make this super delicious dessert at home! (Ganbatte! がんばって)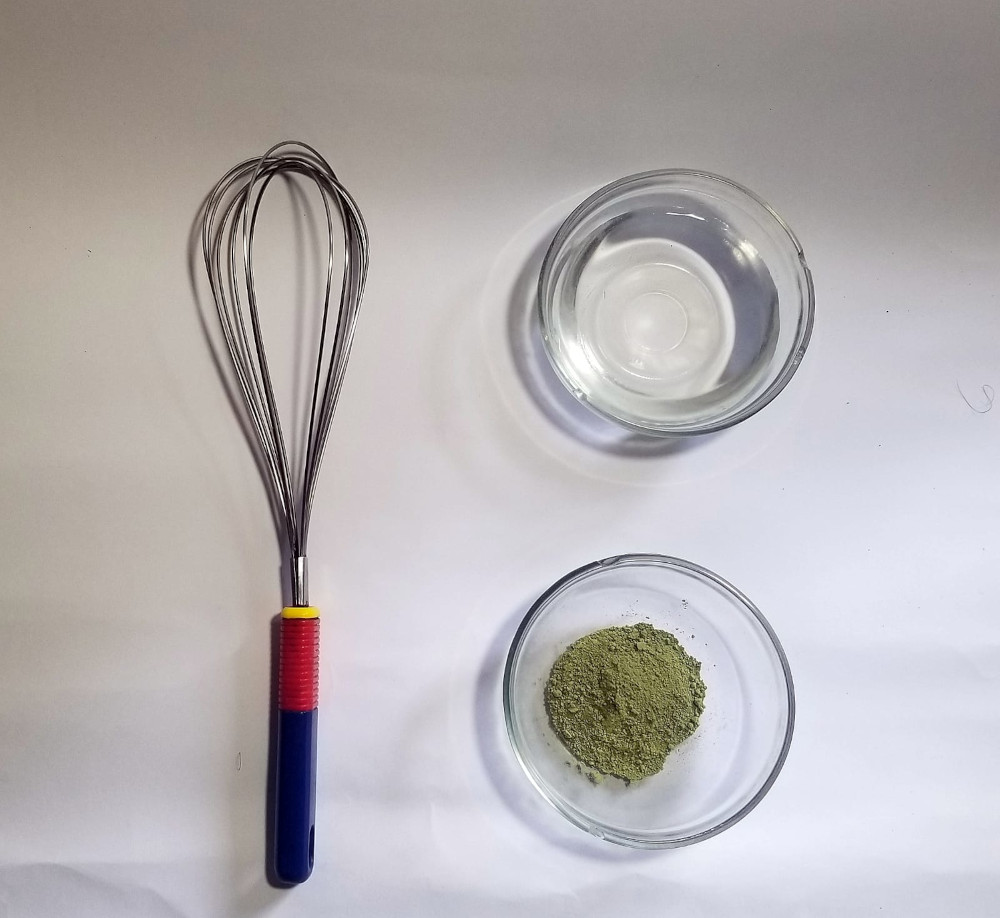 I adapted this recipe from Naoki Matcha and just adjusted a bit. It took me two tries as for the first, I really wanted more matcha flavour but it was a bit too much, so I had to cut down again and the second try was the winner!
Here's what you will need to whip up your creamy concoction and enjoy right away:
A hand-held whisk *

Approximately 80ml of hot water at 80℃ or 176℉

4 grams of matcha powder (approximately 2 Tsps)*
Not shown in the picture:
A kitchen thermometer

A pint of vanilla ice-cream (trust me, you will want more) *

A fancy schmancy ice-cream glass to serve.
Some important details:
Ice-cream detail: The classic flavour of ice cream that's commonly used to make this dessert is vanilla, however, if you are up to the adventure, you can feel free to go wild with your choice of flavours.
Whisk detail: You may be thinking that the fancy bamboo whisk (aka, the chasen) is a must to do some artistic matcha whipping. It's totally fine without it as a whisk can still do the job in this case.
Matcha detail: It's quite unnecessary to use your ceremonial grade matcha for this as that would make it a super expensive dessert. Instead, culinary grade matcha which you may use for an iced latte is perfectly fine! The bitter flavour of this grade will actually balance well with the sweetness of the ice cream.
Now let us begin:
Step 1:
Many have done this before without sifting their matcha, but I felt like not doing so would be violating protocol, so of course, I did sift the matcha first. For me personally, trying to get rid of clumps without sifting is much more of a hassle, so if you're like me, please feel free to sift away.
Step 2:
Using a thermometer, ensure your water is at 80℃/176℉ and slowly pour over your matcha and whisk into a paste. Then gradually add more water in small amounts while whisking in between until you get a smooth mixture.
[PLEASE NOTE]: Not all the water was used as this was an average. It really depends as well on how you would like your matcha, whether thick or diluted. I only used about 40ml of the water itself so carry on this step with caution.
Step 3:
Now time to move a little swiftly! Scoop out your ice cream into a lovely glass. Now without further ado, pour the warm matcha mixture gently over the frozen ice cream.
Now here is where you can have a great laugh! On the left, we have take #1. Ice cream was perfectly placed into the glass and the matcha pour looked quite spot on, however, the most epic fail was that I missed the glass and ended up wasting some precious matcha (TT….cries).
Then, if we go to the right, I finally got the matcha pour right, but I didn't realize the ice cream smeared the glass a bit (lols). Therefore, we can conclude that sometimes in life we won't always get it right, but you can still find the positive in even your smallest mistakes! (#matchamotivation)
Looks like an ice-cream volcano just erupted, shooting forth delicious, green matcha! (haha)
Step 4:
Finally, I got an amazing overhead shot of the matcha pour, and might I add, this already looks crazy delicious.
Now all that's left to do…..well….devour this creamy treat! The warm matcha melts the frozen ice cream bit by bit and begins to fuse together. One spoonful of this and it's a sweet, matcha heaven!
I kid you not that as soon as I tried it, the first word that came out my mouth was "YUMMY!".
Couldn't believe that such an effortless fusion of these two ingredients could create such a super-bomb treat!
Are you craving one now? (giggles to myself). I challenge you to one day, grab hold of some matcha and quickly whip up this delicious dessert. It will be worth it! Finally, this concludes another successful task….COMPLETE! Hope you give this recipe a try and enjoy the wonderful world of Matcha.
Do you know what the ice cream said to the matcha? He said, " I'm so match-a better when I'm with you!" (Agreed!)
Feature image by Sarah Roach on Instagram
Join a Matcha green tea tour during your next trip to Kyoto with a local expert!
PIN THIS FOR LATER
More from our blog…