Sugimoto Tea Company is a division of Sugimoto Seicha dedicated to bringing Japanese green tea to the U.S. market. From the mountains and valleys of Shizuoka to the hands of consumers across the US, they work to provide everyday individuals with something authentic and delicious to enjoy.
Sugimoto san, thank you for taking the time today to give us some insight into the Sugimoto business. We are really looking forward to introducing you and Sugimoto's mission to our readers!
To begin, could you please introduce yourself?
My name is Kyohei Sugimoto, and I'm the president of Sugimoto Tea Company which is based here, in Seattle WA. Sugimoto Tea is a U.S. subsidiary of Sugimoto Seicha, a traditional green tea maker in Shizuoka, Japan.
Could you tell us about Sugimoto tea and your personal connection to it?
It is my family business. My grandfather started making tea in 1946, and I am a part of the 3rd generation of this tea family. My father was the president of the headquarters until just recently, and now my brother is managing the head office.
How did your personal passion for the family business develop and in what ways may it differ from that of your brother and father?
My family values the relationships that we have with tea farmers and we work closely with them. Currently, tea farmers in Japan are having a very difficult time because the domestic tea market is dominated by RTD (ready-to-drink) tea products, which are made with very cheap teas. Many farmers' incomes have drastically decreased over the past 2 decades. Because my family spends a lot of time with farmers, we often think about how we can improve their situation and save Japanese tea-farming traditions. My father and brother always stay with farmers and are always thinking about the Japanese tea industry.
I jumped into the family business when I graduated from college. In the beginning, I think I was like a salesperson. I was passionate to sell my father's teas and make my business successful in the U.S. and at that time, success mostly meant "big sales, big profit" for me. However, after I started having more people in my company, I started thinking "why are we doing this?" and "what is our goal?" These questions changed my whole way of thinking. I hoped we were spending our lives working to achieve something valuable, not only sales or profit. Looking back at my life, I remembered visiting farmers' factories with my father where I watched them joke around. I remembered that farmers came to my house bringing special foods. And, now most of these farmers, if they haven't already quit making tea, are facing a very difficult situation. This realization was enough to motivate me to make our mission "Save Tea Farmers."
Now, I think I share the same passion as my father and brother. And I'm proud of my U.S. team for sharing the same mission and becoming one of the big tea exporters of Japan.
In your opinion, what makes Sugimoto tea special; what makes it delicious?
As I mentioned, my family values our relationship with farmers. We talk with farmers and, together, work to make our teas delicious. It is very important for us to have these passionate farmers working with us.
Also, Sugimoto tea uses a final roasting process called "hi-ire" that my father has a very strong preference for. Generally, tea makers use a moderate roasting process which results in a heavy, grassy cup of tea. My father, however, prefers very strong, high-temperature roasting which makes our teas light and refreshing with an umami-rich aftertaste. We believe that this is the flavor people love.
Can you explain —for those unfamiliar with the process— how Sugimoto's practice of high roasting differs from the production of other green teas on the market?
There is a tea contest that occurs among tea professionals in Japan, and the teas with a moderate roasting process are always awarded. Those teas have heavy and grassy flavors, and that's the flavor loved by most tea professionals. And that's why most tea products you can find in the market are this kind of tea.
High roasting, alternatively, makes tea that is light and refreshing, with an umami-rich aftertaste. Also, it produces a unique aroma called "hi-ire-ka" which literally means roasting aroma. When you drink Sugimoto tea, when the teacup is approaching your mouth, you will notice this refreshing aroma.
Did Sugimoto's expansion into the United States force the company's mission to evolve or adapt in any ways?
While we were expanding to the US, the situation of the Japanese tea industry became much worse. When I started the U.S. office, their situation was already bad — and now it is much worse. This has made our mission even more solid and strong.
Could you elaborate on any differences you have found between the everyday tea drinker in the United States versus Japan and how Sugimoto has had to adapt to such differences?
For Japanese people, I think tea is too close to their everyday life and that's why they don't realize how important it is. Many people are everyday tea drinkers, but they drink tea without reason. That's why RTD tea (bottled tea) products are everywhere in Japan, and people are too used to it. I heard that even tea bags are too much of a hassle for some Japanese people. As a result, the Japanese tea market, which is a huge market, is less attractive to us because people don't care about the quality.
On the other hand, in the US, tea is not too common yet. People drinking tea, especially Japanese tea, tend to do so for a reason and are very particular about it. Many tea drinkers are looking for better teas and something unique. And, they are interested in learning more about the tea they drink. In response, we are putting effort into telling our stories and introducing unique teas like single-cultivar Sencha. For U.S. tea lovers, not only is tea quality very important, but people are also interested in learning who is making the tea and why they should support a particular tea company.
Also, I feel that teatime is very important for tea drinkers in the U.S. — they care about teaware and other tools which they need to enjoy their favorite tea. That's why we started collaborating with Japanese artists to introduce traditional Japanese teaware. Takayama Chasen is one of the premium teaware items we first introduced to U.S. tea lovers. Introducing not only tea but also the Japanese tea culture is something we started particularly in the U.S.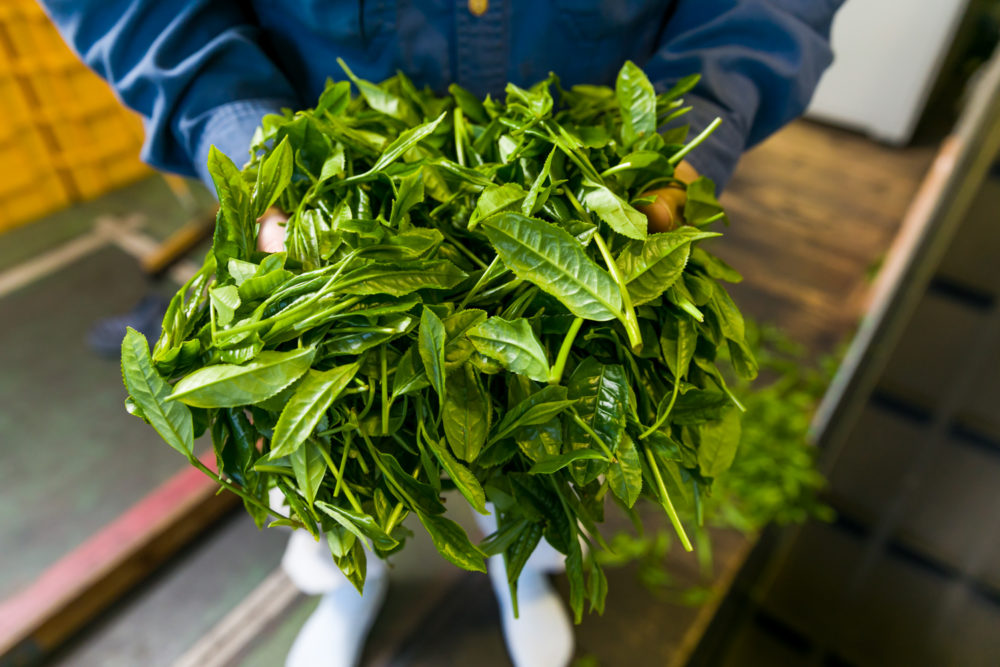 When is your favorite time to drink a cup of tea and how do you prefer to enjoy it? Is there a specific Japanese food or snack that you recommend for pairing with one's tea?
I drink tea all day long, so it is difficult to choose one favorite tea, but I like Kukicha in the morning when I arrive at the office. For me, it is a fresh start of the day, and Kukicha's stem-y aroma and slight sweetness help to refresh my mind.
The tea pairing question is not for me. From my childhood, my family drank tea, mostly sencha, at every meal. Whatever the food was, we drank sencha, and now my palate is too used to it. So for me, I believe my father's sencha can be paired well with any food.
Finally, can you share with us something that you think is an important takeaway for the public to understand about Japanese green tea?
Due to the domestic situation of the Japanese tea industry, many tea farmers are having difficulties continuing their work. The average age of a Japanese tea farmer is over 70 years old, and many of them have no successors. In Shizuoka, we are already seeing many abandoned tea fields, and that is a sign that quality teas are disappearing.
However, outside of Japan, there are so many tea lovers, like you, who care about quality and are willing to buy the quality teas. If you are interested in tea, I want you to give Japanese green tea a try; not only matcha but other loose leaf teas as well. And if you are a person who enjoys quality Japanese tea, I want you to know that you are supporting these tea farmers. I'd like everyone to know that the Japanese tea industry is standing on the verge of disappearing, and needs the support of many people.
Thank you again for taking the time to answer these questions! At Arigato Japan, we value the importance of being a platform upon which companies share their experiences, perspectives and stories firsthand to help others better understand and appreciate the nuances behind that —like tea— which they are dedicated to.
Where to follow Sugimoto Tea:
Website: www.sugimotousa.com
Instagram: @sugimoto_tea_company
Facebook: @sugimotoamerica
Youtube: https://www.youtube.com/user/SugimotoAmerica
Twitter: @sugimotoamerica
PIN THIS FOR LATER
More from our blog…