New Year in Japan is a big deal, it's one of the most important and biggest celebrations in the country! In addition to New Year's Eve on December 31st which is called Ōmisoka (大晦日), Japan also celebrates the entire New Year period, which runs from January 1st to 3rd, and is called Shōgatsu (正月). For this reason, there are lots of traditions related to this period, one of them being kagami mochi (鏡餅). Chances are that you've already seen this funny-shaped yet beautifully decorated dessert in anime, manga and movies. Or, if you live or have been to Japan during the winter time, you've probably noticed kagami mochi pop up in every supermarket, konbini and department store.
Do you want to know more about this peculiar cake? Then keep reading and let's learn everything about this beautiful – and delicious – New Year tradition!
What is kagami mochi?
As previously mentioned, kagami mochi is one of the symbols of the Japanese New Year. It is a typical dessert made up of two mochi (steamed, pressed and oval-shaped rice cakes) one on top of the other, the smaller one on top and the larger one as a base.
The top part is decorated with leaves and, depending on the region, dried persimmons, kelp and other regional elements. A typical Japanese bitter orange called daidai (橙) is placed on the top of the two mochi cakes. The kagami mochi is then displayed on a small pedestal called sanpō (三宝). A traditional sheet of paper called shihōbeni (四方紅) is always placed under the cake. This paper not only has a practical and aesthetic function but above all represents a good omen for the home – it is believed that it will prevent any house fires or other domestic disasters for the years to come.
This New Year's treat/decoration is usually placed in front of one's home Shinto altar or, in its absence, in the living room, kitchen or main entrance. It is believed that when the new year begins, a god called Toshigami will visit, and offering them kagami mochi will bring good luck for the new year.
The best day to set up and decorate kagami mochi is generally around December 28th. The 29th is avoided because its pronunciation is reminiscent of the word "suffering", and the 31st is considered a "last-minute" set up, and therefore unlucky (it would be rude to decorate only one night before the visit of Toshigami!).
Kagami mochi is named after an old-fashioned bronze mirror (kagami in Japanese) that is considered sacred. Moreover, it has a very strong symbolic meaning: the two rice cakes symbolize the past year and the new one that's about to come. The overlapping of the two mochi also represents the moon (yin) and the sun (yang). It signifies that happiness and fortune overlap, and therefore, brings good luck.
The daidai symbolizes the passage of time – its name in fact also means "generations". It represents the continuation of a family through the past, present and future.
Kagami mochi is therefore the symbol of the year that passes, good resolutions and wishes for the year to come.
How do we eat kagami mochi?
Kagami mochi is not eaten right away. It is in fact consumed after the New Year's celebration, specifically January 11th, in the traditional ritual of kagami biraki (鏡開き). Since it's not eaten immediately, the kagami mochi dries down and has a harder consistency compared to the more common mochi that are chewy and soft.
So how to open this cake? Kagami mochi cannot be simply cut with a knife. This is not only because, given its hard consistency, it would be quite difficult, but above all it's because it would bring bad luck (and we certainly don't want to ruin all the good luck accumulated thus far!). It's because, originally, kagami biraki was a samurai ritual for good luck, and words such as "cut" were associated with seppuku (ritual disembowelment) and therefore extremely unlucky. Moreover, by cutting a kagami mochi with a knife it would be like comparing it to a negative cut, such as a severing of bonds between people. So to open and eat the kagami mochi, you need to break it either with a hammer or with your hands!
Once broken, the small pieces of mochi are used in different dishes, such as desserts like zenzai (red bean soup), the traditional new year soup called ozoni or even senbei (rice crackers).
Although it used to be a tradition to make kagami mochi at home, in recent times it's more common to buy a ready-made version in supermarkets or convenience stores – some of them are also decorated with the zodiac sign of the new year! It's also really common to find kagami mochi made of plastic with individually packaged mochi pieces inside it.
Kagami mochi can be quite challenging to make at home, and it may not be easy to find if you live outside Japan, so why not try to make an origami version? Follow this easy YouTube tutorial on how to make your own kagami mochi!
Bonus fun fact!
If you're an Animal Crossing: New Horizons player, make sure to check out the Nook Shopping App from December 22nd to January 5th because kagami mochi will be available as a seasonal item as a celebration for New Year! Let's bring good luck to our virtual houses as well 🙂
On behalf of the Arigato Japan staff, I wish you all a Happy New Year!
PIN THIS FOR LATER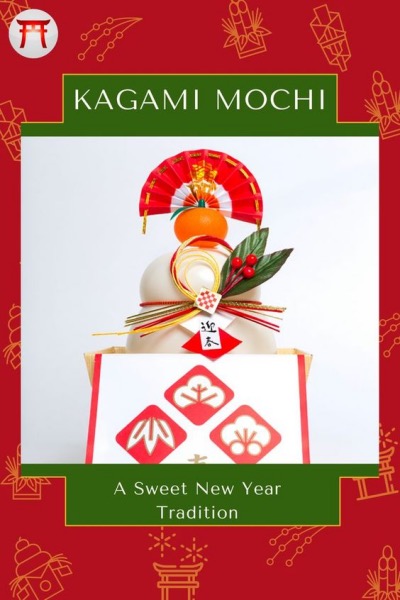 More from our blog…