Today, we're excited to introduce you to Jennifer Onishi, an amazing guide in the Kyoto/Shiga area of Japan. We went on one of her incredible tours in the great city of Ōtsu and had a wonderful time. She just joined our team and we'd love to tell you more about her activities and why you should visit Ōtsu for your next trip!
Hi Jennifer, thank you for your time today! Could you please introduce yourself and share a bit about your background?
Hi, everyone! I'm Jennifer and I'm originally from Kyoto. My dad is Canadian and my mom is Japanese and I was born and raised in Kyoto (I lived in Vancouver, Canada when I was 6-7 years old). I still remember my time in Vancouver – some of the best moments of my life. Right now I'm in Ōtsu, Shiga Prefecture. I moved here 14 years ago when I got married. I'm a mom of two daughters and I'm happy to raise my children in such an attractive city. Two years ago in 2019, I decided to start my own tour here in Ōtsu, which is called "Ōtsu Historical Walk: Hizakurige."
As mentioned previously, we joined your tour in ​​Ōtsu, in Shiga Prefecture and it was amazing! Can you please tell our readers more about this city and why you chose to guide here?
Ōtsu is the capital city of Shiga Prefecture and a neighboring city of Kyoto. The population is about 342,000. Compared to our neighbor Kyoto City, which has a population of 1.5 million, it's not a big city, but we have close ties to Kyoto and have been influenced by the ancient capital since the late 8th century. We have the largest lake in Japan and that is one of the attractions of Ōtsu (Lake Biwa occupies one-sixth of Shiga Prefecture).
So, why did I choose to guide here in Ōtsu? Well, I was happy just being able to raise my kids in Ōtsu. Ōtsu is surrounded by natural beauty, with Lake Biwa on one side and Mt. Hiei and other mountains on the other side. There are so many historical temples and shrines to visit – I spent 10 years just appreciating the environment. You just know that Lake Biwa is always there for us to make us feel happy.
In 2017, I decided to start my new career as my kids were growing up. I found an advertisement in a newspaper saying that Kyoto City was looking for those who were interested in becoming interpreter guides of Kyoto. I applied for it and, after half a year of training, I became a certified Kyoto Interpreter Guide. So I started off my career as an interpreter guide in Kyoto. Then the next year, Uji and Ōtsu cities joined KVH (Kyoto City Visitors Hosts). Once I was a specialist interpreter guide with certifications from Kyoto, Uji, and Ōtsu, I thought I wanted to be a guide specialized in Ōtsu because I knew that Ōtsu was amazing and I wanted more people to know about it and to visit and experience Ōtsu too.
I joined a public program at Ōtsu Machinaka University, which was established with the aim of developing human resources who would play a central role in community development. I learned so many things about Ōtsu, including its history, culture, food culture, literary history and much more. What surprised me the most was its history. I was almost shocked at how interesting its history was and to know that the three biggest names in medieval Japan saw ​​Ōtsu as an important location. That motivated me to create a walking tour in Ōtsu which puts emphasis on both the history of the area called "Ōtsu-hyakucho" and also interactions with the local people.
Ōtsu is really close to Kyoto and easy to get to (only 15 min by train!), but it's also historic, authentic and beautiful. However, it doesn't seem to have a lot of travelers visiting? Can you please tell us why this area is a must-see according to you?
Yes, you're right. We don't get a lot of travelers visiting Ōtsu, although it's super close to Kyoto (actually, only 9 minutes – two stops by train from Kyoto Station). Many people who live in Ōtsu commute to work in Kyoto. Kyoto is one of the most popular destinations for tourists, where tens of millions visit every year. It feels like Ōtsu has been overshadowed by Kyoto's overwhelming presence. Tourists tend to bypass Ōtsu and visit only Kyoto.
You will miss a lot though, if you bypass Ōtsu. Taking the two stops from Kyoto Station can transport you to beautiful places where magnificent Lake Biwa stretches out into the distance. You will feel refreshed and restored to a peaceful, happy state of mind. The lake is beautiful throughout all four seasons and is also the perfect location to enjoy cruises and water sports. One activity that has gained popularity recently is biwa-ichi, or cycling around the circumference of Lake Biwa within a day (for me it would probably take 3 days). Hiking trails run through mountains around the city, and you can enjoy other activities such as skiing and golf too.
Its historical sites are rarely crowded, ensuring a peaceful and authentic atmosphere. You can explore Enryakuji Temple on Mount Hiei, the birthplace of Japanese Buddhism. Ishiyamadera Temple is known as the place where novelist Murasaki Shikibu was inspired to write The Tale of Genji. Omi Jingu is a shrine dedicated to Emperor Tenji, the founder of Ōtsu Capital (yes, Ōtsu once was the capital of Japan!). The shrine is considered the holy ground for the traditional Japanese card game called karuta because Emperor Tenji composed the first poem in the famous Hyakunin Isshu (a collection of poems written by 100 poets) and the poems are the basis for karuta. At Miidera Temple, which is famous for cherry blossoms in spring, you can have an authentic yamabushi experience. Yamabushi literally means "one who prostrates himself on the mountain" and white and saffron-robed yamabushi toting a horagai (conch-shell trumpet) are still a common sight at Miidera Temple. The historic sites I mentioned here are just a few, the list goes on and on.
Even though Ōtsu is only ten minutes from Kyoto Station, it has a very distinctive culture and history from Kyoto. Ōtsu, at one time, was a thriving multi-functional city composed of 100 town districts called Ōtsu-hyakucho. It prospered as a post station along the ancient Tōkaidō Way. The wealthy merchants of Ōtsu-hyakucho started ​​Ōtsu Festival in the early 17th century, and it has been celebrated in Ōtsu now for 400 years. You can experience all of these and interact with the local people in my walking tour, "Ōtsu Historical Walk: Hizakurige."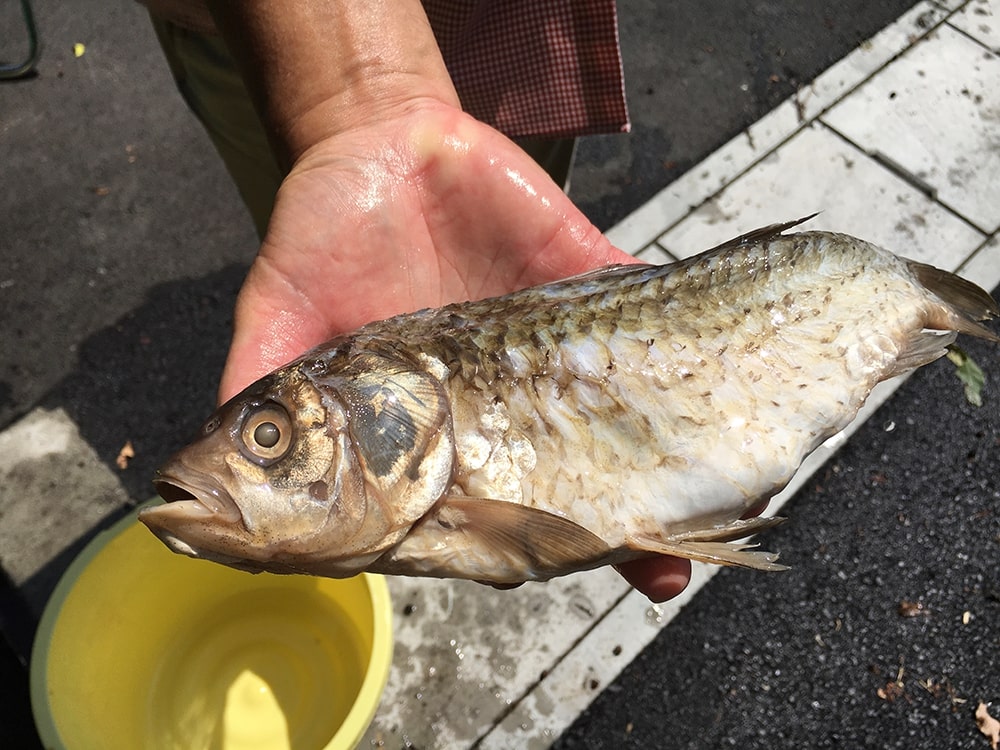 Of course, we have to bring the topic of food to the table. What is the best food to have in Ōtsu and Shiga prefecture in general?
Well, I would say that the best foods to have in Ōtsu and Shiga are the gifts of Lake Biwa. The massive lake is home to fish such as Biwa salmon, sweetfish, round crucian carp, eel, shrimp and freshwater clams, and over 60 species are endemic to Lake Biwa. Ōtsu's local cuisine features a lot of seafood because of the city's location on the shores of the lake. Shijimi meshi is a local specialty in Ōtsu, which features small freshwater clams shijimi cooked with rice meshi, ginger, and soy sauce. Funazushi (salted and fermented round crucian carp) is a local specialty of Shiga Prefecture. It is a type of narezushi, (fermented fish) which is the ancestor of today's sushi. If you are adventurous, I recommend you give it a try. Ebi mame (a shrimp bean dish) is eaten on a daily basis by the locals in Shiga Prefecture. I remember you asking me what it was when you joined my tour. I can imagine you were served with ebi mame wherever you went to eat.
I recently had the chance to hear some stories from a local fisherman. The amount of fish caught in Lake Biwa has been decreasing since 1955 (10,000 tons in 1955 to 700 tons today). Since the catch has decreased, direct delivery from Lake Biwa to Toyosu Market has stopped. Lake Biwa fish have to be delivered to Kyoto Fish Market first, then to Toyosu Market, which naturally has an effect regarding its freshness. The fisherman told me that he wanted "more people to know that Lake Biwa fish are very tasty."
I also recently met a man who absolutely loves Lake Biwa fish. He cooks Lao cuisine using fish caught from the lake. To me, it's unbelievably delicious, and every time I taste it I gain a new appreciation of how delicious Lake Biwa fish is!
Ok, we know it's hard to only pick one, but because we are a culinary travel company, we need to ask you about your favorite Japanese food.
I really love those little side dishes which are known as obanzai. Obanzai is a Kyoto dialect for sozai, which means everyday dishes that people eat with rice at home. It's mother's cooking and includes recipes passed down through the generations which feature seasonal ingredients. Obanzai could be simmered vegetables, deep fried tofu, vinegared food and so on. If I had to pick one from many obanzai that I love, I'd choose Horenso no Shira-ae, which is a boiled spinach dressed with a mixture of mashed tofu, ground white sesame seeds, dashi stock, soy sauce, mirin, miso, and a touch of sugar.
Is there anything else you'd like to add or perhaps a message for our readers?
If you are tired of the hustle and bustle of everyday life, Ōtsu is the place to be. It is a great place where you can slow down, relax, and really enjoy the atmosphere. It is also a very walkable town and there are lots of hidden gems in the town to be discovered. Please feel free to DM me on Instagram. You can be sure I'll be more than happy to introduce our city with its many charms to you!
Follow Jennifer on:
Instagram: @otsu_hizakurige_tour
If you're planning a trip to Shiga, we recommend you to stay at the Lake Biwa Marriott Hotel!
PIN THIS FOR LATER
More from our blog…