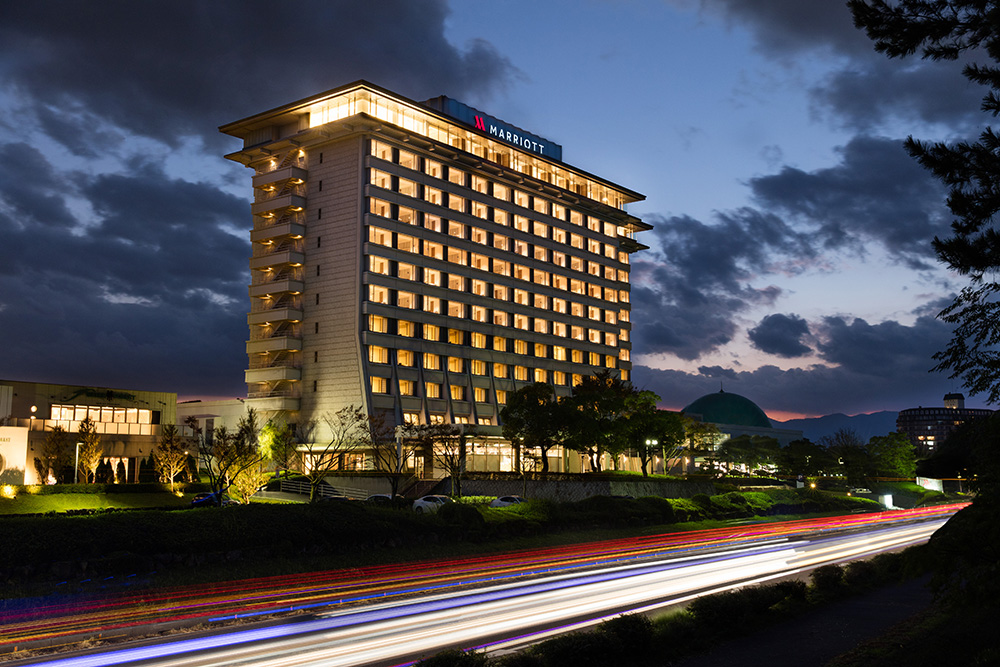 The Lake Biwa area in Shiga Prefecture is an amazing place to visit! If you're looking for a unique and off-the-beaten-track destination for your next trip to Japan, we definitely recommend that you check out this beautiful place.
Our team had the opportunity to travel to Lake Biwa a few weeks ago, and we were surprised at how close to Kyoto it is! Today, we're going to introduce you to a great hotel to stay in during your trip to Kyoto: Lake Biwa Marriott.
Welcome to our blog! Can you please introduce yourself and tell us a little bit about the Lake Biwa Marriott Hotel?
Located about a half an hour by train from Kyoto Station, Lake Biwa Marriott Hotel stands on the shores of Lake Biwa. We have a total of 274 guest rooms designed with the image of a lake, a restaurant that serves dishes abundant with local ingredients, and full facilities including a planetarium and a pool. Everyone is warmly welcomed to our hotel.
Your different rooms—from Western style bedrooms, to Japanese tatami rooms, to luxury rooms with private hot spring baths—cater to all kinds of customers. What is your most popular room?
The Premium Room with a hot spring is very popular. From a spacious 40㎡ guest room, you can enjoy a beautiful view of Lake Biwa and the Hira Mountains, and spend a blissful time soaking in a private hot spring.
What type of accommodations and services do you offer for families with children?
For families with small children, we have toys and picture books prepared in the room, and we also have a "Welcome Baby Plan" with diapers and baby equipment. There is a kids room for children to play in, and we also have a gymnasium, planetarium, and an indoor pool on our site for the entire family to enjoy.
As shown in the Japatabi video below, Lake Biwa certainly has a lot to offer all year round. What kind of activities can your guests enjoy in Lake Biwa and its surrounding area? Are there any season-specific ones for them to take part in?
During the spring and autumn seasons, we recommend cycling, which is a popular activity in the Shiga Prefecture area. Guests can enjoy the scenic view of Lake Biwa on the 'Biwa Ichi' and 'Petit Biwa Ichi' cycling routes. In the summer season, we offer programs for guests to enjoy activities at Lake Biwa, such as kayaking and stand-up paddle boarding.
Let's talk about food now. What kind of culinary treats can guests enjoy at your restaurant? Are you offering seasonal themes at your restaurant during the year?
The restaurant on the top floor of the hotel, 'Grill & Dining G', offers dishes that are unique to this area, such as grilled local foods and seasonal vegetables from Ōmi. For breakfast, in addition to the standard dishes, we have a lineup that is unique to Shiga Prefecture, including shrimp, beans, and red konjac. Our lunchtime dishes are mainly grilled, and include options such as a casual lunch course and a Japanese lunch plate. Furthermore, we offer a lovely afternoon tea. For dinner, guests can enjoy a main course of various grilled dishes, as well as à la carte dishes such as Ōmi beef, Ōmi chicken, and the Marriott Burger.
Is there a particular dish you would recommend at Lake Biwa Marriott? And in general, what food would you recommend to travelers visiting the Lake Biwa area to try?
Our main course offered during dinner is prepared with unique local ingredients, such as various seasonal Ōmi vegetables. For travelers visiting the Lake Biwa area, we recommend trying dishes with grilled Ōmi beef, Biwa trout, small sweetfish, and lake fish.
The views from your hotel are certainly perfect for a magical and romantic wedding. What kind of packages do you offer to couples who would like to get married in such an exceptional location?
We have a chapel with a magnificent view of Lake Biwa for your special wedding day. In addition, we offer a charming party venue and Japanese Garden for you to enjoy the scenic view during the reception. We offer a variety of plans to suit your needs, including small groups, wedding only, and photo weddings.
Is there anything else you would like to share with our readers?

Our hotel is easily accessible from Kyoto and located in Shiga Prefecture, which is rich in nature and culture. You can have a relaxing time in a room overlooking Lake Biwa, Japan's largest lake, or enjoy a delicious meal made with unique local ingredients while gazing at the spectacular view of the lake at the restaurant on the top floor. Furthermore, we welcome you to enjoy our various facilities, such as the planetarium and indoor pool.
Follow them on:
Website: www.biwako-marriott.com
Instagram: @lakebiwamarriott
Facebook: facebook.com/lakebiwamarriott
Twitter: @Marriott (general, United States), @MarriottIntl (general, International)
Planning a trip to Japan and looking for great recommendations? Book a call with an expert!
PIN THIS FOR LATER
More from our blog…