Meet Tezumi Tea, a tea and teaware distributor passionate about introducing the art of Japanese tea to beverage-lovers all over the world. Their name comes from the Japanese word tezumi, which means 'hand-picked' and reflects the Japanese tradition of picking tea leaves by hand to ensure a top-quality tea. We had the pleasure of interviewing them for a chance to learn more about their business.
Hi Tezumi Tea, thank you for taking the time and talking to us, we really appreciate it. Could you please introduce yourself and your company to our readers?
Thanks for inviting us! We're David, Michael, and Ryan—three tea enthusiasts who want to share our love of Japanese tea and teaware with the world. To do this, we're working with small, artisanal Japanese tea producers who are passionate about their craft, and are working towards a goal—whether it's to preserve and perfect age-old traditions, to experiment and push the boundaries of Japanese tea, or to create a more sustainable and biodynamic future for the industry. We want to support their efforts by sharing their teas and stories with you.
Along with tea and teaware, we strive to share our knowledge on all things Japanese tea and tea culture, from the ins and outs of tea production, to the history of ceramics styles, and the philosophies of the Japanese tea ceremony.

How come you decided to start a company focused on tea and teaware?
Tezumi began with the mission to bring affordable and high-quality Japanese teaware to tea enthusiasts around the world. One of our struggles when first getting interested in tea was finding affordable handmade teaware, especially kyusu (teapots) and chawan (matcha bowls), that we could use on a daily basis, and cherish for a lifetime. These are the types of Japanese teaware that we strive to make more easily available.
We also work with small tea farmers in Japan to share unique, high-quality, rare teas. There are a lot of amazing and creative teas being produced that are harder for people outside of Japan to get their hands on. We want to bridge that gap, and help bring these great teas to overseas tea enthusiasts.
Tea has unfortunately lost some of its popularity in Japan in recent decades. How do we get people excited about tea again?
While the export market for Japanese tea, especially matcha, continues to grow, domestic sales of loose-leaf Japanese tea continue to fall, as younger people are drinking more coffee, imported black and oolong teas, and bottled tea. As such, brewing Japanese green tea in a teapot is increasingly seen as boring and old-fashioned.
In response, tea farmers have begun to experiment with producing new and exciting teas, with a focus on sweet, refreshing, and floral flavours, rather than the traditional umami-centric green teas. These new, innovative teas include black teas, oolongs, white teas, and withered green teas called ichou-sencha (萎凋煎茶) or kaori-ryokucha (香り緑茶), which have a powerful floral aroma.
What is something you'd like people to know about tea culture in Japan?
We'd like people to appreciate the variety and diversity of Japanese tea culture. In addition to the traditional, philosophical, and artistic realms of chanoyu (茶の湯 – tea ceremony) and senchadō (煎茶道- sencha ceremony), there are more casual and modern aspects of it. This ranges from single origin tea tastings to modern matcha desserts. Japanese tea culture has both an incredibly rich history and a thriving future.
You mention the importance of the right teaware when enjoying Japanese tea, could you give us some more insights into that?
While using a tea bag or a western teapot will surely get the job done, the shapes, strainers, and clays of Japanese teaware are designed with Japanese tea in mind. For example, Tokoname-yaki kyusu have a side-handle for easy pouring, a built-in clay filter for straining the tea, and are made from a slightly porous clay that retains heat and also softens the bitterness and astringency of green teas.
What is your favorite way to enjoy tea? Any specific food pairing you'd recommend?
Of course, we love the classic pairing of matcha and wagashi, with the gentle sweetness of the wagashi complementing the slight bitterness of matcha. Our absolute favourite way to enjoy tea, however, is with friends as tea is a great way to bring people together.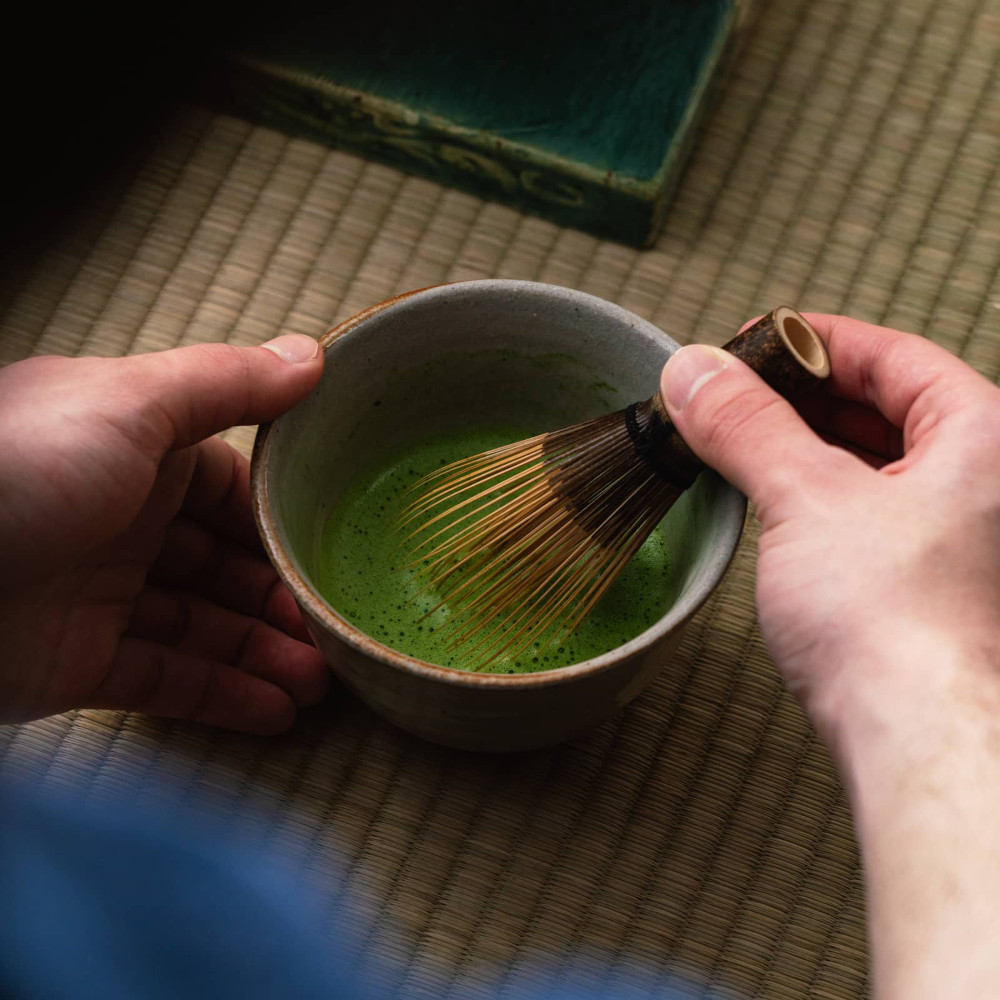 Now that autumn is here and the weather is getting chillier, which teas would you recommend?
While we enjoy sencha year-round, there are some teas that are perfect for cozy autumn days. Genmaicha (玄米茶), which is a blend of sencha and toasted rice, has a warming and comforting aroma. Similarly, hōjicha (ほうじ茶) which is made from roasted sencha or bancha, has a toasty aroma. A rarer tea that we love to drink this time of year is Kyōbancha (京番茶), which is a super-smoky and roasty folk tea traditionally made in Kyōto.
Also worth noting is that autumn is the traditional time when this year's gyokuro and matcha are released. While they are harvested in spring, they are left in storage over the summer to mellow and mature, becoming smoother and richer.
Thank you so much for answering our questions and sharing your expertise. Is there anything else you would like to share with our readers?
Thanks again for inviting us! We hope you'll brew up a cup (or bowl) of your favourite tea and join us in spreading the joy of Japanese tea!
Follow Tezumi Tea on
Website: https://www.tezumi.com/
Facebook: https://www.facebook.com/tezumitea
Instagram: https://www.instagram.com/tezumitea
Twitter: https://twitter.com/TezumiTea
TikTok: https://tiktok.com/@tezumitea
Tea Guides: https://www.tezumi.com/pages/tea-guides
More from our blog…