At last, we get to wrap up our 10 reasons for the season in the most frigid season ever; Winter (fuyu (冬) in Japanese). It is very cold and dry, with temperatures reaching as low as 5°C, so it is often overlooked. Nevertheless, you can see Japan under the snow cover and discover another aspect of it.
Don't let the cold atmosphere shy you away from experiencing the winter wonderland of Japan. Let's discover 10 reasons to visit Japan in this season!
To try the Kotatsu
The center point of most traditional Japanese homes during Winter, it is a low table with an electric heater attached below. A special Futon is placed over it, to trap the warm temperatures in, so you can enjoy the cold comfortably.
Gather with family and friends to stay under the Kotatsu, play some games or have hotpot in the winter weather. Or, maybe just nap under it (it's quite comforting!).
To go Skiing
If you want to experience the thrill of powder snow skiing, January to early February are the opportune times to catch this.
If you are an avid Ski fan, there are over 600 ski resorts, with the Hokkaido, Nagano and Niigata prefectures being such famous destinations. You can definitely find the most ski resorts in the Nagano prefecture, with Iwate prefecture having the longest mountain range; the Ou Mountains.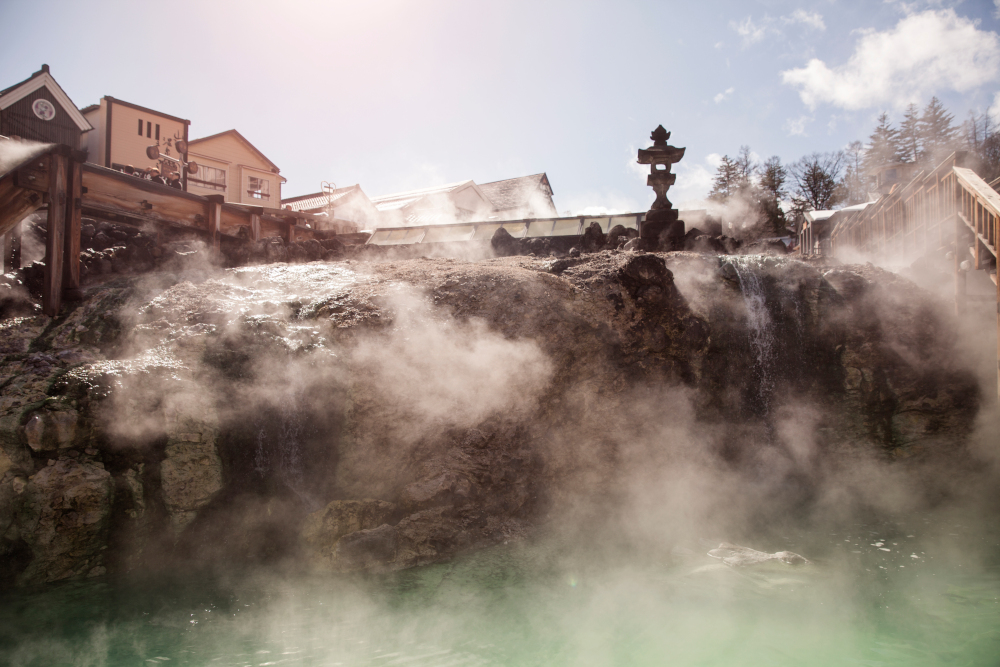 To relax at the Onsen
Japan is well known for their onsens, which are known as 'hot springs'. However, it can be known as a resort in which people built an infrastructure around it, called a Ryokan.
Onsens are magical especially at Winter time for you to escape the freezing temperatures. They can differ across the country as some are public, while others are privately run such as the Ryokans. Many of these inns prefer to build indoor baths, while traditionally you can find outdoor baths as well.
To fully enjoy an onsen at Winter time, any Japanese would claim that you must enjoy the open-air onsen during this time. While soaking away in hot mineral water, the cool air blows on your face while you gaze at the falling snow. Only an experience you can gain by doing so yourself.
Depending on where you book at, most ryokans offer dinner and breakfast, which is essential for your full onsen experience. They mostly display their local foods, but also seasonal favourites. Thus, with a blend of the onsen, food, nature and the humble hospitality of the staff, you gain a magnificent experience altogether.
To see Christmas illuminations
For Japanese people, this season is time to spread happiness and to enjoy with their loved ones. Especially for couples who enjoy a slow stroll together to view the illuminated sceneries.
Places such as malls, parks or even famous landmarks such as Tokyo Station will be decked out in their brightest LED displays. These illumination exhibits can be discovered in the major cities such as Tokyo, Osaka, Kobe, etc.
Most popular on the list would be in Tokyo, including popular areas like Shibuya.
But don't panic! This popular attraction is not only viewable at Christmas time. In fact, it begins around November. Others may begin in October but they also last as far as to February of the New year, so you're bound to capture these charming sceneries.
To eat KFC during Christmas
In 1974, the manager of Japan's first ever KFC; Takeshi Okawara, invented the idea to sell a 'party barrel'. After overhearing foreign customers expressing how much they missed turkey for Christmas, he created 'Kurisumasu ni wa Kentakkii' (Translation: Kentucky for Christmas.) He hoped this would fill the void of foreigners missing Turkey, but also create a national tradition.
Presently, for most Japanese families, not a Christmas goes by without purchasing KFC on this day. December is hectic for Japan's KFC branches, so getting a hold of their 'KFC special Christmas dinner' requires ordering weeks ahead. If you don't do so, it will mean queuing in long lines, sometimes for hours, just to grab this holiday special.
To see the snow monkeys
I'm sure you have seen the infamous photos of monkeys casually chilling in an outdoor onsen during this frigid season. In fact, it's a real life experience you can find in the mountains of Nagano prefecture.
The Japanese Macaque, commonly referred to as the 'snow monkeys' , are native creatures who gather around the natural hot springs to survive the tough, cold winters of Japan.
Plan a trip to the amazing Snow Monkey Park of Jigokudani. Despite the steep climb, you can have a rewarding, ecological adventure to see this snow monkey paradise!
To go to the Sapporo snow festival (さっぽろ雪まつり, Sapporo Yuki Matsuri)
An annual event occurring in Hokkaido's capital, Sapporo. Considered one of Japan's most popular winter season events, it takes place one week in February every year. It began in 1950 in Odori park where high school students would go to build snow statues. Over time, it turned into a commercialized event featuring picturesque ice and snow sculptures.
This event attracts many visitors from Japan and the world as they join in this snow festival which spans across 3 locations. From the amazingly crafted ice and snow sculptures being lit up at night to an outdoor concert, or even to trailing down snow slides, there's quite some excitement waiting for you!
To go to Disneyland & Disneysea
Do you want to visit the 'Happiest place on Earth'. Then take a trip to Disneyland in Tokyo; a 115 acre theme park designed with astounding attractions and your favourite Disney characters.
Christmas time begins around November to December 25th at Disneyland and is considered the most festive and magical time for you to visit. Be sure to get some of the seasonal treats and merchandise, with some being limited edition. You may find more couples strolling along to enjoy the fun as Christmas is more known as a romantic holiday in Japan.
Are you a super big Disney fan? There is more fun waiting for you at DisneySea as well; a 176 acre theme park with amazing water themed attractions for you to 'SEA'! Here, you can still grab lots of festive treats as well.
Finally, Christmas is not Christmas with the popular lights as we know it. Disneyworld and DisneySea. There is no denying, the decorations are hands-down elaborate and spectacular at Christmas time. You can experience this at nighttime which makes it all the more magical as it can light up the warmth in your heart!
To celebrate New Years Day
It is celebrated on January 1st with respect to the Gregorian calendar and is very important to the Japanese with many customs and traditions to look forward to! Japanese New year is considered to be one of the largest celebrations in the nation. From January 1st-3rd, it is normal to find businesses closed down to celebrate.
During this time, there's a tradition known as Hatsumode, where people visit shrines/temples for the first time in the year and prayers are sent for prosperity and good health.
If you are celebrating with your friends or family, customary food will be eaten on this day. Osechi is well known for its layered bento-like boxes filled with an array of delicious foods. Osechi foods can vary between regions, with each food being symbolic to represent something (example- Shrimp represents longevity), so why not join in on the New year wishes!
To join the Comic Market (End of december-beginning of January)
Are you a super fan of anime, manga and comics like myself? Maybe you and your friends decided to all cosplay one day with the school vibes, or you're just browsing through for fun.
Comic Market, shortened and well-known as Comiket (コミケット), is a large fan convention that occurs biannually. It is mainly centered around displaying and selling Doujinshi (同人誌). This term refers to self-published work which aims to depict mainly anime, manga and video games.
This event also gives creators a huge opportunity to showcase their work to over thousands of enthusiastic fans. These numbers can be over 500,000 in attendance, so it is also normal you would see many cosplayers as well.
Oh sounds exciting! Definitely! Pro tip when joining in on this event is that you definitely want to have cash on hand as most vendors only accept cash.
Wow, we have come a long way of finding 10 reasons to go to Japan in each season! Did you enjoy discovering them all? If you missed the other seasons then be sure to check out Spring, Summer and Autumn. Be sure to jot down all the fun and exciting activities onto your bucket list and begin your adventuring! (What are you waiting for?).
Featured image by Weiqi Xiong on Unsplash
PIN THIS FOR LATER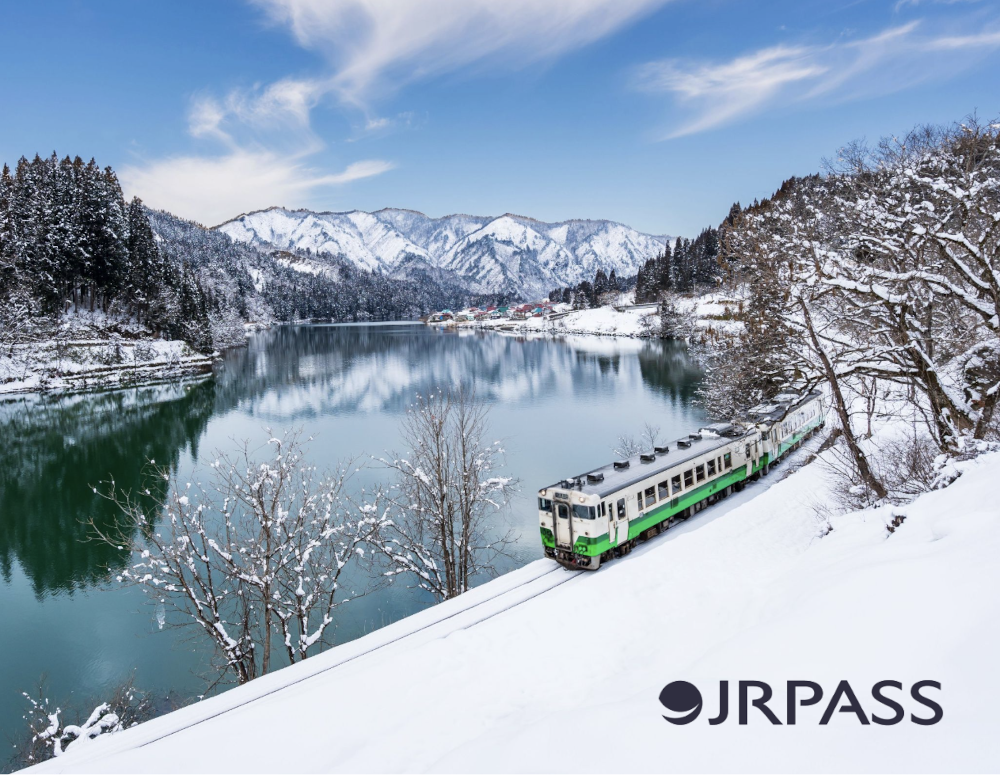 More from our blog…