Steeped in years of history, a Japanese tea ceremony holds its stance as both a traditional and ceremonial way of life amongst the Japanese people.
An art itself and much highly appreciated in their culture, a tea ceremony is also a way of not only just serving you tea, but for you to enjoy the hospitality of the host present. In the quiet traditional room filled with tatami mats, you get to enjoy a delicious cup of tea, which takes you away from the usual fast paced environment of everyday life!
A Little Background Knowledge
Did you know green tea actually came to Japan from China around the 8th century. Japanese monks who studied Buddhism in China returned with tea plant seeds, and the first plants were grown in the Uji region of Kyoto, Japan. Now, there are quite a number of tea plantations spread across the Japanese nation, with a mass production of green tea!
Now tea was not a drink for everyone back then, as it was only considered to be exclusively enjoyed by religious classes and later to the royal and elite classes in which, hundreds of years later, it then made its way into every social class.
The Main Significance
To an international traveler, tea may be considered as just an everyday drink you like. However, for the Japanese, this is no ordinary drink, but a custom interwoven into their culture and found to accompany almost every meal.
Serving as a symbol of hospitality, tea ceremonies are rooted and founded within Zen buddhism, which not only makes it a traditional but also a spiritual process. It aims to have the guests seek harmony and inner peace all away from the routine of the world.
Now when you go to a tea ceremony, there are quite a bit of utensils used all in the preparation of your delicious tea! What are they? Well let's find out, shall we?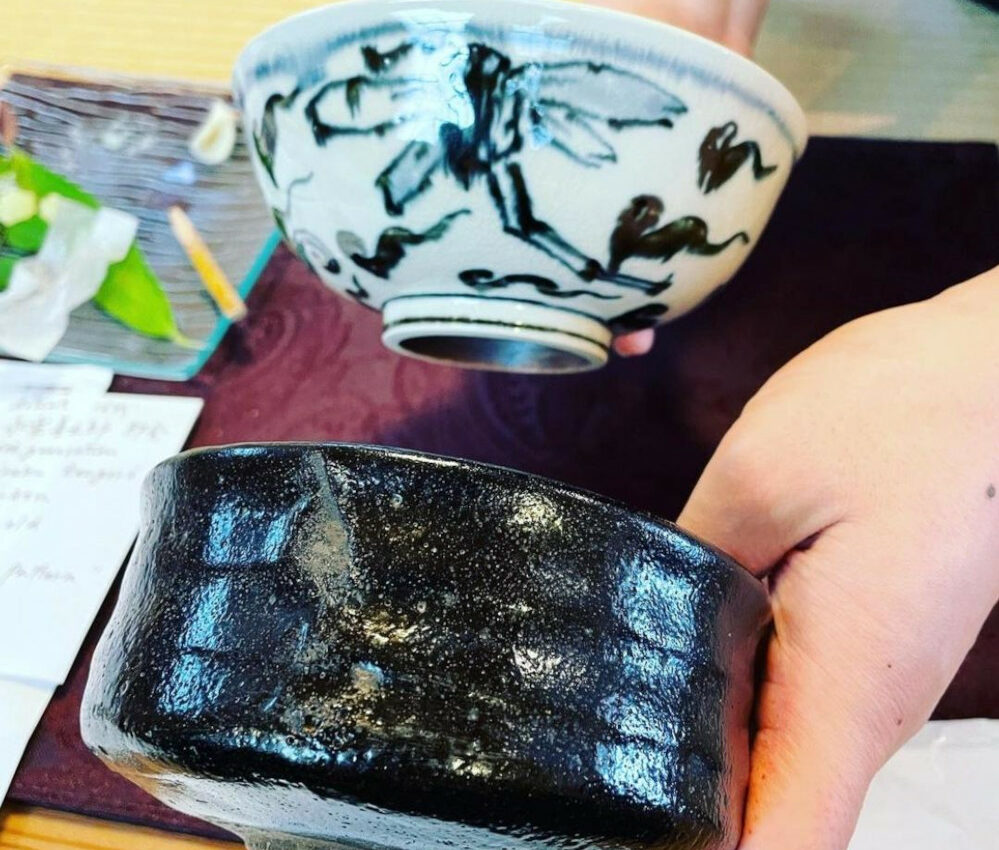 Chawan/ Tea Bowl (茶碗)
First, choose your bowl! Yes! The most important item necessary for you to enjoy your heavenly served matcha is none other than Chawan, also known as the tea bowl.
Coming in different shapes and sizes, depending on the season, they can also vary in the designs and thickness (so your tea will not cool off quickly). When you enter the room, some tea houses may provide you with an array of choices for your tea to be served in.
Why? Simply put, the Chawan is the central utensil of a tea ceremony, but also a centerpiece for artistic expression. If you look closely, you can see the maker's handiwork and how much time was placed into this ceremonial item.
Chashaku / Tea Scoop (茶杓)
To get that perfect measurement of bright, green matcha powder, the host will use what is known as the Chashaku. Specifically designed from a single piece of bamboo, the curved tip helps to neatly place the matcha into the Chawan.
Depending on the tea house/ school, season or traditions, the style and colour of the Chasaku can vary, as it is sometimes made from different materials. (Eg- Ivory).


Chasen / Tea whisk (茶筅)
Made purely out of bamboo, the Chasen is needed to whisk together the beautifully green hued matcha powder into a creamy looking bowl of green tea!
By using one single piece of bamboo (whether dried, fresh or smoked), they are carved and can have varying styles depending on the type of ceremony and tea being served.
This specially handcrafted utensil has an array of delicate tines that helps to whip that matcha into a deliciously, creamy, foamy mixture for your happiness! (sounds heavenly!)
Kama / Chagama / Kettle (釜)
To fully complete the preparation of a cup of enjoyable green tea, one will need the final ingredient, which is none other than the water. With its rounded shape and lid at the top, this cast iron kettle can be found within the tea ceremony room; be it in a sunken hearth or atop a charcoal brazier.

This keeps the water heated, which is essential to tea making. For the safety of the guests, high quality Japanese charcoal is used to prevent smoke and an odour, however, in modern society, it comes as no surprise to see electrical heating elements being utilized.
Hishaku / Bamboo ladle
To make every cup of delightful tea, the host needs to transfer the heated water from the large kettle (Kama) into the delicate Chawan filled with vibrant green matcha powder.
To do so, they utilize the utensil known as the Hishaku. With a seemingly long handle and a nodule in the middle, its cup shape is the best measurement for collecting water.
Fukusa / Silk cloth (袱紗)
Ranging in different colours between the male and female hosts, this square silk cloth called the Fukusa is used to purify the chashaku and other utensils during the tea ceremony. It can also be used when the host and guests are handling the chawan.
When not in use, the host will delicately tuck the cloth inside the left hand side of their obi (a kimono belt), but it can be seen on the right side at some warrior class schools.
Does learning more of these utensils make you just as more excited to book yourself at a nearby tea ceremony! I know it definitely does for me. If you present to me green tea everyday, I shall humbly accept it anytime (lols).
Therefore, these are just a few main important items necessary to the host at a Japanese tea ceremony. Just for preparing your super green bowl of matcha, a host will utilize these to their greatest efficiency, but using delicate movements, leading to the end result of delivering your bowl of green tea. (which I will never say no to….haha!).
Featured photo by Ripley Elisabeth Brown 🧿 ៚ on Unsplash
Want to enjoy a tea ceremony experience during your stay in Tokyo? Join our 3-hour tour in Yanaka!
PIN THIS FOR LATER
More from our blog…