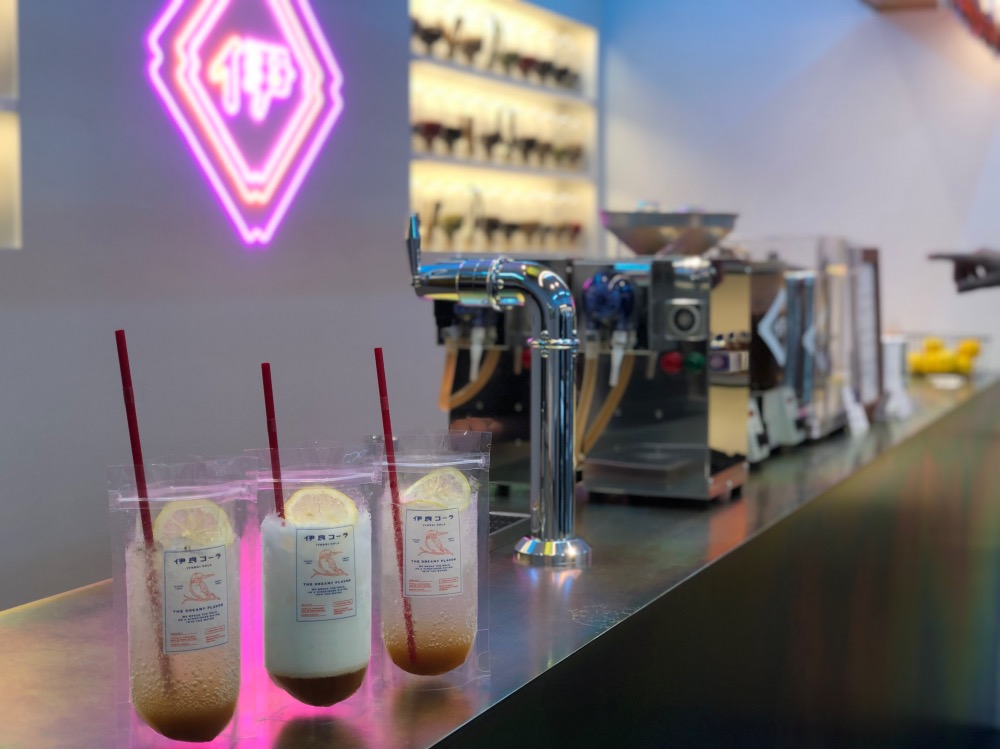 Today we're happy to introduce you to Mr. Kobayashi, the founder of Iyoshi Cola in Japan. Can you please introduce yourself a bit to our audience and tell us the story behind Iyoshi Cola
In Japan we sometimes say "Mania" for someone who is a bit obsessed with a subject. From the beginning, I had Cola Mania for sure. I would go around the world and drink all different kinds of Cola. Also, my hobby is fishing, so I would fish and then drink cola from all of these different places. This was what I did during my university experience, but after my graduation, I moved on to working at an advertising agency. Working at that agency was a difficult experience for me, because it was a really strict company and required a lot of hard work.
One time, while I was still working for this company, I came across a secret cola recipe on the internet. Finding this recipe was a big surprise to me, because this meant that I could make cola by myself! My grandfather went to Harvard for a medical degree in order to become a pharmacist and my major in university was agriculture. Since I had studied agriculture, I knew what it took to manage these kinds of things, and decided that I would start to sell cola with the knowledge that finding this secret recipe had given me. I went to the supermarket to buy the spices that I needed, and I tried to make my first cola.
How was it?
It wasn't too bad, but it was not particularly delicious either. I thought, "I want to make a cola that is even more delicious." So I decided to improve it, and I made cola every night after work, constantly going through new and improved iterations. Around two or three years passed like this. It was difficult and frustrating because I still couldn't make the cola taste delicious. I thought that no one would be impressed by my cola, so I considered giving up.
"Inspired by his grandfather!" Photo by Lauren Shannon
But one day, and I looked through his lab. I mentioned earlier that he was a pharmacist, and he had a lot of tools and materials for that profession, which I took back with me and gave me inspiration for the method for developing my cola. By using these tools and materials, I was able to change the heating process and make adjustments to the development method. Once I returned and employed these methods for making cola, it was completely different! It was delicious–more flavorful, and the coloring was improved too. From that time on, I decided I wanted to share that cola and sell it to people. This was the first Iyoshi cola.
Congratulations on opening the first craft cola house! I wanted to ask, what are your shops like, and what did you have in mind when you designed them?
The truck was made with the specialized purpose of selling cola–it makes it easier to move around and go everywhere to sell it. My second store was inherited from my grandfather, and I wanted the people to see my heritage from my grandfather, so I used a lot of older tools and made sure the design was a lot more retro for that purpose, but I also made sure to mix in some modern vibes. I think that cola is an interesting drink, in that orange juice and coffee are made with one ingredient, while cola is made as a combination of many ingredients. In that respect, I think cola is actually quite Oriental.
Why do you think people should try craft cola in place of brand-name colas? What is the big difference?
We make Iyoshi Cola with many different ingredients, and it creates a complex flavor. It's like perfume–it has a top note, middle note, and last note. The flavors of craft cola are much deeper and more interesting than the colas that have been made to be as widely appealing to as many people as possible.
Do you use more natural ingredients for the sweetener as well?
We don't use any chemicals like high fructose corn syrup or anything like that. We strictly use fruit slices and sugar.
I remember when visiting your truck at first, you sold cola out of a bag. How did you have this idea of selling a bagged cola?
I mentioned earlier that in my younger years I traveled a lot, and in either the Philippines or Indonesia I drank cola out of plastic bags. I was inspired by cola sold in this style, so I decided to package my cola like that too.
Tell us about the Kingfisher: why is this your logo, and what is the story behind your brand?
For those who don't know, the Kingfisher is a type of bird that eats fish (and sometimes aquatic insects) they've grabbed from diving into ponds or lakes. I thought this bird was the perfect thing to represent my company because I think it's a really interesting creature and it represents my hobby. I also think that the Kingfisher represents challenges and overcoming them since Kingfishers dive underwater to achieve their goals, while other birds only fly through the air. Iyoshi Cola has had to overcome a lot of challenges and can be a challenger to a lot of the bigger companies, so that's why I chose it to represent Iyoshi Cola.
When someone drinks Iyoshi Cola for the first time, what do you hope they experience?
My aim for a first-time customer's experience is for them to think that my cola has broken the mold. Especially in Japan, people have their mold–their routine they fall into and never stray from. So I want to help them to break that mold and stray off the path so that they can be more free as people. It's my pleasure when my cola can help people to do that.
Besides your shops, where can people buy or try Iyoshi Cola? Are you working on any partnerships, and are you selling overseas anywhere?
Yes, there's a small independent movie theater that sells Iyoshi Cola, as well as several small cafes, and over 100 small stores too. Overseas, there's a store in London, and just recently a store in Paris asked us if they could sell our cola. We're happy to have partnerships like this, and would love to have more stores spreading our cola around the world!
Do you look for partners that do the same thing as you–smaller companies that are looking to do interesting things and break the mold–to work with? Also, I saw that recently you've released "spirits" versions of Iyoshi Cola. Are you looking to expand into that field and do more things like that?
Yes, I definitely look for like-minded partners in that sense. That was my "Cola Shochu." I would love to make more spirits like gin, rum, or vodka in the future! I want to keep experimenting and try more variations and other types of alcohol, like wine or beer.
Is there anything else you want to tell us about this new shop? Can you also tell us about the crowdfunding campaign you ran to open it? I see a banner or traditional Noren in front of the shop but the backside of it has many names on it… Are the names the names of people who contributed to that campaign?
Yes, those names are all people who supported the campaign, and I really appreciate each and every person who did. Our partner company actually broke up in the middle of the process of creating the store, so the 8 million yen required to open had to completely come from our own income, rather than from their support. When we heard about crowdfunding, we decided to try it and it was incredibly helpful for us. On the bright side, all of the people who crowdfunded the store became a part of our community, and really felt like they were a part of Iyoshi Cola, and we genuinely appreciate them from the bottom of our hearts. One of our main purposes when founding Iyoshi Cola was to create a community, and while this was a difficult situation, I think this crowdfunding campaign actually led to a happy ending because we were able to achieve that purpose.
You decided to open up this store even during the coronavirus situation, so what were the difficulties of doing that during these difficult times?
Starting a new business or opening a new store is always difficult, and throughout the entire process, I always felt a nervous feeling, since there aren't nearly as many people here or willing to go out as there usually are. However, the original cola was created after the American Civil War, so something good was able to come out of something that depressed society as a whole. I think that we are in a similar position–cola is by nature a happy drink that I believe can help bring a smile to the faces of people who are depressed or anxious about the world, and because of coronavirus right now there are a lot of people like that, so I decided to push on with this despite the difficulties so that I could spread that happiness to all of the people who need it.
Do you have any specific message for our readers about Iyoshi Cola or yourself?
First off, if any of you have a chance to come to our store, I would love to see you and have you here! I hope to be able to meet and talk with your readers in the near future, and I want them to be able to enjoy and experience Iyoshi Cola firsthand. Second, my dream is to open a store in New York, and since my company is growing, I think it is possible now. We are gathering many partners, so if anyone is interested, I want to invite them to work with us, and feel free to contact me!
One last question since we are a food tour company and we love food, what is your favorite Japanese food? Or maybe what is your favorite food to pair with Iyoshi Cola?
I love to have pizza and Japanese meat when I'm drinking cola, so I think that would have to be my answer.
Thank you for your time, it was great to know more about you and your company!
Follow them on:
Website: https://iyoshicola.com/
Instagram: @iyoshicola
Facebook: @iyoshicola1
Twitter: @iyoshicola
PIN THIS FOR LATER
Want to discover more about Japanese drinks during your next trip to Tokyo? Join our Luxury Cocktail Tour with a local guide!