The team here at Arigato Travel recently came across this heartwarming eco-friendly farmstay located just out of Kyoto, called Furumaya House. As soon as we saw its beautiful and welcoming atmosphere, we couldn't wait to introduce it to our readers.
So first, I just want you to introduce yourself and your family, so we know a little about you.
So I'm Sayaka, my husband is Nicolas, and we have a five-year-old son Theo. I'm originally from southern Kyoto, I studied in the States for four years. When I came back I worked in the publishing industry for about eight and a half years for an American company. I enjoyed my life in the city, but I always knew that I wanted to be my own boss. I wanted to start something of my own that I enjoy, love, and was passionate about. I organized a trip, inviting friends to visit Chiiori where I had been before with my English girlfriend. It was a fabulous experience and I decided to organise another. I took a group of 10 people, and we would make curry on this big, wooden table. We would eat together around the hearth, and sit outside for breakfast. Even though it wasn't very luxurious, everyone just loved the experience. When I saw their reactions, I remember thinking this is what I could do, that was the "aha" moment for me. The idea of running a guesthouse in the countryside, Chiiori was the start.
Nicolas is from Toulouse, France. After he got his degree, he began teaching sports at a sports university, and he decided to go on his own trip around the world at 32. He had actually visited Japan several times before, and during his working road trip he stayed in Tokyo for six months. Afterwards, he felt that it might be time for him to move on. It was at this point that he learned about "Wooping", a kind of farming network for farmers and farmhand volunteers. Wooper would provide farmhands, and in exchange, the farmers would provide food and accommodation. There was no money involved, no salary, no employment contract, just people helping people. Nicolas felt that he would like to see the countryside before he left and signed up, ultimately contacting me. I replied, and he came for about three weeks, back in 2014. Nicolas arrived at the end of my third season, and he was definitely a great help and we fell in love.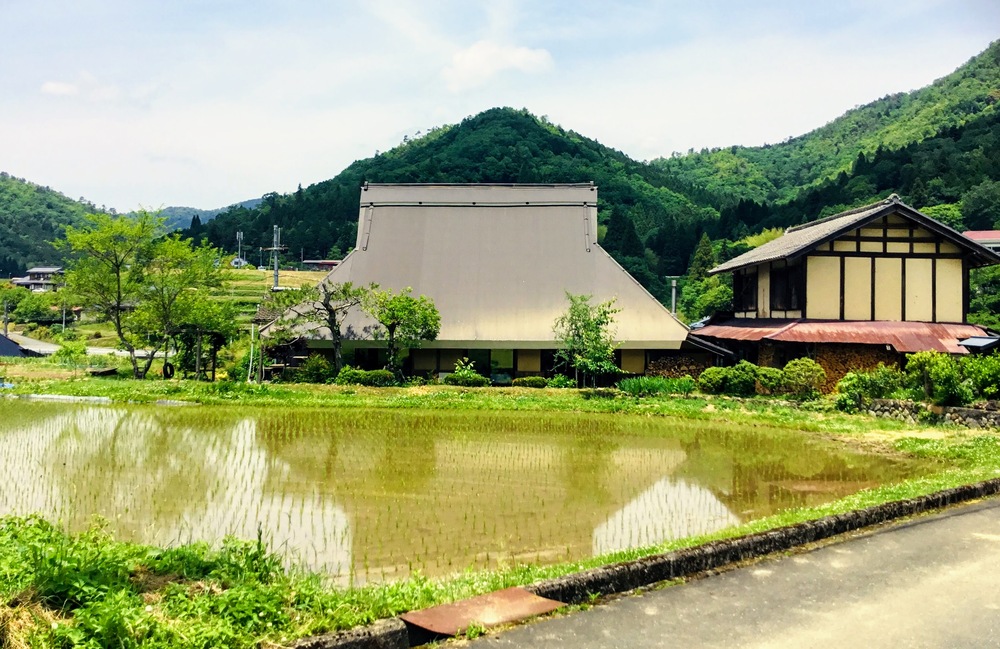 So now I wanted to ask, you're very clear about your focus on the sustainability of your business, and that eco-friendly side of how you're running the guest house. Did you do that right from the beginning, or was this something that you've built on over time? And what do you think is the most sort of eco-friendly part of your business that you guys are so focused on?
My interest in environmental society began way back. My father used to teach at universities, as a scientist he already knew a lot about environmental issues. He loved to read Time Magazine, who was always really fast to cover these topics, even back then. So I think I got a lot of it from my father. When I began the renovations my parents were always helping me, physically and financially, with the house. My father and I discussed how we should renovate the house, with it being environmentally friendly. Not to mention I was concerned about energy issues, especially with an old house, particularly the insulation. We tried to insulate the house ourselves as much as possible, there is still a lot more to do. It's an endless issue, and there's always things that we can improve on, it keeps us alive.
Everything came from my father and I, making it quite expensive but it was worth it. My father loved the project as well and was always giving me advice. We would try to use whatever we could from the house, we did not really waste anything, unless it was far too rotten, or completely unusable. I put the mentality of recycling into practice, making use of what we have instead of just buying it new. Even before I had bought the house, I had already started questioning the meaning of money. I felt it was just a consumption thing, always solving issues with money. I started to feel empty, my experience in the city influenced me in how I wanted to live.

Talking about running the house now. So you're balancing a family with a five-year-old son, and guests when they're staying at the house and the farm. Is it hard to take care of all those things? How do you kind of juggle your time and what's a good part of that and what's the challenging part of it?
When I was single, my work was my passion, so there was no boundary. I would just work and work, tailoring away all day. It was good when Nicolas and my son joined my life making me realize that I have to draw a line somewhere. He would tell me I should not be checking your email after eight o'clock at night. We had to enjoy family time, and couple time before the boards arrived. I think the fact that Nicolas is with me now really helped me to realize that I need to balance my work life and family time. In the beginning, I struggled a lot with it because I really enjoy what I'm doing, and for me it wasn't that painful. We always try our best not to entertain our guests, since we stay in the same house, we can jump in as is, but if they don't want or need to, they can just relax. And that's something, coming into our 11th year, that I really want to keep. Respecting our guests' privacy, but always being there whenever they need us.
What kinds of things do you really like to share with the guests? It's so nice how everything available has its own origin story, and how everything that couldn't be found on the farm came from as close as possible. So how did you develop that over time? And what's your favourite parts of that?
To begin with, cooking is my passion. I used to host cooking classes and house parties in my apartment when I lived in Tokyo as well. I just love the fact that we'd gather together, get to know each other, make friends and they enjoy my food and just enjoy the whole experience. I realized that that's what I really loved and came to believe food is something that connects people and to share great moments. For our guests, we have a lot of foreign guests, so I don't do anything too complicated. I would just come up with something simple, healthy and seasonal, something that guests can take back home and even make it themselves. Recently, a Canadian couple, in their 70s, came, had a wonderful stay and they always loved Japanese food, so of course we did some cooking together. Then, after they arrived back home, they sent me a picture for Christmas, saying; "look Sayaka, we made this Japanese Christmas dinner!" And that's exactly what I wanted, a one time experience at Furumaya that can be taken home, so they can always remember their stay. Whenever I want to use something that we don't have, I will always talk to our neighbours, or go to the local markets. I would take our guests, and we would go pick up the vegetables we needed together, allowing them to interact as well.
So, you offer the cooking program, providing your guests with an option to cook with you, but I know you also offer other cultural activities and programs. What are some of the things you offer and what's your favourite thing that guests can do when they're staying at Furumaya?
The one that people always seem to enjoy is wood chopping, splitting. I mean, it's not my domain, but Nicolas loves wood. He's just happy in the forest, chopping wood for 24 hours. Anyway, a lot of our guests foreign and local, love that experience as well. Of course among our foreign guests the tea ceremony is also popular, and I did learn a little bit, but I'm no teacher, so we send then to another cafe run by a tea ceremony teacher. I just send them alone so that they can have their own experience. She doesn't speak a word of english, though, she just uses an app for translation. But everyone loves her, and they have a great time with her. So that's also popular, but I would definitely say that wood chopping is our most popular.
Now, you're guests are able to buy some of your rice, the package having that great illustration from your friend. When did you start growing rice on the property right in the beginning or was that something you added later?
Actually, the house I bought came with a rice paddy and, of course, I had no experience with rice paddies and no machinery. Since the villagers are getting older and can't look after their crops as well anymore, the village has a farming company for them to outsource all their work to. For the first couple of years, we would ask the company to tend the rice field. After Nicolas joined us, he started farming. He just loved it, he'd never done it before, but it just became one of his passions, and he just loved to take care of the rice field. At the start of the season, he will go out every morning and night to check the water levels. Our neighbours were just so impressed. After all, he was someone who never really had any experience with farming.
The first thing most of our guests notice when they enter the premises is all the wood. They always ask why we have so much wood, and we would just explain that we need the wood for the central heating system. Another issue is, back to one of your questions before, since we're in the mountains, nobody really goes to the mountains these days. So it's not that well managed anymore. For people who don't use wood, once they chop down the wood, it's just a big waste, they don't have any way to use it. So they're quite happy that we love to use the wood, and how we love to use the resources that are available.
You talked a little bit about your experience from the city and working corporate life, that kind of empty feeling, and your move to the country and your Chiiori moment. One of our questions is do you have some memory of a guest who really had that city to countryside moment? Is there some story about a guest discovering country life, a city guest discovering and loving your country life there and a story you like sharing?
One example I always remember is about my friends six-year-old son who lives in the middle of Shinjuku. The only experience the boy had with nature was just around the local park. One time the family came to stay with me, we went to the river in the mountain, and there were a lot of small pebble stones and branches. The father was really happy because he loves nature, so he loves to go to this kind of place and play with the freshwater. The boy didn't want to join in. I told him that the water is fresh and clean, and how it's nice on a hot summer day to play in the river but he still didn't want to go saying "oh, I don't like the pebbles and I don't want to step and walk on the branches." For him, it was such a big shock, for us it's normal to play in the river, it's just a couple of minutes away, and you can just go in and enjoy the fresh water. I assumed it was because he never really experienced a clean river or the feel of the gravel around them. He would run around on the gravel in front of our house, but, at the river, the boy would just say "no, I'm sorry, no I don't want to." When I saw his reaction, I remember thinking, it's all about childhood experience, it can really affect them.
So I just want to ask some logistical questions. If people are going to come and stay with you, if our readers are going to come and stay with you, they can take the train from Kyoto to where? And then how do they get to the farm?
Take the train to Ayabe. We do have a pick up available, or for those who love to experience the local stations, they can take a day with a local bus which stops just minutes away. So it's fairly simple, for it's only 17 minutes by Limited Express from Kyoto Station to Ayabe, and a nice minute drive from the staton. So it's not that complicated.
What's something you're looking forward to? I feel confident that we're moving towards travel reopening this year. What have you missed about having visitors and what's something you're really looking forward to when inbound travel is possible again?
Half of our guests have been foreign guests, but even for the last two years, we still receive foreign residents, so we're not completely missing out. But, of course, I really enjoy how, here in the countryside, we can interact with guests from different parts of the world, and I really do miss that. Especially for Tao, of course he already had an interest in international experience, his father being French, but his world is not just Japan and France. The world is so diverse, there are people speaking so many different languages, and whenever we had kids join us from different parts of the world, I asked them to speak their own language, their mother tongue to Tao so that he can get used to it. So I really do hope we can start welcoming back foreign guests, and we can also start experiencing different cultures again.
There's a lot of talk about how, post COVID, people will spend more time off of that golden route, just connecting the cities that there will be a drive to get out a bit more into nature. There's a lot of discussion about adventure travel and sustainable travel and also not just this urban corridor, do you think that is a trend we're gonna see coming forward, and is that something you're excited about for Furumaya?
Yeah, especially that post COVID area, this whole experience for all of us has changed our perspective about life and what we are looking for in life, what we appreciate in life. And so, I would expect that the trend would improve and we will receive more.
Do you have any closing message or thought that you want to share with our readers about what you do, or about travel or about the world? Anything you want.
I mean, I'm never going to say our life is the correct, right way of living, but, we are able to enjoy our life here, even though our business has also been affected by the pandemic. The ability to be more independent from the monetary society, to be creative, you can do your own thing, there's just so much fun out of it. And a lot of our guests who come and stay with us, they see how we enjoy our life even in this difficult time. And I hope, if I can give some hints to improve their life to make them happy, that's all I want. Travel leads to the ultimate life, right?
Just so that we can add these details in, what is your opening season for guests?
So we open the calendar from March, until usually December 16th or 17th.
Thank you so much for your time today! We really appreciate you giving us the chance to share your business with our readers.
Follow Furumaya House on:
Website: https://www.furumayahouse.jp
Instagram: @furumaya.info
Facebook: @furumaya
Interested in an authentic culinary experience with a local? Book a food tour in Kyoto with us!
More from our blog…