November is winding down, and Christmas will be here before we know it. Isn't it always the case? I love the Christmas atmosphere, seeing the streets adorned with colourful lights, hearing Christmas songs whenever I go into a shop, and enjoying a hot drink while taking a break from all the shopping. It is true that this pandemic has had us relying on online shopping more than ever, but—even though experiencing the holiday spirit around town is a great feeling—online shopping is the safest option for the time being.
I've rounded up a list of fantastic Christmas gifts for your foodie loved ones and Japan fans.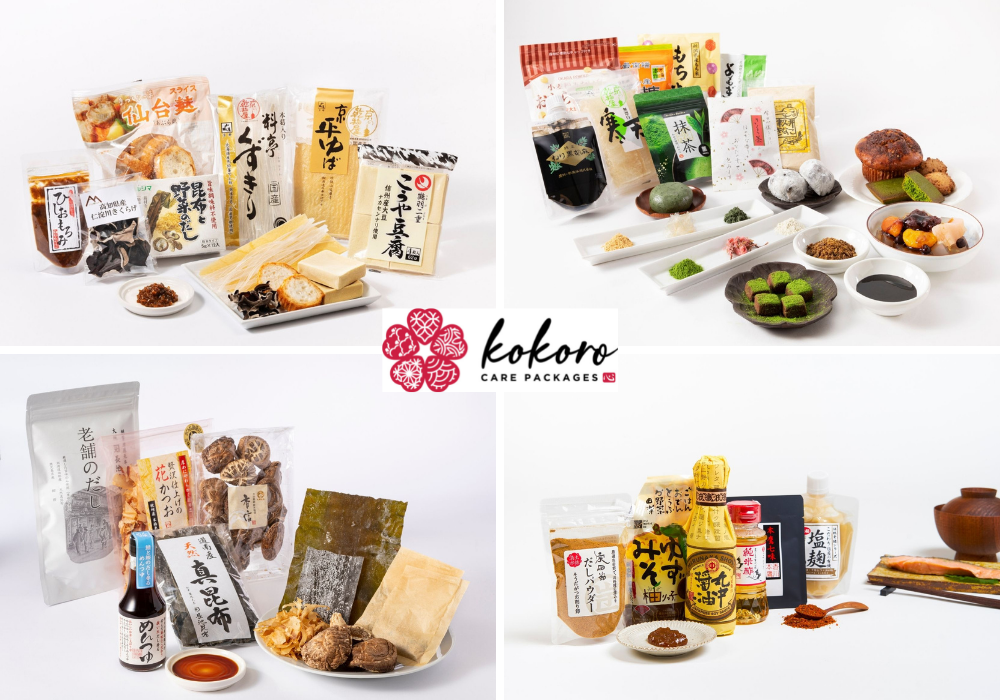 KOKORO CARE PACKAGES: (an amazing food ingredients subscription box)
They've just released their vegan Shojin Ryori "Zen" Care Package—encouraging you to slow down and experience the zen spirit of mindful eating while you enjoy these vegan specialties—and their Baking "Amai" Care Package—which allows you to add a touch of sweetness and Japanese flavors to your creations. Besides focusing on their Collections Care Packages for the holidays, they also offer limited edition (*make sure you order them by November 30th) packages such as their December Nourishing Essentials, and Winter Seasonal Delights packages.
You can get 10% off your first purchase by using this coupon code: ARIGATOHOLIDAY2021. (*limited to one use per customer)
IKKYU (Green Tea Provider)
The wonderful people at Ikkyu Teas have prepared the EXCELLENCE Luxury Gift Box, which includes 3 x 50g of some of the finest green teas made in Kyushu, and is the perfect gift for the most discerning tea connoisseurs looking for an unforgettable experience. Enjoy the incredible taste range and powerful umami of MITSUE Competition-grade Sencha, SATORI Dento Hon Gyokuro, and AIKO Premium Sencha. These first-harvest teas are wrapped by an extra thin sheet of traditional Japanese paper (Washi).
You can buy this box here, and you can get 15% off your order by using this coupon code: ARIGATO15. This discount is valid until December 31, 2021 and it's not a first-time user coupon, so even returning customers can use it. (*please note that the coupon will not show up automatically in your cart, you'll need to type it in the coupon field, and it also cannot be combined with another offer).
TEA CUP TRIP
Dive into the world of Japanese tea and experience a variety of premium teas such as Fukamushicha Tsuyuhikari Kanaya, or a blend of Gyokuro and Hakuyocha. Their teas are single-origin and carefully made by specialist tea artisans. They also offer different teaware kits, so you can impress your guests with your omotenashi.
For the holidays, they will include a FREE PREMIUM TEA SAMPLER (for this autumn/winter it's Hojicha) by using this coupon code: ARIGATO. (*when you enter the code on the checkout page, the free premium tea sampler will automatically be added to your cart).
BOKKSU: (Japanese premium snack box company)
How can I talk about holiday gifts and not include Bokksu? I've known and loved Bokksu for quite some time, and I think it's one of the best subscription boxes for Japanese snacks that there is. They have a Limited Edition Kiribako Box for the holidays which looks absolutely stunning! This limited edition box—made of paulownia wood and hand-crafted by maker Masuda Kiribako—has a gold foil design that's exclusive to Bokksu, and contains 20 – 24 premium Japanese snacks, candies, and a tea pairing; a 20+ page guide detailing each product's origins, flavors, & allergens; and a chance to win 2 free tickets (valued at $3,000) to Japan—only for US residents, though.
If, however, you are not familiar with this awesome brand, you can discover more by reading an interview with the founder. They have also recently launched Bokksu Grocery, an online grocery store that delivers Japanese pantry items and ingredients right to your door—currently to USA-based folks only.
JAPANESE GREENTEA CO.
If you're a tea lover, the Nozomi (Covered Green Tea) is an absolute must. Nozomi is Kabuse-cha which translates as, "Covered Green Tea" in English. Very few farms are capable of using this methodology as the green tea is covered by a special net to block sunlight for a few days before a new sprout comes out. This unique tea comes in a very special package, whose design was a collaboration from their customers and audience.
If you prefer coffee, though, don't worry, they've got you covered! At Japanese Coffee Co. you can find different varieties of coffee, including a Charcoal Sumiyaki Roasted Craftsman Coffee—one of the World's Rarest Coffee from Japan. (*psst, if you have Italian friends who enjoy a savory yet smoky coffee aroma, this is the perfect gift for them!)
You can get 15% off their teas and coffee products by using this coupon code: ARIGATO.
HYPANESE
Our friends at Hypanese have launched a new product called Hinoki Ritual, an essential oil which has been extracted from carefully grown cypress trees. Traditionally used for building shrines In Japan, their Hinoki Ritual has a heady, woodsy aroma that will stimulate your senses. Immerse yourself in this experience and travel to a zen Japanese onsen.
You can get 10% off when purchasing Hinoki Ritual by using this coupon code: PARTNERHYP. (limited to one use per customer)
SHANE JONES CERAMICS
We can't conclude our list without including Shane Jones Ceramics' gorgeous stoneware! They offer different Yunomi stoneware—from black & white to Nerikomi Rim—and also coffee lovers will enjoy their daily caffeine intake with their beautifully made Stoneware Coffee Mug.
You can get 10% off any purchase from their online store by using this coupon code: ARIGATO10. (limited to one use per customer).
ARIGATO TRAVEL FOOD TOUR GIFT VOUCHER
Last but—certainly—not least, we are offering a gift voucher for a walking food tour in Japan for 2-10 people! We have tours in Tokyo, Kyoto, Hiroshima, Osaka and around Mt Fuji Area. Price calculation at the time of purchase will depend on the tour choice. For more information and booking, please email info@arigatojapan.co.jp.
If you would like to feel the Christmas spirit even more, why don't you join our Christmas And New Year In Japan Online Experience? It is a great way to learn all about this festive season and celebrate it the JAPANESE way! You will get to hear about the history, culture—as well as stories, fun facts, trivia—and even make your own Japanese-style holiday decoration online!
Learn more about Japan's winter celebrations and seasonal foods on our online experience!
PIN THIS FOR LATER
More from our blog…