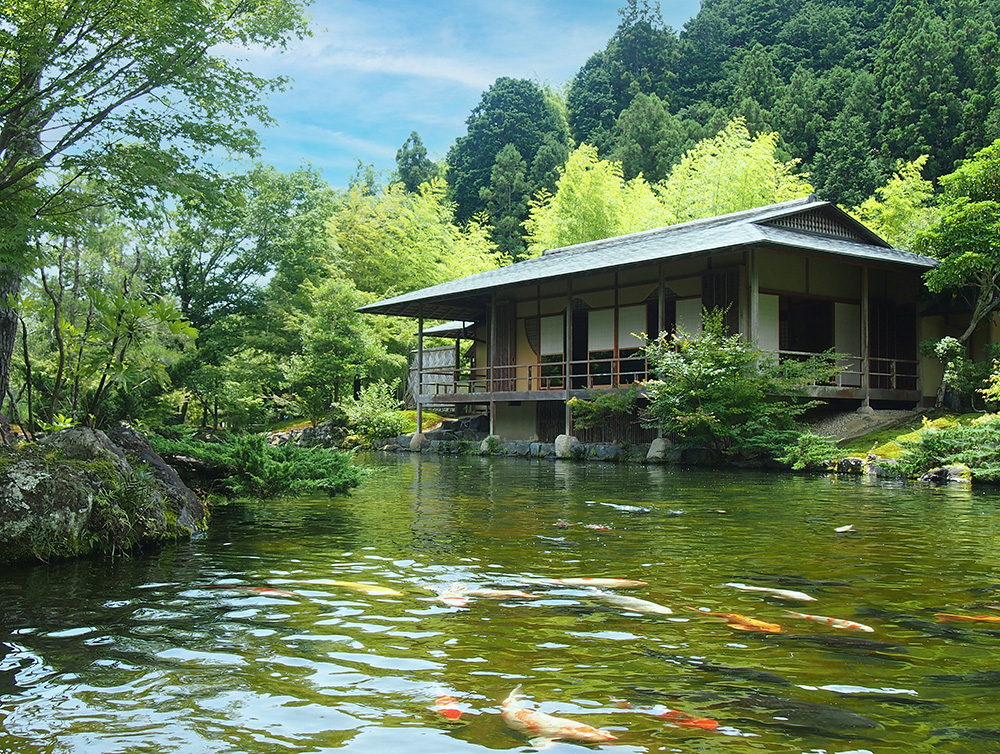 You might have already noticed from all our different blog posts that we love Shizuoka Prefecture and TEA at Arigato Travel! With easy access from Tokyo, there are a lot of great things to do and to see there if you're a foreigner living in Japan, or a traveler. Even if you're not too familiar with this destination, you might have heard that it's famous for its delicious tea – and because we also love tea a lot, we want to share this great place called Gyokuro No Sato with you.
Thank you for your time today and for showing us around your lovely facilities! Could you please introduce yourself and share a bit about your role at Gyokuro No Sato?
I am Tomohiko Makino, General Manager of the Overseas Sales Department of Shizutetsu Retailing Co. Our facilities, including Gyokuro-no-sato, have many things to offer and are very attractive. We mainly work through travel agencies to include our facilities in the itineraries of those who are interested in Japanese culture.
We have a lot of tea fans among our readers but for those not familiar with "Gyokuro tea", can you please explain what it is?
Gyokuro tea is a very precious Japanese tea. First of all, there are only three places in Japan where it can be grown. Yame in Fukuoka, Uji in Kyoto, and Asahina in Shizuoka. Shizuoka Prefecture is the largest producer of tea in Japan and grows tea widely, but Gyokuro tea is grown only in a small area in the Asahina district of Shizuoka Prefecture.
In addition, Japanese tea is usually harvested four or five times a year, from the first pick of tea leaves, Shincha (new tea) in May to the second pick of tea leaves, Nibancha (Number 2 tea), the third pick of tea leaves, Sanbancha (Number 3 tea), and so on. However, Gyokuro tea is picked only once a year, making it a rare and precious tea with a small harvest.
Moreover, the tea fields are covered with a sheet called "komo" from the beginning of May, when the tea is usually picked for the first time. This covering process reduces the bitterness and astringency of the tea and produces Gyokuro tea with only a concentrated umami flavor.
In other words, it is a special Japanese tea that is produced in small quantities and requires a lot of time and effort. Everyone who drinks Gyokuro tea is very impressed with its taste! It tastes completely different from other Japanese teas, it can be described like a soup, or fresh juice, and in many other ways, but I would like you to experience the taste of Gyokuro tea the moment you put it in your mouth, when it goes down your throat, and in the afterglow after you finish it. Please enjoy the moment when you are struck by a new sensation!
Please tell us more about Gyokuro no Sato? What services/activities do you offer?
At Gyokuro-no-sato, you can enjoy the tea ceremony experience. You will have Gyokuro or Matcha, powdered green tea, with sweets in the tea ceremony room or "Hyogetutei". Feeding the carp in the pond in the Japanese garden is also a fun experience and at the restaurant Chanohanatei, you can enjoy Japanese cuisine using local ingredients.
A café called "Usagi no nedoko" (Usagi no nedoko) has also opened on the second floor of the restaurant. In addition, you can purchase the Gyokuro and Matcha tea served in the tea room at the store.
Gyokuno no Sato is the perfect place to enjoy a delicious cup of tea in the beautiful nature of Japan and our team really loves it! Are there any English speakers or services available?
We do not have English-speaking staff, but we do have a translating machine in our store. Also, during the tea picking season around the end of May, visitors can experience picking tea for free. Visitors can also have their pictures taken in yukata (light cotton kimono) if they wish.
At Arigato Travel we are huge foodies so we have to ask about your favorite Japanese food to pair with Gyokuro tea?
We receive feedback from customers that "Chasoba" (tea soba) and "Tempura" go well with Gyokuro tea.
It is said that similarity (combining similar things) or contrast (combining opposite things) is good for food and drink, so I think Chasoba (similar) and Tempura (contrast) go well together with the tea.
Is there anything else you'd like to add or any message for our readers?
We would like you to enjoy tea calmly in a beautiful, traditional Japanese rural setting, not in a touristy area like Kyoto or Kamakura.
As for sweets, Matcha soft serve ice cream is available everywhere, but we are proud of our unusual Gyokuro soft serve ice cream. We also recommend the gold leaf Gyokuro soft serve ice cream, which is covered with gold leaf for a gorgeous appearance.
Follow Gyokuro no Sato on:
Website: English https://www.visit-suruga.com/en/spot/gyokuro-no-sato/1 / Japanese http://shizutetsu-retailing.com/gyokuronosato/
Instagram: @gyokuronosato
Facebook: @gyokuronosato
PIN THIS FOR LATER
More from our blog…