Working in a pleasant environment, with a positive corporate culture that fosters high morale, is an important factor for good collaboration within your team. Unfortunately, when co-workers have to work remotely due to the ongoing pandemic and are spread across multiple locations and time zones, keeping them motivated and collaborative becomes complicated. However, there's a solution: using online experiences as a team building activity to promote team spirit, boost morale, and improve communication between your team!
Online team building experiences are a fun and easy way to bond with your team in an engaging and relaxed environment. You and your co-workers can even explore a different country from the comfort of your own house!
Plan your next team building event with Arigato Travel!
At Arigato Travel, we offer many award-winning online experiences for you and your team to have an amazing time exploring Japan and its culture together! Here are a few of the the highly interactive virtual experiences that we offer:
Zen Wellness:
Take your coffee break to the next level with our green tea and Zen garden virtual experience! After learning all about green tea (like how to easily brew the perfect cup at home), your team will participate in a virtual walk in a beautiful Japanese Garden. This experience is the perfect way to enjoy a relaxing Zen atmosphere together.
Fancy a cocktail after work with your colleagues? Then join our Happy Hour online experience! With 20 years of experience in the food and beverage tourism industry, your host Lauren will share some fun DIY Japanese cocktail recipes for you and your team to try.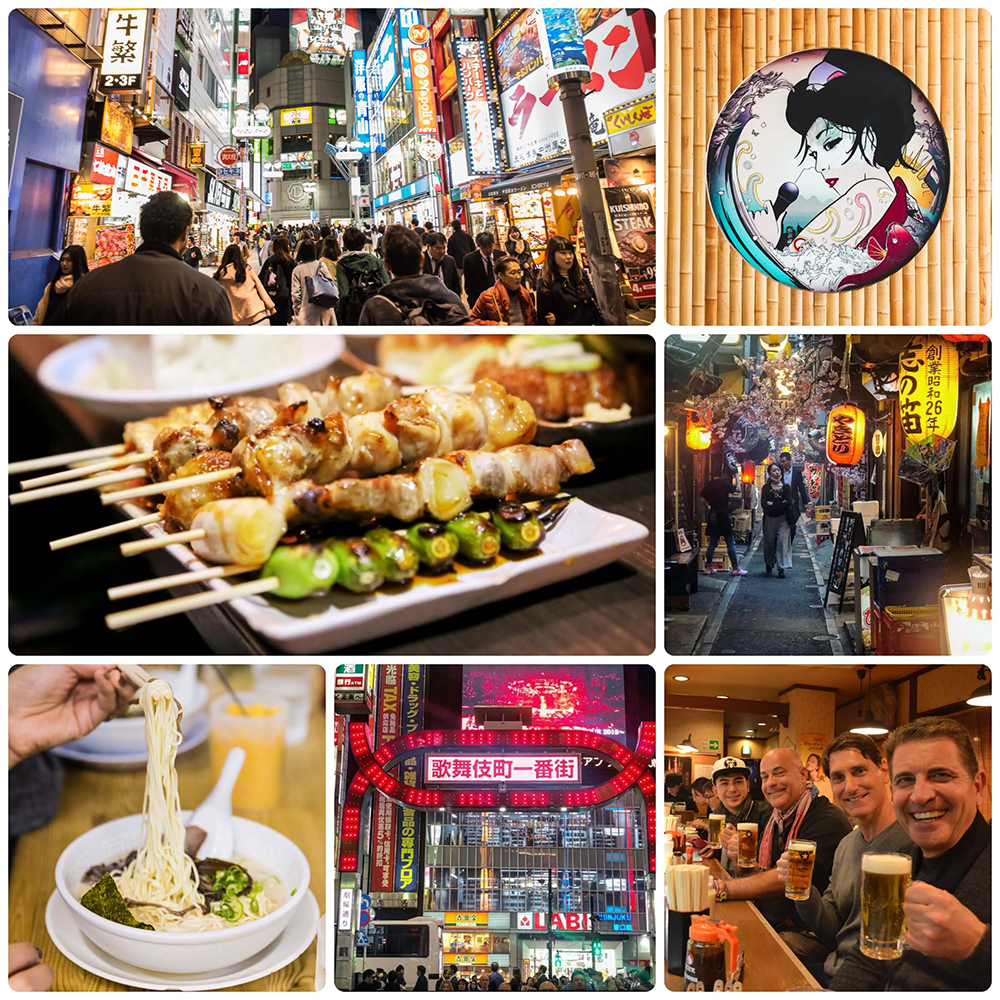 If you and your colleagues love a fun night out, why not party in Tokyo? You can experience the vibrant nightlife of Japan's capital with our Virtual Experience in Shibuya and Shinjuku. Our local expert will show you around the best places to visit in these two lively areas of Tokyo. Grab your favourite drink and some snacks to virtually explore Tokyo's exciting nightlife with your team!
If you want to bring your team building activity to the next level, join us in our brand new Japan-themed murder mystery!

Japan-themed murder mystery:
Immerse yourself in a story of old Tokyo and uncover the mysteries behind the death of Japan's most famous sushi master! A powerful samurai, a mysterious geisha, a jealous apprentice, a rival sushi chef and an unfaithful spouse all have a motive for
killing the sushi master. Who is responsible? Among many doubts and alibis, there is only one real culprit … it's up to you and your team to reveal their name!
In this virtual team building activity, you will compete remotely in teams with your colleagues. By reading the testimonies of the suspects, solving enigmas and puzzles, and collecting clues, you will have to work together to uncover the mysteries behind the sushi master's murder.
Why choose a murder mystery as a team building activity?
The format of a murder mystery involves all the factors that makes a team building activity successful: cooperation, communication, problem solving, and using people's different strengths to achieve a common goal.
Our murder mystery activity is a great chance for your colleagues to get to know each other better in a fun and exciting setting. In order to solve the different puzzles, your team will need to cooperate by using each other's skills and strong suits to work towards the same goal – solving a thrilling mystery!
Team building activities encourage friendly competition, collaboration and communication between co-workers to strengthen their teamwork and increase their motivation. Experiencing adventures and challenges together through fun team building activities allows your team to see another side of each other that they may not discover in the workplace.
So what are you waiting for? Leave the regular workplace behind and book an exciting team building activity to establish stronger relationships with your team!
PIN THIS FOR LATER
More from our blog…