As many of you probably know, Japan is a country worth visiting all year long. In spring, you can enjoy the unmatched beauty of cherry blossoms, while autumn transforms the whole country into shades of yellow, orange, and red. Winter brings the pearl white snow cover all across the country. But what about summer?
In this blog post, we will talk about summer in Japan and mention some of the great places to visit in Japan during summer.
Summer in Japan – What's it like?
Summer in Japan is probably the least known and the least popular season among foreign tourists. Most prefer to visit Japan in spring or autumn for the previously mentioned reasons. And another big factor is the weather, or more precisely, the heat and humidity.
During the day, you can expect high temperatures and humidity all over the country, especially in big cities. And don't forget about the rainy season, which lasts from the end of June to early July. There is also the possibility of typhoons during summer. As you can see, the weather will be your biggest challenge.
On a positive note, there are some exciting things to see and experience when visiting Japan in summer. You can participate in lively traditional cultural festivals, watch spectacular fireworks, and try delicious summer foods, all while wearing a yukata!
Planning Your Summer Vacation in Japan?
As with every trip, carefully planning your summer vacation in Japan is an important thing to do and can help you evade many problems and have a better trip overall. As you will soon see, there are a few great things about summer in Japan and some ways to avoid or mitigate the negative stuff.
When you start planning your Japan summer vacation, the first thing you will notice is the cheaper plane tickets and accommodation compared to spring and autumn.
When you arrive in Japan and start sightseeing, make sure to wear light clothes, drink a lot of water, and wear sunscreen!
A great way to avoid the heat is to visit more mountainous and lush areas while avoiding big cities. Also, don't forget about Japan's summer festivals. There are loads of them all over the country. As a matter of fact, the whole summer is full of fascinating festivals and customs.
Our Top 5 Places to Visit in Japan During Summer
Okinawa Prefecture
Let's start with the obvious summer activity, the beach! If you want to fully embrace summer and spend time chilling on the beach, swimming, and diving in the crystal clear ocean, Okinawa is the place for you.
One place that stands out is the Ishigaki Island. It is more relaxed and less touristy than the main island of Okinawa. The highlight of this island is the Kabira Bay. Its pure white sand, transparent water, and magnificent scenery earned it 3 Michelin stars.
Other than the beautiful landscape, Okinawa has many interesting places for you to explore. For example, the theme park Okinawa World, Churaumi Aquarium, Japan's largest and best aquarium, or the famous Shuri Castle in Naha, the most significant monument of the ancient Ryukyu Kingdom.
Food in Okinawa is quite different from the food in mainland Japan. This unique cuisine is a product of mixed influences from Japan, China, the USA, and Southeast Asia. Among the famous dishes, you can find the Okinawa Soba, Sea Grapes (Umi Budo), and Bitter Melon Stir Fry (Goya Champuru), which is very popular in summer.
Okinawa is a good place to visit if you enjoy summer and don't have the luxury of clean beaches and clear sea where you live.
Nagano
If sandy beaches are not your thing, it's time to head for the mountains. Nagano prefecture is one such place where you can escape the heat in the chilly alpine air. You can hike mountains, explore forests, relax in hot spring towns, etc.; there are so many options in Nagano Prefecture.
Places like the reflective Mishakai Pond and the crystal clear Lake Aoki are ideal if you want to experience the tranquil atmosphere of Japan's nature. If mountains are your thing, the village of Hakuba is nearby.
A few more interesting places include the Kamikochi, a beautiful river valley for hiking, and the Utsukushigahara plateau with spectacular views and a cool open-air museum.
The most popular place in Nagano Prefecture in summer is definitely the Karuizawa mountainous resort area. It is relatively near Tokyo and offers a wide variety of tourist attractions and activities. You will surely love it here.
There are also a few great dishes you can try when visiting Nagano in the summer. One such meal is the Nota Mochi (sticky rice with edamame sauce). You should also try soba when you come here since Nagano's soba is considered among the best in Japan!
Hokkaido
Where better to escape the summer heat than on the northern tip of Japan. Hokkaido's cool climate, stunning nature, and fantastic food make for a great mix!
There are plenty of tourist spots for you to explore and things to experience all over the island. If you love pretty flowers, the Farm Tomita or Furano would be ideal for you. Farm Tomita is a popular tourist attraction with a large variety of seasonal flowers, while Furano is famous for its beautiful lavender and flower gardens.
Like Nagano, you can go hiking in Hokkaido's mountains to enjoy the clean alpine air. For example, there is the famed Orofure Pass observatory which offers spectacular views from its altitude of 930 meters.
One of the most stunning locations in Hokkaido is the Shirogane Blue Pond. It is an artificial pond with clear azure water. That intense color is due to natural minerals that are dissolving in the water.
If you visit Hokkaido in summer, you will love the refreshing food found there. Yubari melons might be the thing you will like the most, since they are so sweet and juicy. A perfect refreshment after sightseeing. Another great refreshment is the soft served ice cream, also known as soft cream. You can get it in many flavors, with the most popular being melon and lavender!
Aomori
Hopping just across the sea back to Honshu, we reach the Aomori Prefecture. If you visit Aomori to explore nature and relax you will not be disappointed. There are many great places to visit, such as Mount Hakkoda, Lake Towada, and the Oirase Gorge.
One of the prefecture's most famous attractions is the Shirakami, a vast and beautiful area that is designated as a UNESCO World Heritage site. In that part of Aomori, you can find pretty lakes surrounded by relaxing forests, including a unique cobalt blue pond.
The highlight of any summer trip to this prefecture will be a visit to one of the famous summer festivals held here, such as the Aomori Nebuta Festival or the Goshogawara Tachineputa Festival. There you can witness spectacular parades which feature giant, beautifully decorated parade floats.
When it comes to food, there are so many things to try. For example, Hachinohe Senbei-Jiru, made by placing flour crackers into a stew made of fresh vegetables, mushrooms, fish, and meat.
Tokyo
Tokyo a great summer destination? Really? Well, it kind of is! First of all, you will probably be arriving in Tokyo anyway, and after all, it is the biggest city in the world. There is so much to see it will be worth exploring it for a few days despite the heat and humidity. However, Tokyo's great advantage is its location and connectivity. You can use it as a base to easily reach many great Japan summer destinations and go on day trips.
Some of the most exciting locations and activities include exploring Nikko or Hakone, two stunning areas full of tourist attractions, and Mount Fuji. As a matter of fact, summer is the best time to hike Mt. Fuji. So, if this is your dream, it is an ideal opportunity.
Tokyo is also the food capital of the world. You can spend years there and still not see and test everything!
Now you see that visiting Japan during summer is definitely not a bad idea. Advantages such as interesting places and summer events, smaller crowds, and lower budget requirements more than offset the poor climate. And with the variety of locations to visit, from sandy beaches to chilly mountains, there is something for everyone. Would you like to visit Japan during the summer?
Planning a trip to Japan in Summer, check out our Summer round-up post!
PIN THIS FOR LATER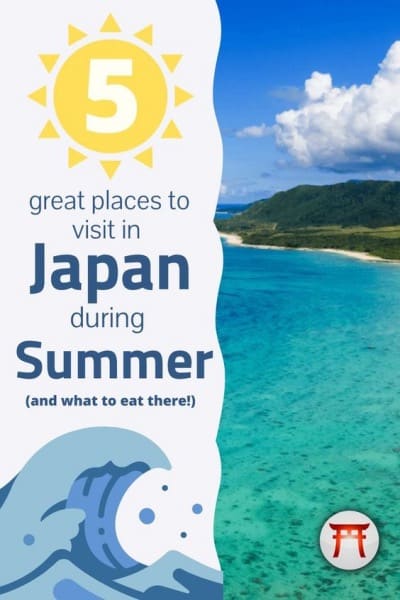 More from our blog…