Nestled comfortably at the foot of Mt. Fuji, Gotemba City is a friendly community that practises a relaxed lifestyle and enjoys the natural bounty of the mountain. An easy trip out of Tokyo, the city's reputation for using locally sourced ingredients in their daily life makes it an off-the-beaten-path visit that should not be missed.
Raw Fruit Jelly
A relatively new trend, Japan's first shop specialising in fruit jelly, FruFull Gotemba, quickly popularised these adorable treats since its opening back in 2006. Priding itself on using fresh and local ingredients, FruFull Gotemba takes full advantage of its surrounding environment creating delicious jellies that are impossible to find anywhere else. Each beautiful serving of fruit is as fresh as possible, and the jelly itself is even made using water sourced from Mt. Fuji. FruFull Gotemba offers a wide range of fresh and vibrant flavours that are hard to ignore when visiting the city, boasting an incredible sales history of over two million jellies since its launch in 2006.
Castella ("Kasutera")
Although popular throughout Japan, the Kasutera, a traditional sponge cake, that is found in Gotemba has a unique, fresh taste that makes it all the more delicious and enjoyable. Made with local Mt. Fuji Sakura Eggs, the city's bakers put a lot of skill and care into making this popular confection a local delicacy that is hard to ignore. Also known as Castella, this overly fluffy sponge is made with sugar, flour, a starchy syrup, and eggs, the last of which is used as the sole riser for the cake. With no need for other additives and the locally sourced ingredients, Gotemba City's Kasutera isn't only delicious but also has a delightful bounce that is sure to make you smile.
Fruit Sando
Ever had a craving for strawberries and cream and a sandwich at the same time? Well, Japan certainly did, and not just for strawberries either. Commonly referred to as a Fruit Sando, this Japanese milk bread sandwich is filled with cream and fresh fruit that will not overpower you with sugar. Made by artisans with fruit sommelier qualifications, the fruit sandwiches found in Gotemba are made with the finest, freshest, and super local fruit and cream. Designed to display the ingredients at their finest quality, Gotemba's Fruit Sandwich craftsmen follow the strict algorithm set for these sweet sandwiches across Japan. These rules help to ensure that the fruits' colours are ripe and vivid, the bread is at the perfect thickness, and the cream is thick but fluffy, or "fuwa-fuwa" in Japanese. With this, these delightful treats become an eye-catching sandwich that is impossible to walk past in the streets.
Kare Pan
Gotemba's love for bread dishes doesn't stop with the Fruit Sandwich, either. The Kare Pan, literally Curry Bread, is a popular, mouthwatering choice among Gotemba City locals. These crispy, soft delightful pillows are stuffed with delicious homemade curry that is sure to melt in your mouth, and then deep-fried until they are a beautiful golden brown. A dish that is popular in street stalls, bakeries, and convenience stores, Gotemba's Karē Pan is created using fresh, local dough, and a beautifully simmered curry recipe unique to the area. From the crispy, warm dough, to the hot, delicious curry inside, this snack is a delight with every bite and should definitely be on anyone's list of must-try foods for the area.
Gotemba Koshihikari
Originally a monthly special from Gotemba Kogen Resort, the Gotemba Koshihikari is a beautiful lager that quickly became so popular that this restaurant and brewery had no other choice but to permanently add it to their beer menu. This premium beer is carefully brewed using locally grown Koshihikari rice cultivated in the waters of Mt. Fuji, giving it a smooth aroma and crisp taste, enjoyed by all beer lovers. While this may be one of the most popular beers on Gotemba Kogen's menu, there are many other quality beer options to be enjoyed whilst visiting this brewery. The company prides itself on creating the finest beers, using the best imported, and, more importantly, local ingredients. They definitely don't shy away from using the natural bounty their next-door neighbour Mt. Fuji has to offer.
Mikuriya Genmaicha (Brown Rice Tea)
Emitting a rich aroma that tea lovers will 100% be drawn to, Mikuriya Genmaicha, or Mikuriya Brown Rice Tea, is another Gotemba favourite that takes full advantage of its proximity to Mt. Fuji. Combining the locally produced and beloved Kashihikari rice with the aromatic fresh tea leaves grown in the springwater of Mt. Fuji balances each other out to create a gorgeous tea unlike any other. Both easy to brew and easy to drink with a beautifully smooth flavour, the Mikuriya Genmaicha is a tea that is bound to be a soothing and refreshing beverage to enjoy during your stay.
Katsumata Seicha
An organic tea farm with an estimated history that could date back to the Warring States Period (1467-1590), Katsumata Seicha produces some of the finest locally grown tea you can find. With roots traced to the Imagawa Clan, the company uses its traditional tea-making techniques, creating not just exquisite tea, but also keeping these practises and techniques alive. In fact, the current President's father, Hatsuro Katsumata, is one of only 20 masters of hand-rolling tea. While Katsumata Seicha has every opportunity for modern production of tea, most, particularly Hatsuro, choose to stick with the traditions, opting to prepare the leaves by hand and with care rather than put them through any machine.
Kirin Whisky
Made and brewed at the Fuji Gotemba distillery nestled at the foot of Mt. Fuji, Kirin Whisky is part of the famous Japanese alcohol brand, Kirin. Kirin began its whisky division in 1972, with the construction and opening of the Gotemba location, taking heavy inspiration from American bourbon distilleries. The building is equipped with column stills specialised for grain whiskies, however, the more traditional malt whisky is also a popular choice. Kirin Whisky offers a select range of both whiskies, brewed to perfection in Gotemba and Mt. Fuji's climate as well as the added benefit of the mountain's pure water.
Atsuage
While it is an incredibly important ingredient in Japanese cuisine, most would agree that Atsuage can be enjoyed fresh, hot and as is, and Gotemba's locally sourced Atsuage certainly makes a case for that argument. Soft fried tofu, this classic is created using plenty of Mt. Fuji's underground spring water, keeping the inside soft and juicy, even after frying. It's found in abundance in Gotemba, either by itself or as part of other dishes. Atsuage certainly needs to be tried and is always suggested to be heated and enjoyed.
Mikuriya Soba
Gotemba has a long-held custom of treating guests, friends, and family with handmade soba enjoyed at celebrations, known as Mikuriya Soba. Exclusive to the Gotemba area, this version is unique in its use of yams in the creation of the noodles, becoming the soba noodle's main ingredient. As a dish that has been passed down through generations of families, some have become worried that the homemade soba trend could disappear. Hoping to prevent such a future, local organisations have formed to celebrate the Mikuriya Soba in Gotemba. As part of their act to keep this dish alive, an official definition has been created expressing the importance of the yams, as well as local ingredients, such as Gotemba water for the noodles and the broth. Culture, flavour, and the shared experience are an important part of this dish and make it a definite must-grab for a meal whenever visiting the city.
Here at Arigato Travel, we offer two culinary experiences that are available for anyone who hopes to experience and discover more about this beautiful hidden gem.
Whether you've heard of Gotemba before or not, any travel plans that involve Mt. Fuji should definitely include a stop at Gotemba City. Located at the base of Mt. Fuji, it is an excellent starting point for any trip through the different experiences the mountain has to offer.
Feature Photo by JJ Ying on Unsplash
Join Mt Fuji Online Experience to learn more about this iconic mountain and prepare for your next trip!
PIN THIS FOR LATER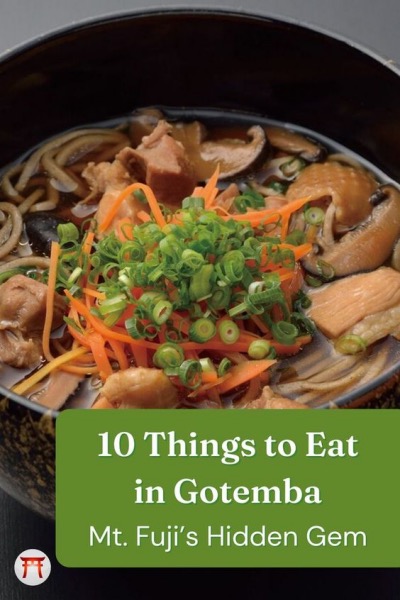 More from our blog…