Spring is finally here and we are ready to put away our coats and scarves to go back to long walks in nature and picnics in the sun. Spring in Japan not only brings warmer weather and its fantastic cherry blossoms, but also many seasonal foods and products.
Let's discover together some of the most delicious and interesting products you can find in Japanese supermarkets.
Take no Ko (Bamboo shoots)
Bamboo shoots are one of the typical foods of Japanese spring. As they are dug up between April and May, late spring is the best period to eat them.
Thanks to their crunchy texture and delicate flavor, they are used in a variety of dishes, such as tempura, mixed rice, and many more. Also, given the great use of Take no Ko in Japanese cuisine, you can find pre-cooked bamboo shoots for long shelf life all year round. Did you know that you can experience a full Take no Ko meal course in some restaurants or even help the farmers to dig them up?
Sakuradai (Cherry blossom sea bream)
Tai (sea bream) is one of the most delicious and loved fish here in Japan. It is a fish associated with celebrations and important occasions as his name "Tai" recalls the word medetai which in English can be translated as auspicious and propitious.
Sakuradai is a type of Tai in season from February to April. The meat has a light pink color and it tastes incredible in any way it is prepared. If you happen to visit Japan during Spring, don't forget to order some Sakuradai sashimi.
Cherry blossoms (Sakura) have always been the symbol of Japanese spring. Compared to the transience of life because of their short duration, these flowers have been the subject of inspiration for many since ancient times.
Stepping in a supermarket it is not difficult to understand how strong the relationship is that Japan has with cherry blossoms. From late February, many products change their traditional packaging to more colorful and sakura-themed ones.
Furthermore, snacks such as kit kats, rice crackers, chocolates, potato chips, and so on, not only change their packaging but also their flavor. Spring is indeed the perfect time of the year to enjoy many cherry blossom-flavored snacks.

From beer cans to sakura doughnuts, there are so many limited edition items you can only see and eat during this season. Are you ready to try and "Instagram" them all?
Haru kyabetsu (Spring Cabbage)
Packed with vitamins and nutrients such as vitamin C, K, calcium, and magnesium, cabbage is an essential vegetable in Japanese cuisine. Although it is consumed all year, Spring Cabbage is sweeter, crispy, and simply perfect to make delicious salads, soups, Okonomiyaki, and many other dishes.
Hina Arare
From late Winter to the beginning of Spring, a very cute and colorful snack shows up on the supermarket shelves: Hina arare. Hina arare is a snack that comes, depending on the region, in different variations: they can be salty or sweet, crunchy puffed rice, or small crackers-like balls.
The distinctive sign of Hina arare is to be found in its colors: white, yellow, green, and red/pink which all represent a different season. It is eaten on March 3rd on the occasion of Hina Matsuri (Girl's Day), when girls celebrate and pray for a happy and long life with their families. Hina arare is one of the best spring souvenirs to bring back home as it can be enjoyed by both kids and adults.
Sakura mochi
One of the foods I am looking forward to the most during Spring is Sakura mochi.
This wagashi (traditional Japanese confectionery) smells heavenly and comes in two different versions: the Kanto-style and the Kansai-style.
Kanto-style sakura mochi is small, pink, and pancake-like made with rice flour. It is filled with azuki (bean jam) and wrapped in a salt-pickled cherry leaf. The Kansai-style one is also wrapped in a sakura leaf and filled with azuki, but it is made with glutinous rice instead.
What I love the most about this sweet is its unique flavor that comes from the combination of the sweetness of the azuki jam and the saltiness of the cherry leaf. Have you ever tried Sakura mochi? Which style do you think you'll like the most? Let us know in the comments.
Ichigo (Strawberries)
Strawberries are a very beloved fruit in Japan. They are available as early as December. Yet, the real Ichigo season starts at the beginning of Spring. Strawberries are not only consumed fresh but also used to make many different types of sweets.
As a result of its popularity, farmers invented many new varieties, such as the rare white strawberry, making Japan one of the largest producers of this small red fruit in the world.
Are you planning to come to Japan during Spring? Remember to try all the amazing things this season has to offer!
If you cannot yet, don't worry! Join our Spring limited edition online experience and celebrate the Sakura season with us.
PIN THIS FOR LATER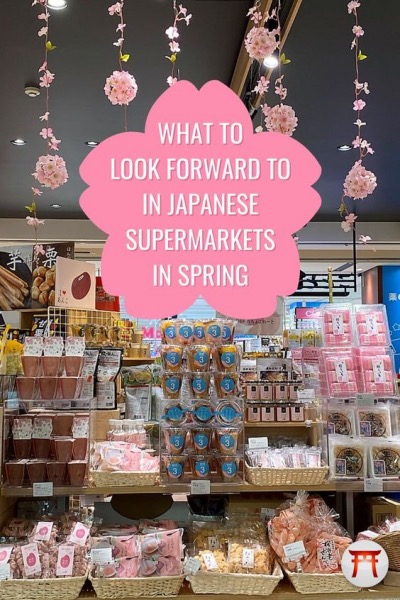 More from our blog…