Ocean views, amazing food, and Japanese baths are all you need!
I haven't left Tokyo for months, so when I had the opportunity to stay one night at the Sheraton Grande Tokyo Bay Hotel, I was super excited! Even if it's only an hour from my place in Tokyo, I felt that going to Chiba qualifies as a trip.
It was a sunny day in Tokyo, and I packed my stuff and took a train to Maihama Station. Even though the hotel provides a free shuttle bus from the station, the weather was great so I decided to walk from the station to the Sheraton (honestly, it was in preparation for the dinner buffet!) Palm trees, a Tokyo Disney Resort, the ocean, am I on vacation?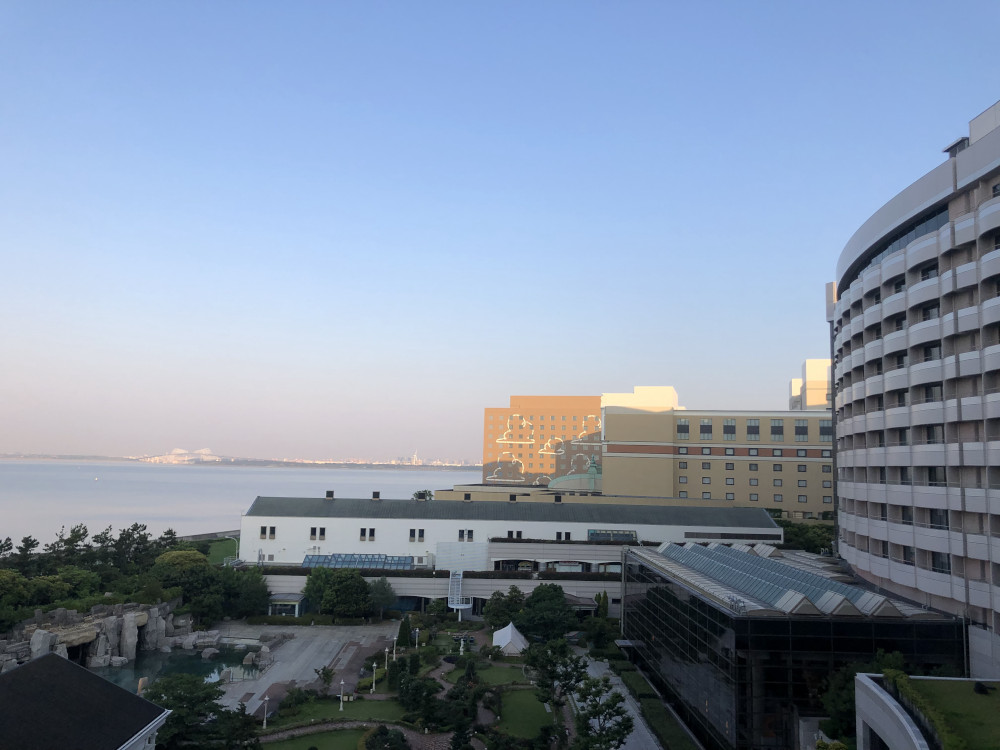 Tokyo "Bae"
I arrived by 3:30 pm at the reception desk (the check-in usually starts at 3pm) and after receiving explanations of my package from the staff, I opened the door to my "Ocean Dream" room. Wow. Two double-size beds were waiting for me. Which one to choose?
But that's not all, the room provides a balcony with a stunning view of Tokyo Bay. Wait a sec! I feel like I need something more to make this moment perfect.
After I poured some coffee into my cup (provided for free in the room), I went back to the balcony. Here we go! I think I stayed here for about an hour, just looking at the infinite ocean, enjoying the sun, with Aimyon playing in the background. Am I really on vacation?!!
But WAIT! It was already 4:30 pm and I wanted to try the hotel facilities before dinner! The package I had gave me access to the indoor pool, public bath and sauna, and the Fitness center. Since I LOVE public baths, I had to try this first!
"Oasis is good"
All of these facilities are located in the "Oasis" area of the Sheraton, as well as a game center and a HUGE space for kids to play (I wished I was a kid at this point). Unsurprisingly, the Japanese-style public bath was amazing. The hotel provides towels you can grab before entering the changing room, but also shampoo and shower gel in the showers to clean yourself before entering into the bath. No worries there, they've got you covered. It was incredibly relaxing, and I was ready for dinner.
All you can eat at the Grand Cafe
That night, I had dinner at the Grand Cafe, located on the 1st floor. It offers a buffet with a lot of different varieties of food: Asian food, pastas, udon, ramen, curry, bread, cheese, pizza, salads, vegetables, fish, meat, I can't name all of them! And here you're probably thinking "A buffet during a pandemic??". But you can be totally reassured, all the safety measures were taken. You have to get gloves before touching anything, the tables were spread out to respect the social distancing guidelines, everyone was of course wearing a mask, and everything felt very safe! Also many dishes were pre-portioned as well or served for you by the staff.
Of course, going to a buffet is always "hard" for me since I want to try everything (thank goodness I walked from the station!) I'm sure many of you have the same strategy: walk around the full buffet with excited eyes to have a look at what is available, then think about what to start with, grab a plate, and FIT THE MOST YOU CAN ON IT (and add a bit of vegetables to keep it visually healthy).
I had 3 rounds and even though I was full, I couldn't stop eating. But the good news is that since they feature seasonal dishes, they renew the menu every month so you can go back and try new things!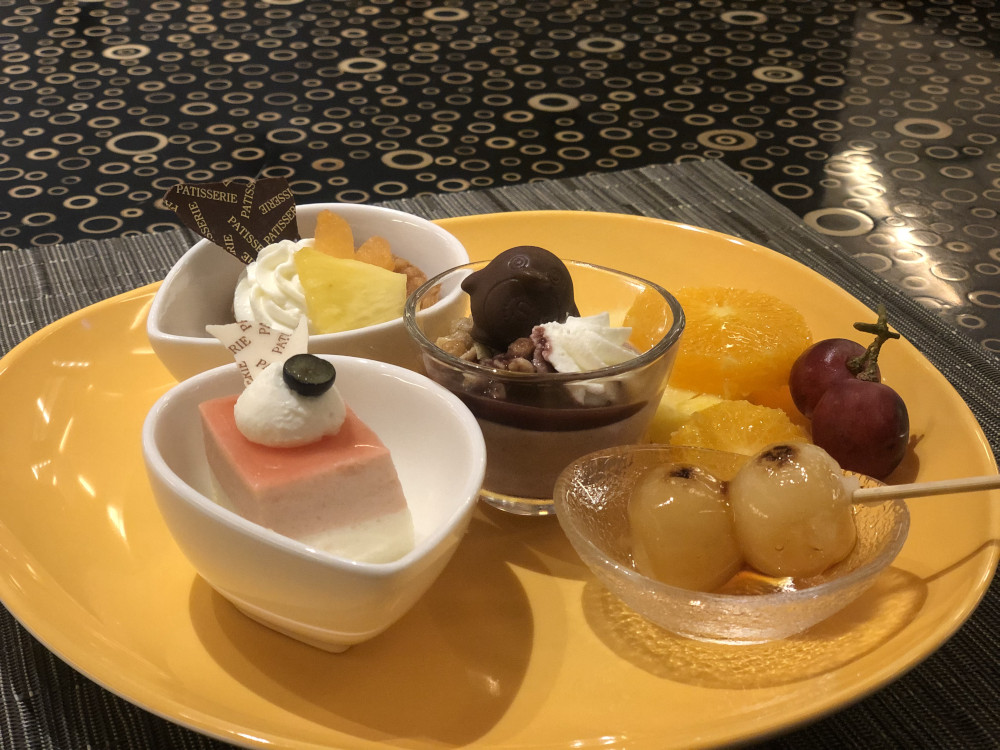 Then it was time for dessert. Maybe you're familiar with the Japanese expression "Betsubara" (別腹)? It means separate stomach, which is literally what this experience was like.
The Sheraton is currently running a Hawaii Fair and I was able to try a delicious Hawaiian style dessert (in addition to a lot of other ones!) It was super cute and also delicious, so my belly was definitely thankful (not my weight scale though!)
Enjoying the facilities
I went back to my room and after I rested a bit by watching Japanese TV on the extra comfortable bed, I decided to try the Fitness center (you know the feeling when you eat too much…) The Fitness space is available 24/7 for hotel guests and it is huge! It offers top-of-the-line cardio and strength training machines by "LIFE FITNESS": treadmill, recumbent bike, step machine, etc. Each machine is mounted with individual LCD TV screens so you can connect your device via bluetooth, watch Youtube, TV, or whatever you like while burning calories. Of course, I had to try a lot of different ones!
After having burned some calories, I went back to my room to take a shower and relax. The hotel provides Shampoo, body wash, and conditioner by "Le Grand Bain" and also provides amenities like toothbrush, body lotion, soap, a hair dryer, etc. I was finally ready to go to bed. The mattress was incredibly comfortable and I had a great night's sleep.
Back to food
Fully restored, I woke up and opened the curtains to this amazing ocean view once again. Now it was once again time to get ready to eat! I went back to the Grand Cafe for breakfast and had an amazing time trying (almost) all of the available dishes: rice, natto, different types of breads, eggs, omelett, fruits, yogurt, juices, curry, salads…there is definitely something for everyone! With a view of the magnificent garden, it was an amazing way to wake up and get ready for the day.
Since I mentioned the garden, this is a really nice place for digestion. You can walk around the pool, enjoy beautiful flowers, sit on a bench and think about the meaning of your life…and you can even go glamping if you like! Wait really, this looks like vacation right??
Also, because of the Hawaiian fair running now, they have a stunning sand statue! Look at that!
Working remotely be like…
I went back to my room and decided to work a bit. I put on some nice music using the MediaHub, used the chair and desk facing the sea and plugged in my computer. Well, I'm not on vacation after all. The free Wifi of the hotel was working perfectly fine (which is very important for me, as an Instagram addict), and I was able to work in great conditions.
It was already 9:30 am and before checking out, I decided to go back to the Japanese public bath again (I wanted to go to the pool but to be honest I would have sunk with all the food I had for breakfast!) How relaxing… Please leave me here forever.
The staff makes the difference
11 am. Time to check out and go back to reality. I had a really great time at the Sheraton Grande Tokyo Bay Hotel and I really would like to thank the staff for this amazing experience. From the beginning to the end everyone was super nice, smiling, and always checking if everyone was having a good time.
I would recommend the Sheraton Grande Tokyo Bay Hotel to anyone looking for a nice staycation plan from Tokyo or for people planning to go to Tokyo Disney Resort! This is also a perfect place for families with all of the kid-friendly amenities they have. If you can work remotely, this is a great work environment as well.
The Hawaiian fair was really nice and seeing the staff wearing Hawaiian shirts, being able to eat Hawaiian special foods and enjoy decorations from Hawaii in the hotel made me feel like I was on a trip!
Oh well, I wasn't on vacation but it really felt like I was. I wish I could stay longer and next time, I'll go to Disney right after for sure!
Note: I went there during Covid and the safety measures were great, especially at the buffet, the fitness and the public bath!
Hotel Website: https://www.marriott.com/en-us/hotels/tyosi-sheraton-grande-tokyo-bay-hotel/
PIN THIS FOR LATER
More from our blog…