With signs that Japan may start to reopen soon, and a new prime minster focused again on how to work with other countries to restore tourism to Japan, it is a great time to start thinking about your trip, looking for flights, and even organizing your packing list!
We want to help you plan for a safe, healthy and happy, post-covid trip to Japan. You know to pack your clothes, passport, and usual travel gear, but are you sure that you aren't forgetting anything important? Have you fully prepared for any emergencies that might occur during your trip?
Although packing your luggage seems to be a daunting task, don't worry, we've got you covered! In this blog post, we've prepared a list of essential items to include in your packing list for a healthy and safe trip to Japan.

Items for a healthy trip – preventing illnesses/injuries
Prescription medication:
Although you can easily buy basic painkillers in Japanese pharmacies, don't forget to pack any prescription medication, along with your prescription.
Sunscreen:
High SPF sunscreen and lip balm with SPF are essential items to protect yourself from the sun, especially during Japan's hot summer season.
Insect repellent:
Insect repellent is particularly useful for preventing pesky mosquito bites during the summer and autumn seasons.
First-aid kit:
In the case that you feel ill or are injured during your trip, it is important to prepare a first-aid kit. Some first-aid kit essentials include:
Antifungal and antibacterial ointments

Antiseptic wound cleanser

Aloe gel (for sunburn)

Bandages of various sizes

Digital thermometer

Eye drops

Insect bite treatment
Items for a safe trip – important documents
Travel insurance documents:
Purchasing travel insurance will protect you in the case of an emergency during your trip. Most travel insurance covers not only medical care, but also lost luggage, cancelled hotel and plane tickets, and damaged or stolen gear. If you buy travel insurance, it's best to bring physical copies of the policy documents as well as digital copies on your phone or laptop.
Emergency contact card:
An emergency contact card contains emergency contact numbers and related details. Your card should contain the street addresses, phone numbers, and e-mail addresses of a family member/close contact in your home country, lodging in Japan, hospitals or clinics in Japan, and your home country's embassy in Japan.
We also recommend writing down important phone numbers in Japan for you to contact during an emergency, such as the police (110) and fire and ambulance services (119). The Japan National Tourism Organization operates a 24-hour helpline for tourists seeking emergency help (050-3816-2787).
Travelling is wonderful, but it's always good to be prepared. Spend a little planning time to take preventive measures to keep you and your loved ones safe during your trip to Japan. This packing list makes sure you are ready to deal with common illnesses and injuries during your vacation, but also ensures that you will be fully prepared and protected in the case of any emergencies. We hope your journey to Japan is safe, healthy and of course AMAZING!
Featuring photo credit: Cindy Colley from The Colley House
Get more advice from a local expert for planning your terrific trip to Japan on our "Plan for Japan" online experience! Spend one hour with a local on zoom to talk about what to prepare and what to see and do while you are here!
PIN THIS FOR LATER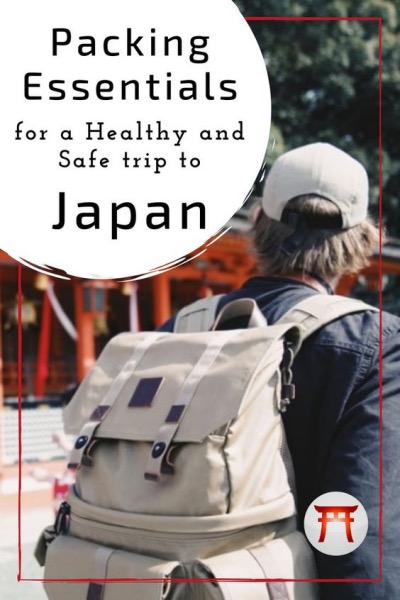 More from our blog…