Hi, my name is Espi and a few weeks ago I completed my homestay program in Kawane, Shizuoka. Kawane is a small agricultural town over 200 kilometers from Tokyo, and is home to a little over 6,000 residents, many of whom have lived there for their entire lives. This was a radical change from my normal life. I have lived in Tokyo for the past 4 years, and being in a city as vibrant and colorful as Tokyo as a teenager alters the way you view daily life, and your perception of the accessibility of certain things and lifestyles.
I am 16, which is old enough to explore independently, but still young enough to shift your perspective on the world. When you're 16, you still view the world with the rawness associated with childhood; your opinions and biases have been set, but not entirely hardened by time and age. As I look back now, I realize that Kawane and the people I met there definitely influenced me for the better. Growing up, you always hear older people say there are certain points in your life where decisions are made that change the course of it. You never know it at the time, but as you look back, there are moments that can be pinned. As I look back, this one-month homestay, I can already see, was one of those moments for me.
I have always been surrounded by people who move quickly, who don't have time to waste on seemingly meaningless connections and conversations. That is one of the downsides of living in a city, but one that is common. However, I think my own experience in Tokyo is different from growing up in an English-speaking city. The language barrier that exists between expats and native Japanese is quite big, and this, along with the already preexisting barrier that is Japanese formality, keeps expats in a bubble. I think most expats are okay with this, and to be honest, the comfort that comes with it is nice, especially considering how often expats and their families move. But there was something so pure about Kawane, because everyone cared for each other. That has stayed with me the most. The level of kindness every single individual in that town had was amazing, and honestly shocking for me. So many cities are built off of connections, but so many of those connections are fake. Everyone thinks only of themselves.
An interesting thing I noticed while in Kawane was how few mirrors there were. It actually reflects the climate of the town in a sense, because so much energy is spent towards other people that your own appearance becomes secondary to finding and giving happiness. This doesn't mean that the people in Kawane put themselves down in order to maintain the spirit of their community in any way. Rather, it means that they try to make happiness a group aspiration. In contrast, everywhere I go in Tokyo, reflective surfaces glare back at me. Everywhere you go, you are reminded of yourself, your appearance, your build. In Tokyo, everything is about you. Connections are made for your own benefit, everyone is a robot with one mission in mind. This is a harsh statement, and I am not saying everyone in Tokyo is like this, but rather that the climate of the city itself mirrors this type of attitude.
As I go into my adult life, into college and beyond, I want to bring some of the personality of Kawane into my relationships, whether they are big or small. I want to bring people over and hear about their day over tea, even if we aren't close. I want to be open and kind and know about people's families and their past. These simple conversations can build friendships, and yet there are things I realized I may not even know about my closest friends, even if they are such basic questions.
There are many things to learn from a homestay experience. You are essentially immersing yourself not just within a language, but within a community. This allows everyone to learn and grow a bit, if not more. I will always remember Kawane, and will always try to spread the values so engraved in the town itself. I may have only been in Kawane for a month, but the people and kindness will always stay with me.
PIN THIS FOR LATER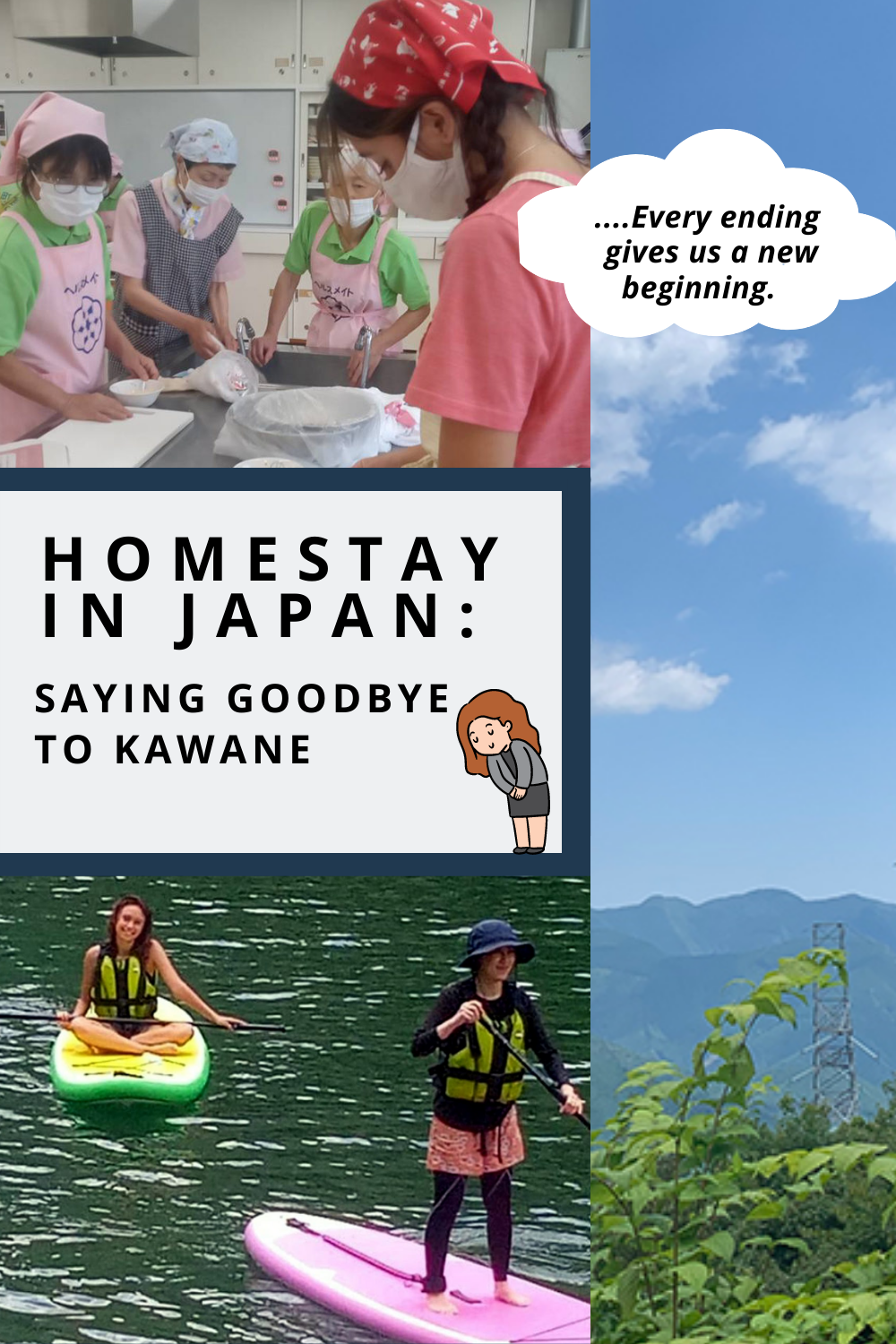 More from our blog…