Where Can I find the party?
Halloween falls on Tuesday, October 31st, 2023. This usually means that Halloween will begin to be celebrated the Saturday before (the 28th) though in recent years there have also been many revelers on the actual date 10/31.
Halloween has grown more popular within the last ten years spurred on by three specific influences: amusement parks, cosplay culture, and children learning English.

Where can I find my costume in Japan?
Although Halloween is only celebrated by a small percentage of the Japanese population, the party is rapidly growing every year. Check out these two chain stores for costumes, masks, and makeup. Don Quijote is a great store to purchase not only your general goods, but also has a great section where you can get a full Halloween costume. Daiso is a famous 100 yen shop brand where you can find great, small things to add to your costume — for the best price! If you are looking to go all-out this Halloween then there are many cosplay shops in Tokyo, but some of the most famous can be easily found in Harajuku on Takeshita Street or in Nakano area in the otaku mall "Nakano Broadway."
What time should I arrive and where can I take the best spooky selfie?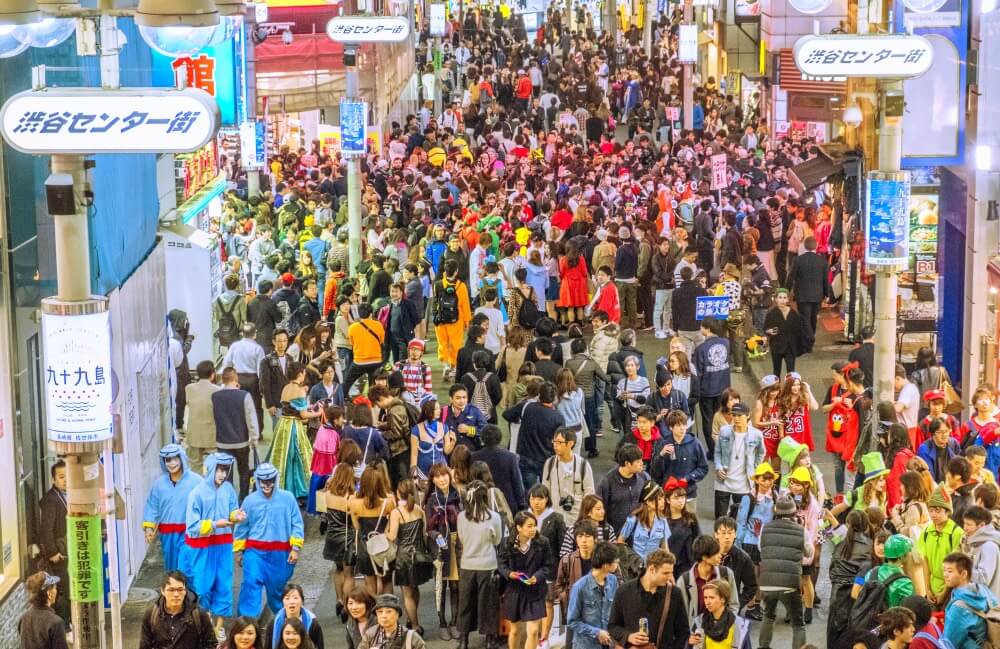 There is no specific time set for Halloween. You can hop out of Shibuya Station at any time from early afternoon where you are likely to see more kids and families and through early evening and be thrust into a magnitude of people wearing costumes.
Taking a photo in front of the Shibuya Crossing is always an iconic move; however, the streets are so crowded with people on this specific day that you can't even see the zebra lines. If you want a great selfie, we recommend: Starbucks, La'Occitane Café, Gusto Café, Shibuya Mark City (free admission).
For another amazing photo spot, be sure to head up into the MAGNET building on the crossing. You will find tasty food and fun shops but the highlight is the rooftop overlook that gives you the best views of Shibuya Crossing. There is an admission fee for the best overlook — but the view is well worth the 500 yen!
After the Party! Where to stay in Shibuya?
Don't forget that trains stop running around midnight. If you have missed the last train already, it will be almost impossible to find accommodations before the trains start running again. A lot of people like to stay at Manga/Internet cafes because of the amazing prices and easy access as they can be found virtually everywhere. The only problem is that you can't always secure a spot at the last minute. We recommend checking online for some that allow you to make a reservation. If you would rather splurge on a hotel, then you will most definitely have to book in advance. A really good hotel to stay at is the Excel Hotel because it provides an amazing view of the crossing. Be warned that unless you have a reservation— you will be turned away.
This has been true in the past few years, but there's a strong possibility that this will change from this year forward. The tradition of going to Shibuya for Halloween has gotten to the point where it is so popular that the mayor of the city is turning people away. They have encouraged people not to come to Shibuya to celebrate the holiday, and have even banned street drinking from the 27th to the 1st. There are also plans to have security guards checking the streets and requesting that stores stop selling alcohol on these dates. It may be more difficult than ever to celebrate in Shibuya this year. No one is sure if these policies are only because the Covid restrictions are no longer in place and more people are expected this year than normal or if this will be the policy every year from now on.
Shibuya 109 Halloween Central
Shibuya 109 is known for getting into the spirit of Halloween. They have a pop-up costume shop, cafes with Halloween-themed treats, and even put on events for the big night involving a DJ and mini-photo shoot! Follow the road to 109 Men's and you will find makeup artists who will give you a gruesome face/wounds to add some zest to your costume. Make sure to look around carefully, not only at the people but also at the shops. You will find many cute cafes with themed desserts. There are also tiny haunted houses that you can walk through sometimes; although the locations are subject to change each year. Make sure to check before you go!
Shibuya Alternatives
If you don't want to risk going to Shibuya, or you go and are turned off or turned away once you arrive, there are still plenty of places to go. This great article from Tokyo Cheapo talks about plenty of things to do and places to go. If you love amusement parks be sure to check out Sanrio Puroland or Tokyo Disneyland, but there's also a great cosplay festival in Ikebukuro! That district shares some similarities with Shibuya, as it is popular with youth and has a robust drinking culture, so there's sure to be a lot of Halloween lovers in attendance and enjoying the area around this time. Don't give up on celebrating Halloween if you can't go to Shibuya, there are plenty of other options!
Have a Happy Halloween — Tokyo Style!
Interested in exploring the hidden side of Shibuya — Why not join our newest Shibuya Retro Food Tour?