The Land of the Rising Sun boasts a unique culture that fascinates people all around the world. If you've watched films about samurais, eaten sushi in a restaurant, or taken part in martial arts training, you probably already admire some aspects of Japanese culture. But the best way to truly experience Japanese culture is by visiting Japan.
#1. Search for the elusive red-crowned crane
It's apt for these elegant birds to appear on your bucket list since they are a traditional Japanese symbol of joy and longevity. Japan boasts an incredibly diverse range of endemic and migrant birds, which makes it a paradise for birdwatching. If you enjoy wildlife photography, Japan is a great destination.
Many of Japan's endemic species are both beautiful and rare. Their natural environments in Japan stretch from the subtropical in the south to the subarctic in the north. The red-crowned crane is a great example of a rare bird that you can find in Japan. Over half of the world's population of red-crowned cranes live in Hokkaido. Between February and March, grab a pair of birding binoculars and head over there to observe their famous mating dance.
#2. Have a religious experience
Some Japanese Buddhist temples offer overnight retreats for petitioners who wish to experience the austerity of monastery life. Many of the temples around Kyoto and Tokyo offer this kind of retreat, known as shukubo.
Mount Koya south of Osaka features 120 temples, over 50 of which offer shukubo experiences. Many of these temples are served by English-speaking monks who can help you on your spiritual journey. You'll sleep on tatami floors, join morning prayers, meditate, eat vegetarian food, and experience the spartan lifestyle of a priest dedicated to a holy shrine.
#3. Have a less religious spartan experience
Japan is famous for its capsule hotels, where guests sleep in rooms roughly the size of a coffin. However, these tiny pods aren't as uncomfortable as they look. Many capsules offer high-tech features, such as charging docks and flat-screen TVs. Although capsule hotels aren't glamorous, they are a uniquely Japanese experience that you should try at least once in your life.
When planning your journey, ensure that the capsule hotel you book is suitable. Some are single-sex, so you'll want to ensure everyone in your group can sleep there.
#4. Climb Mount Fuji
Snow-capped Mount Fuji is one of the most recognizable mountains in the world. It's very photogenic, especially at sunrise or sunset. However, to get the full experience, you should climb to the summit of this 12,389 feet mountain.
Despite the problems of altitude sickness and several steep paths, Mount Fuji is an easy mountain to conquer. Guided climbs often take two days, with an overnight stop in a mountain hut so you can climb to the peak in time to witness the sunrise. Around 300,000 people climb Mount Fuji each year, most between July and August when the weather is warm and the huts and other facilities are open.
#5. Watch a sumo bout
Sumo wrestling is a unique Japanese sport that fascinates people from all over the world. Official fights only take place during one of the 6 annual 15-day tournaments. These tournaments are held at different times in Fukuoka, Nagoya, Osaka, and Tokyo.
Even if your visit to Japan doesn't coincide with one of the official contests, you can still meet sumo wrestlers. It's possible to visit one of the sumo stables where the wrestlers train in preparation for the tournaments. You might be surprised to learn how much hard work and dedication is required to become a professional sumo wrestler.
#6. Eat authentic Japanese sushi
Because the fish must be fresh, it's impossible to eat genuine Japanese sushi unless you visit Japan. A great place to taste authentic sushi is at the Tsukiji Fish Market in Tokyo.
Tsukiji is the world's largest fish market. Exploring its many stalls is an experience on its own. If you're a keen foodie, you would benefit from joining a special market tour like the ones organized by Arigato Japan Food Tours. They combine cultural experiences, interesting lectures, and an opportunity to taste the very best local food selected by a local expert.
#7. Learn a foreign language
If you don't already speak a foreign language, or if you'd love to learn another, why not choose Japanese? It's the world's 8th most spoken language based on numbers of native speakers. Eighteen respected colleges across Japan offer brief, 2-week introductory courses for you to perfect your basic vocabulary, grammar, and pronunciation in the company of native speakers. Following this, you'll be capable of continuing at home by correspondence, over the internet, or by joining a course near where you live.
Colleges that offer a two-week course include Kudan Institute of Language & Culture, Kyoto Minsai Japanese Language School, and Shibuya Language School. Studying Japanese while you're there enables you to learn more about the culture. If you spend 2 weeks in a language school followed by 2 weeks on a Japanese food tour, you'll learn far more about the Japanese way of life and come much closer to Japanese people than you ever could on a traditional sightseeing tour.
Return home and impress your friends with your newfound ability to order Japanese food in Japanese. And language study isn't just an activity that's over and done with after 2 weeks. Your introductory course in Japan could be the beginning of a hobby that will provide you with fun and entertainment for the rest of your life.
PIN THIS FOR LATER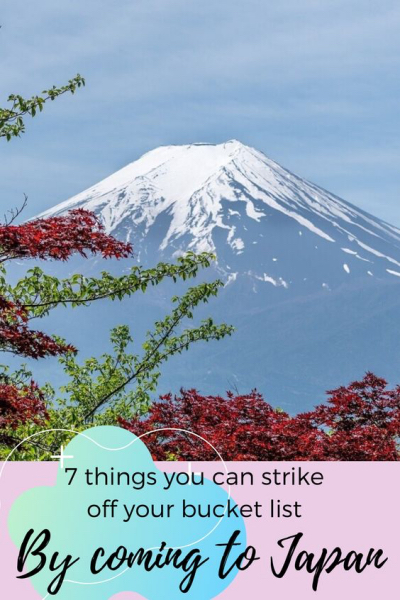 When you come to Japan, be sure to join one of our delicious food tours, for more local hidden gem discoveries.