Japan has some truly breathtaking places to explore when on your honeymoon. From bamboo forests to waterfalls, you can enjoy stunning scenery while travelling through this beautiful country.
Filled with amazing views, food, and people, it is no wonder why Japan is one of the most romantic places in the world! I'm excited to share 15 of my favorite honeymoon destinations in Japan with you today.
1. Sapporo, Hokkaido
Sapporo is a large city in Hokkaido with plenty to do! You can visit a large variety of interesting museums and historical sites. There are many restaurants for you to enjoy a romantic dinner, as well as cafes with delicious desserts! Your best bet is going during the summer or spring months when it isn't too cold or crowded.
2. Nara Park, Nara
Nara Park is located near the Tōdai-Ji temple complex, and has over 1000 deer roaming freely within its confines. If you purchase some special deer food from a vendor, you'll have a chance to pet the deers!
There are many different historical sites to visit while you are here. You can also enjoy some shopping or even stay at one of the onsens located in the area!
3. Kobe, Hyogo Prefecture
Kobe is a famous Japanese city that has beautiful scenery year-round. It's especially pretty during the autumn months when the leaves of the maple trees change colours. You can go on a cruise of the coastline and even hike up some mountains if you're feeling adventurous! There are also many great restaurants that serve delicious fresh fish. If you and your partner love seafood, Kobe is the perfect destination for your honeymoon.
4. Himeji, Hyogo Prefecture
Himeji is another popular honeymoon destination for couples. It's famous for its beautiful, centuries-old white castle that has stood intact through many wars and natural disasters. You can also visit some other historical sites located in this area such as temples or shrines.
If you're looking for a quiet city with little traffic, Himeji is a peaceful destination for you and your partner to relax together.
5. Okayama, Okayama Prefecture
Okayama has plenty to offer if you're looking for beautiful scenery on your honeymoon! You can go on a cruise along a river that leads into a gorge surrounded by gorgeous mountain ranges and waterfalls. After an adventurous cruise, you and your partner can enjoy relaxing in one of the great onsens in Okayama.
6. Shiretoko National Park, Hokkaido
Shiretoko is one of the most amazing natural habitats you can visit in Japan. It is a hidden gem that many people don't know about, so you can have a peaceful time in this quiet and secluded area. There are trails that lead right out onto the coast where you can enjoy seeing sea otters and seals!
7. Ibuki, Tochigi Prefecture
Ibuki is a peaceful area where you and your partner can relax while exploring historical sites such as temples and shrines. Ibuki offers tons of delicious food for you to enjoy together! It is also located close to Nikko National Park, so you can visit both places during your honeymoon.
8. Fushimi Inari Shrine, Kyoto
This shrine is famous for its thousands of torii gates which cover a network of trails that lead up to the mountain behind it. When you reach the top of the trail, you will feel as though you've just entered another world of beautiful nature.
9. Kikonai, Hokkaido
Kikonai has beautiful scenery year-round. You will love gazing at the view of the tall mountains lining the coastline while you relax at a wonderful hot springs resort. The town is famous for its fishing industry, so you will be able to enjoy eating some delicious seafood dishes!
Located in the Tokachi region, Kikonai is very close to other popular honeymoon destinations such as Esashi and Monbetsu, as well as Shiretoko National Park. You can explore these other amazing places during your stay at Kikonai.
10. Karuizawa, Nagano Prefecture
Karuizawa is located in the Kiso Valley, which makes it a great destination for you to breathe in the fresh mountain air and enjoy the natural beauty of Japan. You can go on one of the many hiking trails that offer an amazing view of Karuizawa! To make the most of your time in Karuizawa, you can visit some of the historical sites, relax at a local onsen, and eat lots of delicious Japanese food.
11. Amanohashidate, Kyoto
Roughly translating to 'Bridge in Heaven', you will be amazed by the sight of the Amanohashidate sandbar, which looks like a huge bridge stretching out across the crystal clear water as far as you can see! You and your partner can take some memorable honeymoon photographs next to the small shrine at the entrance of Amanohashidate.
12. Hakone, Kanagawa Prefecture
Hakone has plenty of onsens and hot springs for you to soak in and relax while you gaze at the majestic view of the nearby Mt. Fuji. You can stay overnight at one of the popular ryokans that offer private outdoor baths!
13. Itoshima Peninsula, Fukuoka Prefecture
After a day of exploring the beautiful nature in Itoshima and the other small islands nearby, you can relax at one of its many onsens and hot springs resorts. Itoshima has plenty of delicious local foods, so you and your partner can enjoy trying new tastes and flavours during your honeymoon.
14. Shimoda, Shizuoka Prefecture
Shimoda has many hot springs resorts where you can soak and relax in a private outdoor bath. You can visit some of the beautiful castles and temples in this area.
15. Yamadera, Yamagata Prefecture
Yamadera is known for its beautiful temple which lies atop a mountain offering stunning views of the natural landscape of Japan's mountains and forests. On a clear day, you might see Mt. Fuji in the distance!
Japan is filled with countless romantic destinations that are perfect for an unforgettable honeymoon. There are still many more amazing places to explore that we couldn't fit in this list! Let us know if you would like our help or advice for planning your trip to Japan – we're always happy to share our knowledge of this wonderful country with anyone who is interested.
PIN THIS FOR LATER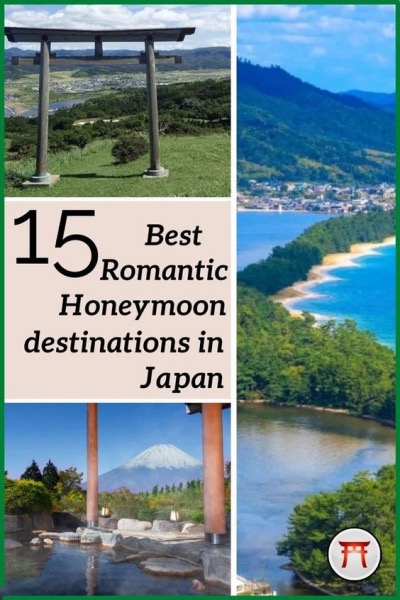 More from our blog…